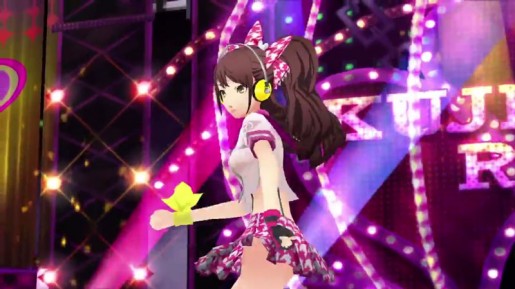 Persona 4: Dancing All Night is a little bit different take on the series from Atlus, choosing to go against the usual RPG template and instead creating a rhythm game for the PlayStation Vita. While going a different route gameplay wise, the game will still fit in with the continuity of the other titles. Thanks to Siliconera, we have some details about how the rhythm game does so.
The story of Persona 4: Dancing All Night takes play right after the events of Persona 4 as Rise Kujikawa leaves Inaba to return to being an idol. Then, a rumor begins to surface that opening a certain website at exactly midnight will lead to a strange video being played. If said video is watched, that person is sent to the "other side."
Kanamin Kitchen, a member of Rise Kujikawa's Idol group, goes missing as well, which leads to the protagonist from Persona 4, Yu Narukami, being contacted along with the Investigation Team in an effort to try and solve this mystery.
Persona 4: Dancing All Night will feature songs from both the games and anime series. Look for this game in Japan in Fall 2014 on the PlayStation Vita.