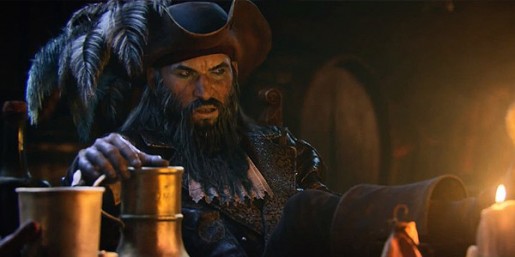 The recently released Assassin's Creed IV: Black Flag continued the recent tradition of the series of including multiplayer modes to the game. Starting tomorrow, you will have the ability to download new DLC that will enhance multiplayer with a few new characters, including probably the most infamous pirate ever, Blackbeard.
The Blackbeard's Wrath DLC pack will add three new characters to the mix in multiplayer, which include Blackbeard, The Orchid, and The Jaguar. The three new additions are described as playing in the following manner:
Blackbeard, wielding his sword and short temper, is not to be trifled with. His reputation as a feared pirate is justly received, and his preferred kill moves include using his tremendous strength to throw his targets off balance and quickly finishing them with one clean strike.

The Orchid, a deadly Assassin, grew up in China and served as a military advisor during the Qing Dynasty, honing her murderous skills. She executes opponents swiftly and gracefully with her blade, an extension of her mind and body.

The Jaguar, Cuali, an Aztec warrior from Mexico, took to the sea to fight against the Spanish conquest of Central America. A fighter, he survived the destruction of his community and joined forces with a growing contingent of native Templars who sought renewed peace and order. Driven by a mystical force, The Jaguar strikes swiftly and quietly with his preferred weapon, a discreet axe.
The Blackbeard's Wrath DLC pack will set you back only $2.99, but if you are interested in the other DLC as well, you may be best served to get the $19.99 Season Pass. There is no word if this will be coming to Wii U in the future at this time.