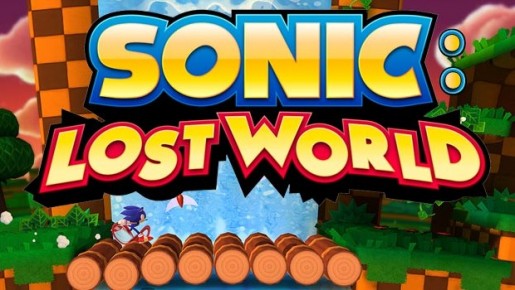 Sonic! He can really move! Sonic! He's got an attitude! Sonic! He's the fastest thing alive! These may be some lyrics you might remember if you grew up in the 90's alongside Sonic the Animated Series. That was a time where it seemed Sonic could do no wrong gaming wise, but ever since the series went 3D, his games have been very hit and miss most of the time. For every Sonic Generations there has been a Sonic 2006. The series has been on somewhat of a roll lately with the very fun Sonic Colors and Sonic Generations in recent years, so the question is whether the Nintendo exclusive Sonic: Lost World is a fast moving spinball of fun or if the series has fallen back once again. Let's find out in our review for Sonic: Lost World for the Nintendo Wii U.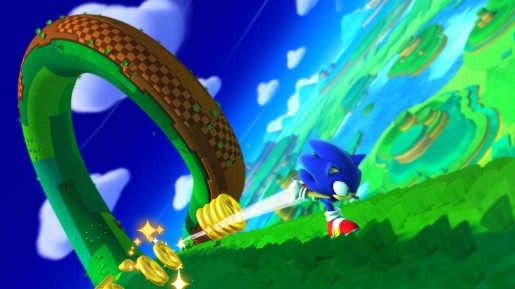 One of the absolute best aspects of this game is something that has been a trend in recent Sonic titles, the ability to play as only Sonic. At some point the series became way too bogged down with additional playable characters. It somewhat worked in Sonic Adventure, but from there on it just was more of a chore to play the non-Sonic levels. Sonic: Lost World features Sonic only as you navigate through all the different zones in the game. There is the ability to Tails in tandem with Sonic in bonus stages, but that is it. I at least know when I pick up a Sonic game, I want some high speed action with the blue hedgehog, so this is a great thing for me to start the game.
As pretty much everyone has said since this game was first unveiled, Sonic: Lost World takes a lot of cues from the ever popular Super Mario Galaxy, and that is not a far off assessment at all. At first this seems pretty cool because there is a lot of potential on the types of level designs, but soon it gets kind of tiresome. The levels aren't outright bad, but are just very underwhelming for the most part. There are many levels where I couldn't tell you one part from the next due to the dull design. There are even cases where separate zones in completely different worlds look and feel about the same, minus a few cosmetic changes.
While a good number of the levels were underwhelming, there were some standout levels along the way that somewhat made up for them. Tropical Coast Zone 2 utilizes some very interesting giant fruit. As you move throughout the platforms, you must lure fruit to juicers that will create blasts of fruit juice to propel Sonic to the next platform. There are multiple changes in the level and the uniqueness was very enjoyable. Another example of excellent level design can be found in Frozen Factory Zone 2 where you are trapped in a snowball for the level. The control over the snowball is very tight and is a fairly difficult but fun level. Silent Forest Zone 4 had a pretty fun section of the level that reminded me of Donkey Kong Country Returns. The area uses the style seen in that game, this time using a blueish background where all you can see are silhouettes as you move. However, it adds in the unique aspect of turning lights on to where you can attack enemies, which you could not previously do with the lights off.
One thing that is welcome in this game is the return of the changing perspective between 3D and 2D gameplay as seen in other recent Sonic games. These transitions are seemless as you move between areas and I actually found myself enjoying the 2D segments more than the 3D, as they felt more true to Sonic than did the 3D segments which still felt too much like a Mario title.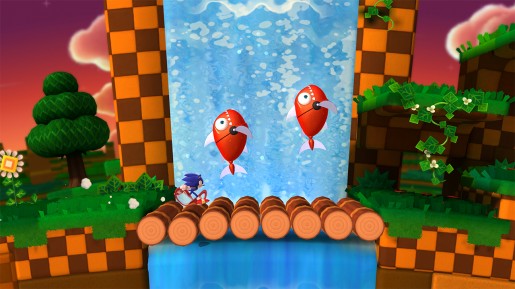 As with every Sonic game, there are always the familiar themes found in levels. You will always have the grassy jungle like stage that we get in the form of Windy Hill Zone this time around. There is also a standalone level inside one of the zones that takes you to a casino, a Sonic series classic. Not only that, there are some pinball games that you must play to advance, which add even more fun into the stage. A Sonic game just wouldn't feel right without the staples that are always found in the series.
Sonic: Lost World (Wii U) Review

,