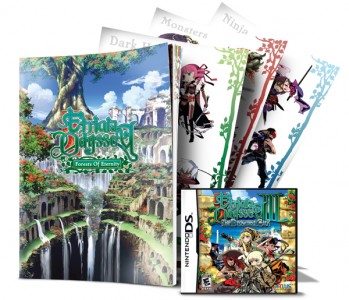 Before the release of the much awaited Etrian Odyssey Untold for the Nintendo 3DS this October 1st, Atlus announced today that they are releasing a demo on the eShop starting next week.
The demo will be available in North America starting September 16th through the Nintendo eShop. To those who are not familiar with Etrian Odyssey Untold, the game will pretty much re-tell the story of the very first Etrian Odyssey title. The game will include a brand new story mode with fixed characters, as well as a Classic mode where you get to create your own party, similar in the previous Etrian Odyssey titles.
Etrian Odyssey Untold will be available exclusively on the Nintendo 3DS this October 1st via digital and retail. As always, check back with us near the release date for our review of the game. For now, be sure to pre-order the game to guarantee yourself a limited edition copy where it will include an artbook and music CD.