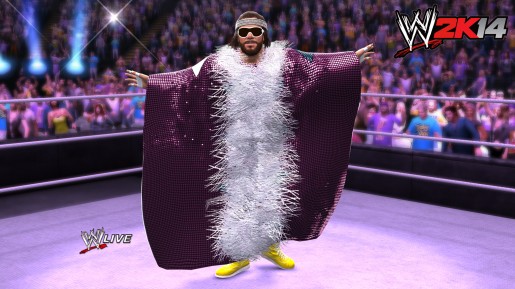 WrestleMania VIII
-Ric Flair vs Randy Savage (WWE Championship)
This was an entertaining match even though it was not the last match on the card. It was notable too because Ric Flair bladed himself in a time when WWE banned blood.
WrestleMania IX
-Bret Hart vs Yokozuna (WWE Championship)
-Hulk Hogan vs Yokozuna (WWE Championship)
A pretty poor WrestleMania overall, but it did have a controversial finish. Bret Hart hated the fact that Hulk Hogan stole the spotlight at the end of this event by beating Yokozuna in a mere 22 seconds…
WrestleMania X
Shawn Michaels vs Razor Ramon (Ladder Match)
Most memorable for this excellent ladder match. It was the first ladder match at a WrestleMania event and it was awesome.
WrestleMania XI
-Shawn Michaels vs Diesel (WWE Championship)
I'm not even sure if 2K Games should even include this WrestleMania in WWE 2K14 because it was horrible. This is the only match I see from the event that could squeeze in.
WrestleMania XII
-Shawn Michaels vs Bret Hart (WWE Championship Iron Man Match)
Regarded by many as one of the best WrestleMania matches of all time. It was also the event that made Shawn Michaels into a main event star and the legend fans see him as today.
WrestleMania 13
-Stone Cold vs Bret Hart (I Quit)
Another classic match and a turning point in Stone Cold's career. Stone Cold himself rates this as one of the best matches he's ever competed in.
WrestleMania XIV
-Stone Cold vs Shawn Michaels (WWE Championship)
-Kane vs Undertaker
I'm not sure how 2K Games will handle this WrestleMania because both of these matches were already included in last year's game. If WrestleMania XIV is still in WWE 2K14, these two matches should make the cut.