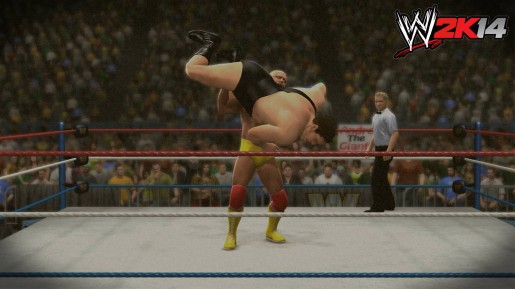 Now that 2K Games has revealed the roster for the WrestleMania Mode in WWE 2K14, here are possible matches that could be included.
Overall, there are 45 matches that you can play in this mode and it covers most (if not all) of the WrestleMania events to date. Sadly there are some omissions such as Roddy Piper, Kurt Angle and Eddie Guerrero, but it looks the mode will still be stacked with lots of great matches for you to play.
Here's our prediction for the matches that will be a part of the WrestleMania mode of WWE 2K14:
WrestleMania
-Andre the Giant vs Big John Studd (Body Slam Match)
This is the only match I see that will be included in the first WrestleMania event. There is no Mr T or Roddy Piper in the game to make the main event possible for WWE 2K14.
WrestleMania 2
-Hulk Hogan vs King Kong Bundy (Steel Cage Match)
The main event for WrestleMania 2 is the only match possible too since no other wrestlers on the card are in the game.
WrestleMania III
-Hulk Hogan vs Andre the Giant (WWE Championship)
-Ricky Steamboat vs Randy Savage (Intercontinental Championship)
Hogan vs Andre may have been the match that sold the tickets, but Steamboat vs Savage was the one that stole the show. It is still one of the best WrestleMania matches of all time.
WrestleMania IV
-Randy Savage vs Ted DiBiase (WWE Championship)
This WrestleMania was a tournament for the WWE Championship. The main event is the only one that is possible as the DQ finish between Hogan and Andre would be pointless to include here.
WrestleMania V
-Hulk Hogan vs Randy Savage (WWE Championship)
An excellent main event that had a year-long build up.
WrestleMania VI
-Hulk Hogan vs The Ultimate Warrior (WWE and Intercontinental Championship)
Without a doubt the best match on the card and Ultimate Warrior's best match ever.
WrestleMania VII
-Sgt. Slaughter vs Hulk Hogan (WWE Championship)
-The Ultimate Warrior vs Randy Savage ("Retirement" Match)
WrestleMania VII was billed as a "retirement" match. A great contest between two legends. Since Sgt. Slaughter is in the WWE 2K14, this is the only memorable match he had at a WrestleMania event so expect to play it.