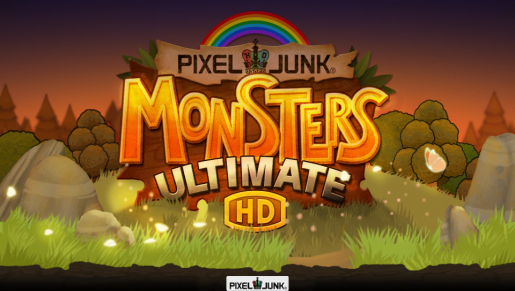 When Q-Games released PixelJunk Monsters Deluxe on the PSP, a lot of fans were pleased since they could simply pick it up and play it wherever they were. The challenging levels and the entertainment value that the game had pleased a lot over the years. Several years following its release on the PSP, Double Eleven decided to pick up the game and re-release it on the PS Vita with much better visuals while keeping the original game intact. Did they port it right?
Let's take a look at what's HOT and what's NOT in our review of PixelJunk Monsters: Ultimate HD for the PS Vita.
HOT
HD Visuals
One of the biggest selling points of PixelJunk Monsters Ultimate HD are the upgraded visuals. Porting it on the PS Vita, many will expect that the visuals will look phenomenal. Comparing it to the PSP counterpart that was released several years ago, I must say that the PS Vita looks so much clearer that the depth of its colors are precise and the accuracy is just about right. Everything from its environments, art and those cute little creatures that you have to save, the visuals somehow shine like a diamond in the sky. No big changes were done, except Double Games refined the assets used to make it look better on the PS Vita. The game is still in 2D and those who have played the PSP version before will notice the big differences.
Fun and Addicting
PS Vita owners who just bought the console, make sure to get PixelJunk Monsters: Ultimate HD first as it's one of those titles that is guaranteed to give you lots of enjoyment. The game isn't too hardcore where you will have to spend so much time. In fact, it's a game where you can pick up and play but still have fun.
PixelJunk Monsters: Ultimate HD is a tower defense game where you play as a Tikiman. Your job is to protect the little monsters from your homebase from the invading enemies that want to eat them. With the coins that you have and you will get from taking down other monsters, you will use them to create towers with cannons, arrows, and more that will block their path from your home base. The difficulty will start real easy to a point where it will get really challenging as you progress through the game. There are ten waves that you have to watch out for and it's imperative that you know what tower works best with the enemies. There are spiders that run where the only tower that can stop them is the one with cannons. Every time you take them down, you get coins and eggs that you can use to upgrade.
PixelJunk Monsters: Ultimate HD (PS Vita) Review

,