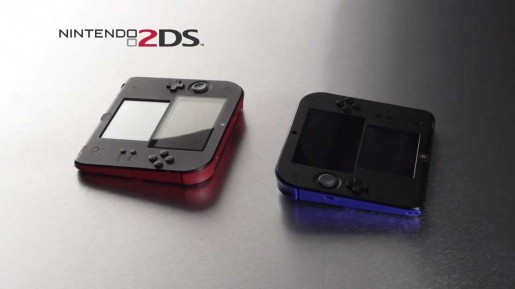 Nintendo keeps bringing the news today, and this one is a lot more surprising to me than what was an inevitable price drop for the Wii U. A new handheld was unveiled officially today by Nintendo known as the Nintendo 2DS that will be coming on October 12, which coincides with the worldwide release for Pokemon X and Pokemon Y.
In what Nintendo of America president Reggie Fils-Aime is calling "an entry-level handheld gaming system," the Nintendo 2DS is a cheaper option to the Nintendo 3DS at only $129.99. The system removes the ability to use 3D, which is kind of obvious based on the name. However, the system is still completely compatible with all Nintendo 3DS and Nintendo DS games. While the screen doesn't display in 3D, the cameras built into the system will still be able to take video in 3D and will be viewable if put into another 3D viewing system of some sort.
The Nintendo 2DS is the first Nintendo handheld not to fold since the Game Boy Micro, which is a cause for concern. Most like to keep their handheld in their pocket or a small bag, but this seems a little too big without being foldable. However, some of the different models of Nintendo handhelds have surprised in the past, so hopefully this one will end up being worth picking up. In comparison to the two 3DS models on the market, the Nintendo 2DS is $40 cheaper than the basic Nintendo 3DS and $70 cheaper than the Nintendo 3DS XL.
The Nintendo 2DS will be available on October 12 in either red or blue. So if you don't own a 3DS and want to get a cheap system just to play Pokemon X or Pokemon Y while not caring about the 3D aspect, this may be the system for you. Check out the official introduction video from Nintendo showing off the handheld below: