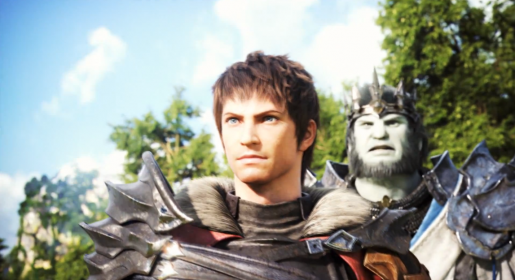 The Final Fantasy franchise is something that I have been a fan of for years. However, I never got around to playing Final Fantasy XI, the first massively multiplayer online game in the series. At the time, MMORPG's just did not appeal to me and I always preferred turn based combat like seen in the games prior. This is also one of the reasons why I could not get into Final Fantasy XII as well, which I plan to rectify in the near future.
The initial Final Fantasy XIV release had me intrigued at first, but then it had so many problems after launch that I never ended up playing it. I've heard many things about Final fantasy XIV: A Realm Reborn over the last year or so, but still was not sure how I would feel about it, since MMORPG's have never been my forte. I was given a chance to play the last round of the beta for the upcoming release, and I thought I'd give my impressions of my time with the game.
First of all, my first experience when turning on the game wasn't all that positive, but it was as a result of a questionable login system. The game asks for a Square Enix username and password, which I checked and made sure I had. The login would not work at all and even after recovering and changing the password, it still did not work. I ended up making a new account, but since my primary email, that I use to keep most everything together, was in use, I had to use another one.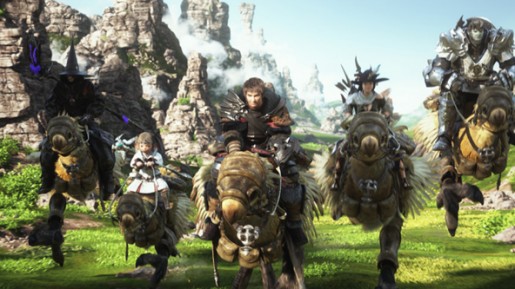 After getting through the annoying login problems, I perked up pretty quickly once the opening cutscenes started. As a fan of strong story based games, which the Final Fantasy franchise has long been a master of, I really enjoyed seeing the backstory from the initial Final Fantasy XIV game and how it sets up what is going on in this game. The graphics in the cutscenes are absolutely gorgeous, which is to be expected in a Final Fantasy game.
I was also quite impressed with the in-game graphics as well, especially considering they are able to pull it off, with so many players on screen at one time with many different things going on, without a lot of slowdown. I was playing on the Playstation 3 version, which I knew wouldn't look as good as the PC version on a top tier gaming computer, but it was still looked beautiful to me.
Following the opening cutscenes it was time for character creation, which is one of the most difficult things for me to do in any customizable RPGs. This is the character that you will be using for the future and you want him or her to look right. They give you five races to choose from in the game, all of which are fairly humanoid based, but are still different enough to make it a tough decision. In the end, I chose to be a Hyur, which is the basic "human" race in the game.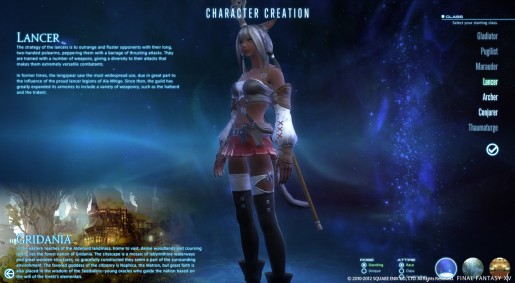 This is followed by the creation of the actual character that you would expect in any MMORPG. While there are many things you can change about the character, there are some options that just don't give you that many options. I believe that the face type only had four options, while the facial hair, scars, and tattoos section weren't any better. Hopefully there will be more of these patched in at a future time.
The last thing to do was to choose a class. This is the most vital thing to pick as it will affect your entire future play in the game. In most RPGs I always seem to gravitate to using strong physical based fighters, so I chose to go with the Gladiator class. You also have the opportunity to level up other classes later. There are also jobs that you can unlock later based on the level of certain classes. For instance, my goal is to achieve the Paladin job, which requires a level 30 Gladiator and Level 15 Conjurer. This actually gives players a reason to try and level up multiple classes when they know they can potentially unlock further jobs.