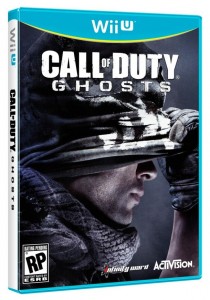 Activision confirmed today that Call of Duty: Ghosts will be coming to the Nintendo Wii U later this Fall.
Call of Duty: Ghosts is scheduled for release on November 5th for the Nintendo Wii U, the same day as versions on the other consoles. According to Activision, the Wii U version will include support for the Wii-U Remote and GamePad.
In addition to the Call of Duty: Ghosts news, Activision also announced five more titles coming to the console this year; Wipeout Create & Crash, Spongebob SquarePants: Plankton's Robotic Revenge, Angry Birds: Star Wars, Angry Birds Trilogy, and Skylanders SWAP Force.