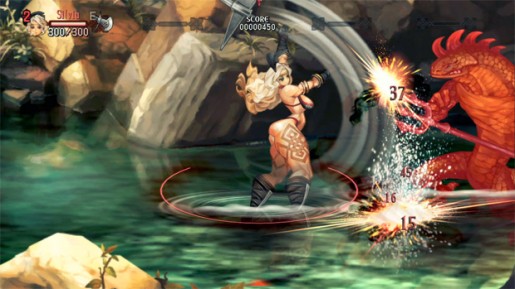 Atlus's booth was packed this year at E3 thanks to their hit titles that will come out later this year. Aside from Shin Megami Tensei IV that will release over a month from now, the company is also showing Dragon's Crown. This is an action RPG from the makers of the hit Odin Sphere by Vanillaware. Set to release this August on both the PS3 and PlayStation Vita, many of the attendees including the media were hooked when trying the demo on the show floor.
What captivated me the moment I picked up the controller is the visuals. At first glance, it looks pretty similar to the visuals of past Vanillaware games like Odin Sphere and Muramasa. In fact, the same art style can be found in Dragon's Crown where fans of anillaware will be pleased as it gives a somewhat nostalgic feel to it. Think of the overall visuals like a storybook that come to life. The hand painted style is shown in pristine detail and thanks to HD, it makes the characters, dragons, monsters, and environments look better than ever before.
The gameplay of Dragon's Crown is similar to the side-scrolling action game we've played in the past. Those who have played the Simpsons or the X-Men game arcade, you will feel somewhat familiar as it has a brawler feel to it. In the demo that we got to try out, we started by picking a character to use. From the plethora of characters available, I chose a warrior type. In-game he was like the lead character since he's the one with the heavy armor and can take enough damage while taking little health from him. I think of my class as somewhat of a tank-role since when there's a lot of enemies, I can be the one in front and take all the damage.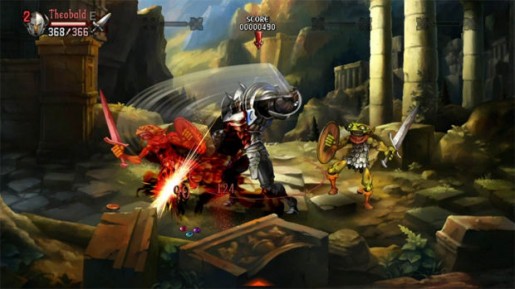 Controlling characters are simple. Simply move them to where the enemies are and simply smash buttons. There are only two buttons that you have to press in order to attack. For a brawler-action RPG game, you can spam attacks. As you clear out enemies from one screen to the next, you will see an arrow indicating to move to the next area. The action in each stage can be hectic as many types of enemies can come all at once. Thanks to the great characters and abilities, it can make brawling fun, especially when you can mount downed monsters to make your character more powerful. As for items, you will find treasure chests that will pop up on screen, and to get them, you have to point the arrow and the character will open it.
At the end of the demo level, a boss was waiting for us. Nothing has changed much when taking down bosses as we simply have to brawl. Based on my playthrough, the boss was easy enough, especially with a full group of four. As soon as the boss is down, rewards and loots are available. At the end of the level, scores will be tallied. RPG wise, we did not get enough details as to how it's going to work but it look's like it will be based on leveling your characters and earning skills.
Overall, Dragon's Crown is looking to be a fun game to play with friends. When it comes to a brawler action RPG, repetitive gameplay can be experienced but I did not get that feel on my playthrough. All of the characters that are playable seems unique and thanks to their unique role, it will set them apart from one another. Visual wise, the graphics are impressive as it really marks that it's a game developed by Vanillaware. Those who are a fan of Vanillware games, this is the game look forward to this August.