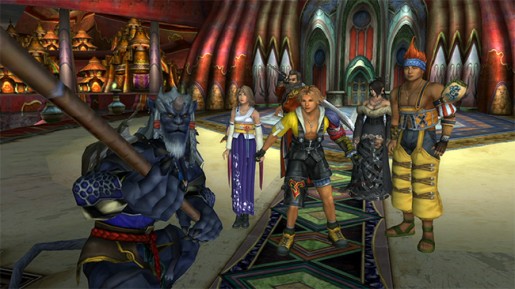 One of the most anticipated HD remakes to hit the PlayStation 3 and PlayStation Vita is Square Enix's Final Fantasy X. This year at E3, Final Fantasy X was one of the games on the show floor where I managed to spend some time with it. My impression? It surpasses the original.
The section that I did get to play is the prologue section where Tidus and Auron are trying escape from the falling Zanarkand. At first glance, I felt it was more of the same thing. Fortunately, I was wrong. As I spend more time with it, I noticed that the game is really indeed a remastered edition where they improved in a lot of aspects – primarily the visuals. Usually when it comes to the HD games, only the gameplay is made into HD or sometimes certain assets are done to make the textures look cleaner. In Final Fantasy X HD, the cut scenes are somewhat made to HD and doesn't look as pixelated as before.
Compared to the original, Final Fantasy X in HD looks phenomenal. The character models are cleaner to look at, there are no rough edges and a lot of detail can be seen. Environments are well remade making you distinguish it at first glance. The lighting has somewhat improved making dark areas pop out right.
As for the controls, not much has changed. All the controls have remained the same. When it comes to the core gameplay, everything stays intact. Comparing it from other HD remakes, I must say that Final Fantasy X really looks pretty and will make fans relive some one of the best games of the PS2 era.