Today Ubisoft revealed what preorder items you can expect for Rayman Legends. Contrary to Rayman Origins getting some neat physical items, Rayman Legends will receive costumes from some of Ubisoft's most beloved franchises. These include Assassins Creed Rayman (PS3), Splinter Cell Rayman (Xbox) and an oddly niche Aveline de Grandpré (Assassins Creed III: Liberation) costume for Barbara (Wii U). Each of these costumes seem to be limited to their respective console and are a Gamestop exclusive preorder item.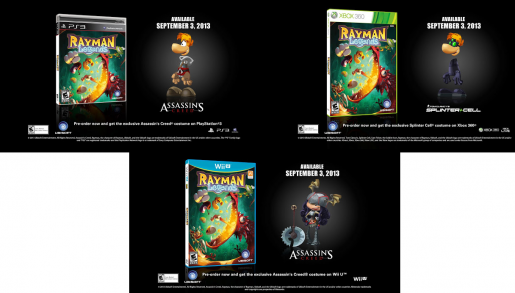 In addition to announcing the preorder items, Ubisoft also released a new trailer for Rayman Legends. This trailer shows off some underwater gameplay and as you might suspect, looks fantastic.

Currently Rayman Legends is set to release on September 3rd for the PS3, Xbox and Wii U.