Cities in Motion 2 is the brand new transportation themed business simulation; developed by Colossal Order and published by Paradox Interactive. It is the sequel to the popular transit title aptly names Cities in Motion. With new features including a day and night cycle and dreaded rush hours, will the game be one you will play all day and night?
Let's find out and kick off the HOTs and NOTs.
HOTs
From Above To Street View
Moving the camera around the city, gamers can take themselves on a helicopter style ride over some rather stunning sights. Be it in day or night, with the city lit up by street lights and classic glowing skyscraper windows, the locations are nice to look at. This is rather important as after looking at the many available graphs, pricings and charts having something nice to look at is welcome.
Players can also swoop down to street level and get alongside the newly built transportation. It is even possible to follow the bus, trams, etc. along their routes around the cities. While the streets are surprisingly empty, it is nice to see people waiting at stops and a couple wandering around. It gives the game the much needed feeling that the city is living and breathing, even though it is only to some extent.
Variety In Transport
It is also nice to see that a transport game doesn't confine itself to just roads, trains or even waterways. Instead, Cities in Motion 2 offers all of the above and more. With the ability to build tram lines and trolleys alongside bus stops, roads are by far the most used parts of the cities. Waterways, for ferry style crossings, and the countryside, for city circling metros, are however also valid and practical options to increase your transportation network. While many will stick to only a few, having the options there is pleasing.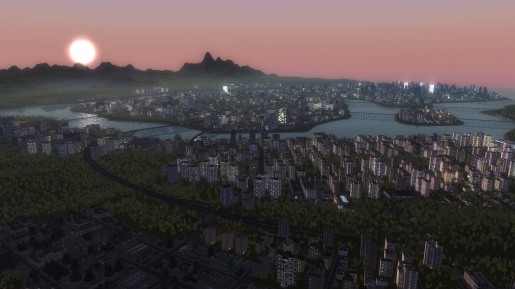 Created Content Saves The Day
With limited content in terms of cities being available in the base game, initially I was worried without DLC the game would be a short or repetitive experience. However, giving gamers the ability to create their own maps and download other players' maps, from CimExchange.com, the potential of the game is only increased. Many maps have already been made including a few real world locations. A quick glance at available maps brings up both Dessau in Germany and Pittsburgh. The map editor, which does have its problems, will enable players to keep having new experiences; thus keeping the gameplay feeling as fresh as it possibly can.
Multiple Modes
With simulation titles like Cities in Motion 2, it is common to have a sandbox mode to go alongside the campaign. The sandbox mode and even the multiplayer elements are in fact where gamers will spend most of their time. On sandbox mode with unlimited cash the potential frustrations drain away and players are able to try and test out new transportation techniques at their will. Multiplayer is also a great way to test things out, helping one another to build bigger and better travel networks. It is also possible to play competitively on multiplayer, but I found cooperation made the game more enjoyable.
Cities In Motion 2 Review

,