Neko Entertainment's downloadable title Puddle debuted in 2012 with a mixed reception from critics and gamers alike. Aspects such as difficulty and level design were criticized harshly for the frustrations they caused. Now that they've had time to listen to the feedback and refine their mechanics accordingly, Neko is bringing Puddle to the Wii U via eShop with what they believe is the best version yet. Is 2010 GDC Independent Games Festival award winners' title ready to make a real splash?
Let's find out what's HOT and what's NOT in our review of Puddle.
HOT
Free-Flowing Fun
Puddle takes on a simplistic idea, one that manages to be quite entertaining. Puddle revolves around the manipulation of various liquids through even more varied environments. It's the player's job to help the liquid reach the end goal (where you will receive a rating of Au, Ag, or Cu) without losing too much of it along the way. As you slide, slosh and trickle your way to the finish line, there are plenty of obstacles to over come. Remember, this is a puzzle game. Avoiding hazardous areas, actively changing the environment and knowing the physics of your currently controlled liquid are all crucial factors in Puddle. For example, the game kicks off with a coffee cup spilling and you take control of said beverage. These introductory levels are fairly straight-forward, but just when you're getting used to handling the coffee, it's on to the next fluid. Whether you're speeding up nature to reach new heights with liquid fertilizer or you're carefully carrying explosive nitroglycerin, the diversity will push you to see what's next. Even once the few hour adventure comes to a close, there are still plenty of in-game challenges to conquer.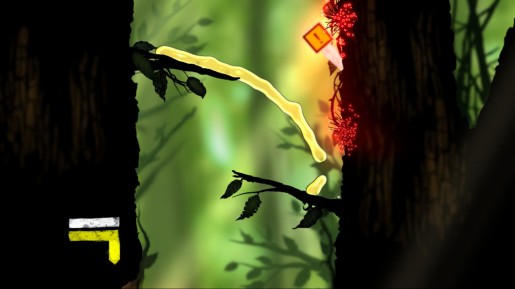 Visual Diversity
The environments match the liquids in the varied category. Each level pops with its own distinct style, layout and set of dangers. From the humble beginnings of the silhouetted coffee room to the x-rayed insides of the human body, there is always something new delivering a visual treat to your eyes. The environments found within Indie games seem to be some of the most vibrant and inspired, and Puddle is no different. It must also be said that the artistry isn't all that's worth noting in these levels. The variation in obstacles is wonderful. You'll be tasked with avoiding fire, explosives and even the unrelenting force of a cough while you navigate someone's innards. Regardless of which level you find yourself taking on, you can expect something a bit new each time.
Puddle (Wii U) Review

,