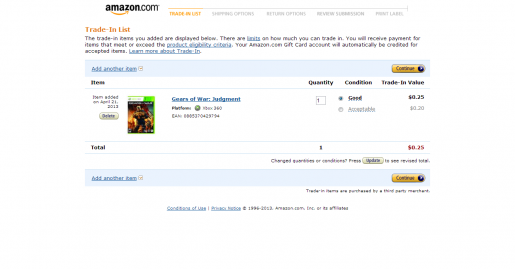 Gears of War: Judgment just came out only a month ago but Amazon doesn't see much value in the game. If you want to trade the game in, it's not even worth a dollar.
As reported by StickSkills, Amazon is currently listing the trade in value of Gears of War: Judgment for only 25 cents. This is actually the maximum amount of money you can get for trading the game in to Amazon. The minimum is only 20 cents.
I'm not sure of this is some kind of error or if this is legit. I looked further into Amazon and the trade in value for Gears of War 2 was at 75 cents!
If you own Gears of War: Judgment and want to trade in or sell it, I suggest you list it on eBay instead. There's not much you can spend with only 25 cents in your hands these days…
Is this the lowest trade in value you have ever seen?