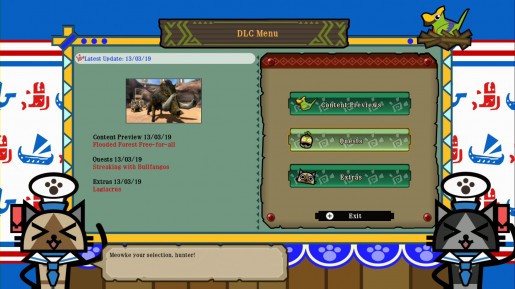 With Monster Hunter 3 Ultimate finally out today in North America, those who will pick the game up will be happy to know that there is already free DLC waiting for you.
As Capcom promised, Monster Hunter 3 Ultimate will be receiving free quests and other contents at least every week. By going to the DLC menu at the main screen, players will be able to connect on the game's server and have access to the following content starting today:
Event Quest
Streaking with Buffalos
Challenge Quests
N/A
Extras
5000 Resource Points
Freedom Slash and Lagiacrus Guild Card Background
Titles: Scholar, Graduate and Elder
Also in the download page of Monster Hunter 3 Ultimate, they also shared what the next batch of content will be. Here are the list:
Quests
Flooded Forest Free-for-all
The Dark Demon's Sword
Titles: Kokoto, Fan
By doing the quests that are available for download, players are able to snag new weapon schematics that a blacksmith can forge. Majority of the stuff you get from quest will be exclusively available there only.