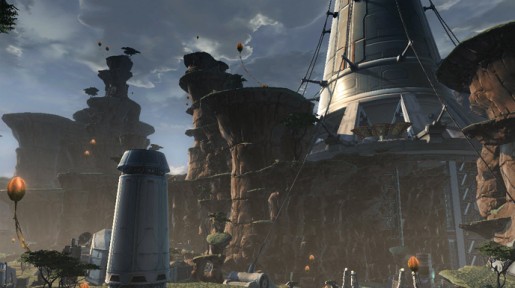 Bioware announced today that gamers who will pre-order SWTOR Rise of the Hutt Cartel starting today will receive bonus in-game items when it launch this Spring.
If you happen to pre-ordered the expansion already and have taken advantage the first promo they offered, which is the five day early access to the content, you can then add the three items to the list of goodies you will be receiving this Spring. As for those who have not pre-ordered the expansion yet and are saddened by the fact that there will be no early access to the content, you can still pre-order it and get the following items:
– The Dr. Oggurobb Hutt Holostatue
Train under the illustrious Hutt scientist Dr. Oggurobb with this portable training device that he created in his own image.
– "Scourge of the Hutts" Title
Republic and Imperial forces that adorn this title will be feared and revered across the galaxy.
– The Makrin Seedling Mini-Pet
Get your very own Makrin Creeper to follow you around and "creep" out your enemies! Possessing bark-like skin and grass-like nerve-rich tissues that blend in perfectly with Makeb's environment, the Makrin Creeper has a distinguishing and eerie look!
Rise of the Hutt Cartel digital expansion is scheduled for release this Spring 2013. With the new expansion, players will now be able to advance to level 55, access the Planet Makeb, and many more. For more information on the expansion and how to pre-order it, head over to the Official SWTOR website.