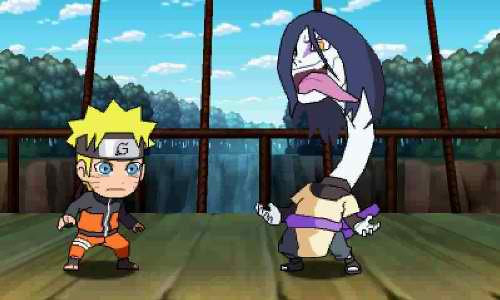 Namco Bandai is pleased to reveal today that starting March of next year, a new Naruto game on the Nintendo 3DS will be released in North America.
Naruto Powerful Shippuden will be based on the popular anime series NARUTO Spin Off: Rock Lee & His Ninja Pals, the latest series in the Naruto franchise. Just like other Naruto games, Power Shippuden will be an action side scrolling game where this time, Rock Lee will be joining Naruto in his quest through various ninja missions that are directly based on their animated storyline.
NARUTO Powerful Shippuden includes a Story Mode as well as an Endless Battle Mode so players can choose to either follow a progressive storyline or just pull out the punches for a sprightly ninja showdown. The action-packed gameplay allows players to earn experience points to power up their vivacious characters and also use the touch screen to strengthen special attacks. Fans will recognize their favorite characters from the NARUTO franchise such as Kakashi, Sakura, Gaara, and many more; all can be called upon as support characters in the midst of battle. With familiar friends at their sides and ninja moves up their sleeves, players will embark on the journey of becoming a powerful Leaf ninja to knock out opponents or even become a knock-out with sexy jutsu.
Naruto Powerful Shippuden is scheduled for release in March 2013. No definite release date has been revealed but it's good to know that it's only a few months away.