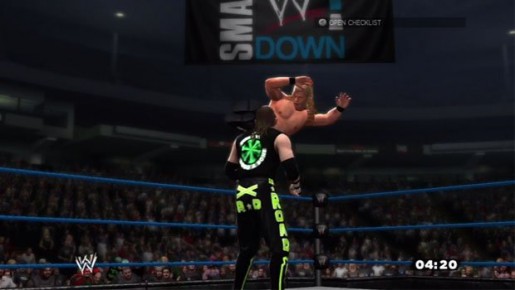 One of the other matches I found hard to do was the Chris Jericho vs. Road Dogg match during the "off script" chapter in the Attitude Era.
As mentioned before, this was a tough match to complete because of so many factors to consider. You need to earn two finishers, you have to set up a table and there's a five minute time limit to complete all of this too.
I'll try my best to guide you through this the best way I can. I found an easy way to powerbomb Road Dogg without the referee getting rid of the table all of the time.
Here's what to do:
-Getting the Liontamer finisher should be straightforward. Just keep on beating up Road Dogg and you will earn a finisher in a minute or so.
-Keep beating up Road Dogg and you should earn another finisher in another minute or so. This leaves around 3 or 2.5 minutes left on the clock for you to try and powerbomb Road Dogg through a table.
-Pick a table up from the left side of the apron. Just press the "L1" (left bumper) button in the middle of the left side of the ring.
-Don't try and set up the table inside the ring. The referee will just get rid of it all of the time.
-The easiest way to set it up is to just lean it against a barricade or on the side of the ring by pressing the "Circle" (B) button.
-Once Road Dogg is near, hit the powerbomb on him. To direct your position, use the left stick. If you don't use the left stick, you might end up missing the table entirely!
I hope this helps you. You could set up a table normally outside of the ring, although I felt this was too cumbersome because the camera angles are awkward and I ended up missing the table twice using this method…