Sports Champions 2 is the brand new motion controlled sports collection from San Diego Studio and Zindagi Games. Trying to pick up from where the original left off, Sports Champions 2 offers five sports that include Tennis, Golf, Boxing, Skiing and Archery all in one game. The game has both multiplayer and single player modes and can be used with either one or two Move controllers per person.
So let's kick off Sports Champions 2's HOTs and NOTs
HOTs
Presentation
Sports Champions 2 does a good job presentation wise. All of the arenas for the different sports have their own unique visual appearance and none feel less developed or polished than the rest. From the grassy golf courses to the underwater bowling alley, each arena looks lovely especially with the ability to choose between night and day.
Not only are the graphics pleasant, but the music and sounds of the game are great also. On a title such as Sports Champions 2, it is nice to see that San Diego hasn't tried to overdo the music tracks, as it would have detracted from the game. The music is rather laid back and is more ambient background music that won't offend any players' ears.
Characters
Once again like in the original, Sports Champions 2 has a decent range of characters, each haveing their own unique appearance and personality. There is also the option to create your own character choosing what they look like, what they will be wearing for the different events and their personality which determines how they celebrate when they win points and matches. This feature isn't a game seller, but it is nice to be able to apply a personal touch to the game.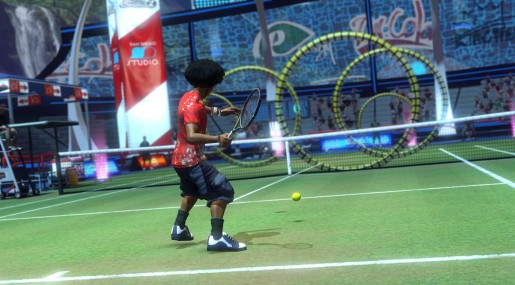 Playability
The motion control system makes Sports Champions 2 an exceedingly easy game to play. Allowing the player to pick up the controller and play without having to remember any complicated control scheme. Taking on opponents also gives players something to aim for and someone to beat and whilst this competitive nature is bound to be a part of the title, Sports Champions 2 manages to remain a fun game to play even if you are currently losing…
Multiplayer
The game's solo play options are certainly enjoyable to play, allowing gamers to practice and improve upon their previous bests. On the other hand, Sports Champions 2 comes into its own when played as a multiplayer title. As sports such as bowling and tennis are rather universal, new and experienced players can feel at approximately the same level as soon as they start playing; this can help people to like the title as they don't feel at a major disadvantage even if it is the first time they have played it. As controls are simple and similar to the actions of real life, the learning curve present in other titles is gone simply allowing friends to pick up the game and enjoy it together.
Variety Of Events
There are five individual sports to choose from in Sports Champions 2. In no particular order they are golf, boxing, skiing, tennis and ten pin bowling. Offering five sports that are completely unique gives strength to the title both in attracting more players and increasing replayability. With this variety, players will find it hard to become weary of the title as quickly as if they were playing for example "just a golf title".
As with the original and other recognised sporting packs such as Wii sports, Sports Champions 2 is a game I can see coming out time and time again especially when you have family or friends round. The variety on offer means a couple of friends may challenge each other to a round of golf and then another couple can simply switch over to a more energetic sport such as boxing; without even changing the game. There's nothing worse than playing a game with friends or family round where not everyone wants join in but with Sports Champions 2 almost everyone will be happy to play.
Sports Champions 2 Review

,