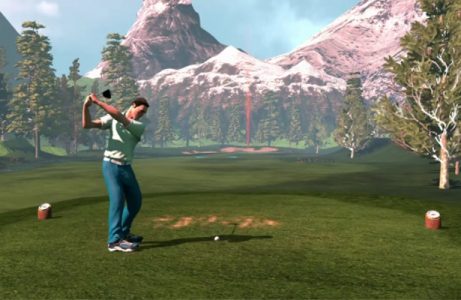 Bullseye, Ace, Hole-In-One & A Knockout
Four out of the five sports are extremely fun to play; in fact the most extreme sport is in fact the biggest let down. First up, archery. Making its return from the first title, it once again offers gamers a fun experience, whether they are using one or two motion controls. While the mode itself hasn't been tweaked or upgraded heavily in all honestly even in the original archery was exceedingly fun to play. Players will not just be aiming at the standard targets though, shooting them back and forth to gain points, bursting multiple balloons at a single powerful shot and exploding watermelons are things to look forward to.
Now onto tennis. For those used to Wii Sports tennis, they both nail the fun factor and both use player motions to hit the ball back and forth and to an extent control the power of the shot however this is where the similarities end. Where the ball is hit, is determined by plenty of factors; the amount of spin on the ball, the power it was hit with, the time it was hit and even the angle of the racquet is taken into account.
Golf is in fact a pleasant surprise and is great fun to play across all 27 unique holes. Yes, forgetting to take into account the wind and the inevitable off straight shot can infuriate players when struggling to stay in first place or even battle to catch up with the leaders but there is a satisfying feeling when the golf ball ultimately topples into the hole: for the record a hole in one is practically impossible, just like in real life.
Finally, boxing. It is quite easily the most exhausting of the sports and the best way to release any anger you have built up, whilst being perfectly safe: other than any injuries that are self inflicted. Blocking and landing punches is all rather intuitive meaning that anyone if they so wish can hop into the virtual ring and attempt to KO their opponent.
NOTs
Skiing
I never have or will understand snow based sports such as skiing or snowboarding being turning into games that aim to be realistic and not like SSX. This is especially the case with motion controlled skiing titles. Launching out of the gates and pumping your poles to gain speed all works well, but then it sooner or later fails when players must actually get down the mountain. Twisting the controller left and right and angling it forwards and backwards fails to capture the spirit of skiing and results in gameplay which feels far from the real experience. Perhaps skiing is a sport best left for real life and over the top titles and not to be recreated in supposedly realistic video games.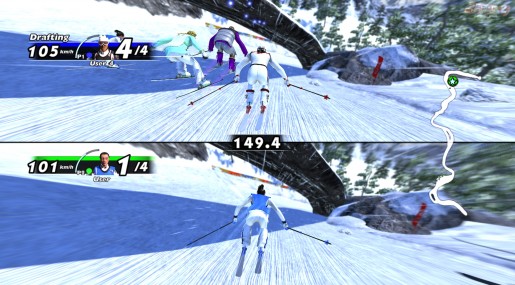 Lack Of Online
With games often having a multiplayer component added when it isn't needed, I'm surprised that Sports Champions 2 doesn't. It isn't needed to make it a good game, but it would be great if players were able to play friends or take on opponents from all around the world. It's such a surprise that it hasn't been added, as although it was missing in the original, the multiplayer section is so fun online multiplayer seems like natural progression.
If You Have Only One Move
It is possible to both play and enjoy all the sports with only a single Move controller, but it is certainly limiting. Take for instance boxing; with a single move it is enjoyable and controls have been added for use of the second hand however with two controllers not only is the player not able to do any two player sections, they won't get to enjoy the more rounded experience either. As some multiplayer events cannot be played with only one Move controller, it is certainly something to think about when purchasing the title; if you only have the one Move it would seem like you are only able to play three quarters of the game.
Verdict
Sports Champions 2 is a solid sequel, building from what players enjoyed with the first title and introducing them to a selection of new sports. On one hand skiing is a rather dull and odd affair; on the other archery, tennis, boxing and bowling will all make players want to play the game over and over again. There hasn't been much improvement since the original and with online multiplayer not making it into the title, it seems even more limited. This being said, Sports Champions 2 is a entertaining title and should be a satisfying game for any Move owner.
Sports Champions 2 Review

,