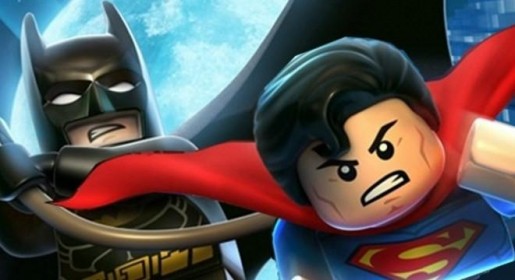 Over the years, the LEGO series has been milked every which way but loose, and usually it seems quite unjustified. Sometimes games just come out of the left field and surprise us all with how outstanding they are. Alternatively, many times we see the type of games that we have to wonder who could put a series through such torture. Now that LEGO Batman 2 is out, many are somewhat reluctant to give it a try after having a bad taste left in their mouth from a high amount of previous LEGO video games.
So we at JustPushStart know what you're wondering – how is the game? Let's see what's HOT and what's NOT in our review of LEGO Batman 2: DC Super Heroes.
HOT
Brand New Story
Unlike most LEGO games in the past, LEGO Batman 2 makes an entirely new story to play along with. Usually the LEGO games have you following the events from the movie that the game is based off of, but this is not the case here. The story in LEGO Batman 2 follows a sinister plot to rig the voting for president and to elect Lex Luthor after losing to Bruce Wayne in a popularity contest.
There are many elements that make the story in the game truly shine. A brand new, quite significant addition to LEGO Batman 2, and LEGO games as a whole is voice acting and talking characters. With past LEGO games simply resorting to the player assuming what was going on and ultimately making up lines for the characters as they progressed, some thought that the use of facial smirks and character shrugs were a bit lacking. This is greatly expanded on during Batman's latest LEGO adventure. The expansion of the story is greatly helped along by the new voice acting cast. Not only is the story much easier to follow and keep up with as a whole, but it will also have you laughing fairly often due to the great humor that can only be achieved as a result of the voice acting addition.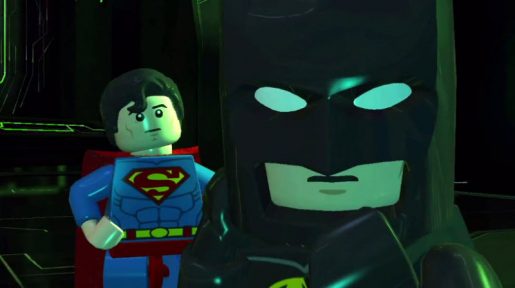 The story is moderately lengthy, but is also highly dependent on how you decide to play it. Once I had completed the fifteen chapter story, I had clocked in at just about nine hours total. My time being on the higher side of the possibilities based on the fact that just about every room I entered ended up being smashed to little bits of studs before I decided to move on. You can of course have a longer story time than mine if you have more troubles progressing and solving puzzles (like I at times did), or could of course be shorter if you are simply playing through the story just to experience it and nothing more.
Graphics
While the overall graphics in LEGO games seem to stay consistent, it is quite easy to notice the amazing level of detail in LEGO Batman 2. Whether it be through the cutscenes where certain areas are focused on, or in general where you are roaming around the city, it is quite nice. Even when most wouldn't expect a LEGO game to have graphics that stand out, but instead LEGO everything, looking over Gotham City from Bruce Wayne's tower has rarely looked this great.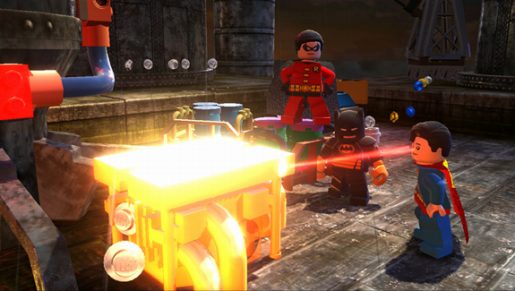 Loads of Content
Once you have run through the overall story mode featuring a full cast of characters such as Harley Quinn, Joker, Bane, Lex Luthor, Catwoman, and more, you will then have open world free roaming available. There is quite an incredible amount of things to do once you are finished with the main story in the game. When I had completed the story (in approximately nine hours), I had a completion of just barely 25% for the whole game.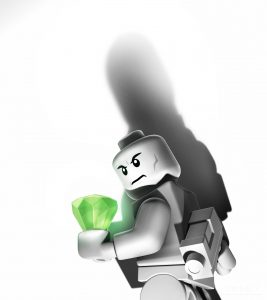 Since sometimes big numbers frighten people, we should get that out of the way first. There are a total of 250 gold bricks to be collected that are scattered across Gotham City. From there, you will gradually unlock boss fights that pit you against mainly well known characters from the series. Defeating a boss will then unlock their character for you to use in your exploration of the city, as well as special abilities allocated to certain characters. Once you've unlocked all of your favorite characters (including, but not limited to Joker, Sinestro, Mister Freeze, and Lex) you wouldn't want to let Gotham City be in peril, would you? There are a total of fifty 'citizens in peril' that require using various abilities from your different unlocked characters to save from trouble.
LEGO Batman 2: DC Super Heroes Review

,