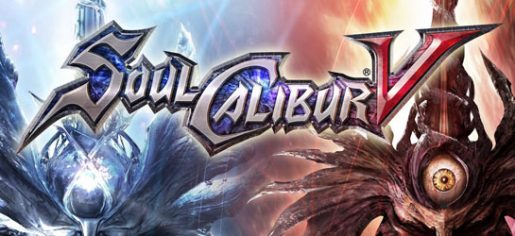 Welcome back to the stage of history. It has been four years since Soulcalibur IV was released and Team Soul's goal is to revitalize the series with SCV (actually the sixth entry counting the PSP's Broken Destiny) by overhauling the game's mechanics. Nearly every feature from past titles have either been replaced or tweaked. Do these changes help the franchise evolve for the better? Or has it become one huge nightmare?
HOT
Gameplay
Let's address this immediately: Soulcalibur V's gameplay is outstanding. Team Soul made the necessary changes to its previous formula to ensure that the experience was nothing short of being top-notch. To do this, it seems they viewed other popular fighting titles (Marvel vs. Capcom, Street Fighter, etc) and adapted their mechanics to fit Soulcalibur's structure and pace. The gameplay is faster paced than its heavier and slightly sluggish predecessor and it's more combo-friendly. Everything transitions smoothly from one attack to the other at an acceptable speed. It isn't Street Fighter fast, but that's a good thing for the setup here. Also, there is no longer a Soul Gauge. That has been replaced with the Critical Meter which steadily fills during combat until it reaches its maximum by filling up twice. This meter is used to perform specials and devastating, moves on your opponent as well as safeguard yourself from some of the opposing player's heavy-hitting strikes.
On the offensive side, you have Brave Edge attacks and Critical Edge attacks. These work very similarly to Marvel vs. Capcom's Hyper and Ultra combos. Brave Edge costs one-fourth of the maximum Critical Meter (remember, it the meter fills up twice). These quick attacks can be added in to many combos making them a prime choice for extending your attack as well as vastly increasing its damage output. Critical Edges are much more cinematic attacks that tend to cause excessive damage to an unprepared opponent. Certain ones can even follow up combos, such as Patroklos' Critical Edge, while others may have a Guard Impact attached to the beginning of the attack.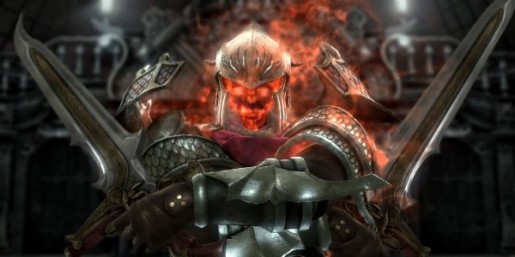 What is Guard Impact exactly? It's one of the defensive options the Critical Meter provides and, like the rest of the game, this feature has seen some changes as well. Timing is everything when it comes to Guard Impact. By timing it just right, you can return the attack on your opponent plus a little extra damage. This is assuming that you have at least a quarter of your Critical Meter available so that the move can be executed. Certain characters, such as Nightmare and Xiba, have Impact Guards attached to their Critical Edge. This makes them especially dangerous as they are harder to interrupt plus if you contact with the Impact Guard you'll receive even more damage from this already massive assault. Just Guard is the other defensive option awaiting tactical players. Tapping the guard button right before an enemy's attack makes contact results in a Just Guard which reduces the wait time before being able to counterattack. Another addition to Soulcalibur V is the ability to side-step dash by double-tapping up or down, a move greatly appreciated in what is no doubt one of the last great three-dimensional (in terms of arena) fighters. Obviously, this feature is free to use and players won't have to sacrifice any of their Critical Meter to get out of the way of those slow moving power attacks.
Characters
This game has a large and well-rounded cast. You'll see old and new faces alike while sitting at the character select screen. Even returning characters might require a second glance since some have undergone visual changes. Siegfried no longer has his hulking ice armor and sword. That has been replaced with a less bulky, dark grey armor and a matching great sword. Even Astaroth has given up his previous demonic appearance for a giant green-skinned fighter that looks closer to his Soulcalibur II form. You'll also come to know new characters such as Pyrrha, Patroklos and Z.W.E.I. The first two have sword and shield fighting styles whereas Z.W.E.I wields a sword but trades in the shield for a werewolf companion. Let's not forget that Ezio has joined the party as a special character and he has proven that he can hold his own well in this latest fighting game. Regardless of who you choose, you won't be disappointed since all characters feel solid on their own with their unique styles.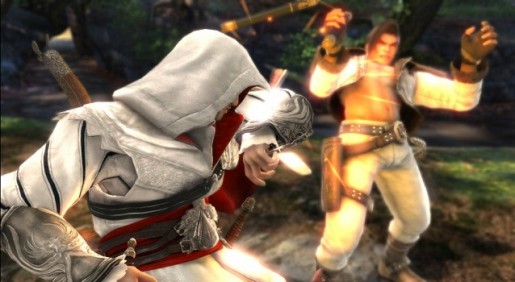 Modes
Soulcalibur V brings several modes to the table and there's sure to be something for everyone. You have your basic Arcade mode which allows you to take your chosen fighter through a list of characters with increasing difficulty. This mode is pretty standard and exactly what we've come to know from every other fighting game. There's the equivalent of Arcade on the highest difficulty, Legendary Souls. After completing the game's Story mode, you'll unlock Legendary Souls. Unlike Arcade, the characters are always exactly the same and appear in the same order. You'll start by fighting Kilik who is using his old staff, Dvapara-Yuga, and then battle all the up to Algol. The characters in between are something to fear as you'll be facing off against the game's elite fighters at their toughest. It is truly a mode for the hardcore Soulcalibur player. Quick Battle (my personal favorite) has players choose their opponent based on rank (E5 being the lowest and A1 being the highest) and can collect various titles for their player card in the process. These opponents can be normal characters or created characters put thrown together for this mode. One minute you may be up against a low-level girl dressed as a panda wielding a squid and ray (shield and sword fighting style) and then next thing you know you're trying to take on an A1 Mitsurugi to obtain his prestigious "Legendary Swordsman" title. Warning: it is very addicting.
Training is present in the list of selectable modes as one would expect. Take the time to learn each character's move set and prepare for the real thing. Once you believe you're ready, there's the online portion so that you may display your SCV dominance worldwide. While playing online, lag and connection issues were not present. The game ran as expected and inputs were responsive leading me to believe this will be a very popular choice for long-time fans. Finally, there's Story AD 1600's. Soulcalibur IV let you take any character you wanted through the story and each had their own ending. That idea has been ditched and a more structured story mode has been implemented, but more on the story in a bit.
Creation
When you grow tired of playing with the same roster of characters, look no further than Creation. Here, players can either edit existing characters, although some are off limits (ex: Ezio), or create their own from scratch. If you wish to create a minotaur with the fighting style of Astaroth you're free to do so. This time around, the creation system is much more intricate than it was in the last Soulcalibur entry. Color palettes, clothing patterns, object orientation, face/body features and item size are just a small handful of the countless options that can be tweaked. Do you want a bright green trail to follow your weapon as you swing it? Done. How about horns protruding from your chest? Sure. The combinations are limitless. Players shouldn't have a hard time fine-tuning a custom character to their liking with the plethora of selections.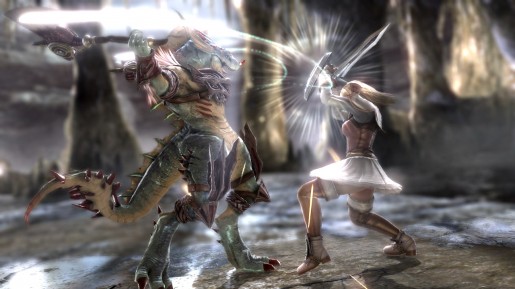 Player Cards
Remember those titles in Quick Battle I mentioned earlier? Beating those A1 opponents yields more than just personal satisfaction. Bragging rights come with each defeated opponent in Quick Battle because they give you a title. The E1 – E5 opponents may not carry a title that you wish to show off (some would actually be embarrassing), but those A and B rank fighters have what we all strive for. Once you've obtained a title that you're happy with, you can select it for your player card as well as a picture. You can also set your geographical location in case you want to fight people closer to home. As you play the games in different modes, you'll earn points that go towards increasing your player level. This level is also displayed on the player card. These cards are displayed when you play Quick Battle offline, but more importantly, they're displayed when you face off against real people online. Having the "King of 1,000 Swords" title would definitely be intimidating if the opponent only has the "Ordinary Person" title.
NOT
Story
First off, let me say that I must commend Team Soul for trying to provide a fighting game with a stronger emphasis on story. It is unfortunate that it did not hold up to the standards set by the rest of the game. Instead of selecting your own character, the story will have you switching between Patroklos, Pyrrha and Z.W.E.I as you follow them on their journey to destroy Soul Edge and strike down Nightmare. The story revolves around Patroklos' search for his sister, Pyrrha. During his adventure he meets up with familiar characters and becomes involved in something much bigger than he expected. While the premise isn't bad, the story being told isn't going to hold the interest of too many players. The are only two reasons to play story: to enjoy the fights between cut scenes and to unlock Legendary Souls. Besides that, there isn't really a reason to revisit the 20 episodes contained within this mode.
Verdict
SoulCalibur is ready to join the other heavy-hitters in the fighting genre with the latest installment. SCV provides a more fluid combat system than IV and rewards players for taking the time to learn each character. Every mode, of which there are many, is enjoyable and provides its own experience. Quick Battle is one of the greatest additions since the opponents are so varied, not to mention the rewarded titles for your player card. Once you're done fighting custom characters go try out the deeper creation mode to modify and construct your own character. There is very little to complain about in Soulcalibur V… except Story AD. I'll state once again that Team Soul was very bold for trying to push a story mode in a fighting game in hopes of creating a shift in focus, but it doesn't hold up too well and it definitely doesn't one's attention too well. Overall, Soulcalibur V is an excellent entry into the series that shouldn't be missed by long-time fans as well as newcomers.
[Editor's Note: SoulCalibur V was reviewed on the Xbox 360 platform. The game was provided to us by the publisher for review purposes.]
SoulCalibur V Review

,