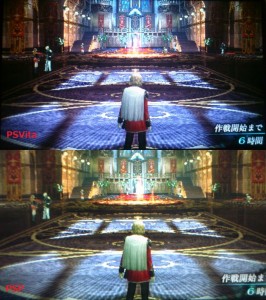 Downloadable PSP games can be played on the PS Vita. The results will amaze you as the PS Vita's screen improves the graphics.
As posted on Andriasang, Final Fantast Type-0 and Monster Hunter 3rd look a but better and smoother on the PS Vita than on the original PSP. This is much like when you played PSOne games on the PS2.
Although these photos are low-res, I'm sure the differences can be seen more if you play on the PS Vita yourself.
The PS Vita is out February 22nd.
Check out the images below:
PS Vita vs. PSP Screenshot Comparisons

,