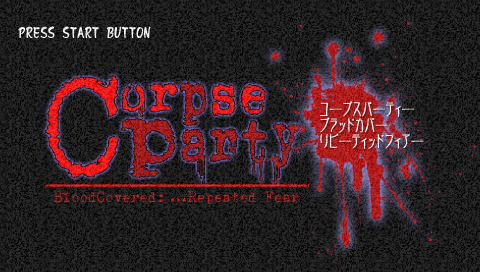 If you haven't heard of Corpse Party (Corpse Party: Blood Covered, Repeated Fear in Japan), you're not the only one. A part of the immensely popular Visual Novel genre in Japan, it essentially plays as a 16-bit adventure game with heavy story elements, classic anime stylings and lots and lots of grisly murder. Featuring an all-star Japanese cast, multi re-release of a game originally made on archaic RPG Maker software, this game may come close to home for a lot of different reasons.
It's a unique game and about as gritty and gory as the day is long, but is this independent Japanese horrorfest worth dripping into? Or will you be praying for a way out? Check out the HOTs and NOTs of Corpse Party for the Sony PSP.
HOT
Story
There are thousands of visual novels in Japan with a great deal of them being pornographic or just plain bad. We only get the occasional visual novel in America, so we have the advantage of quality control. Only the best visual novels make it over here. That said, Corpse Party's slow boil of a story becomes deceptively engrossing.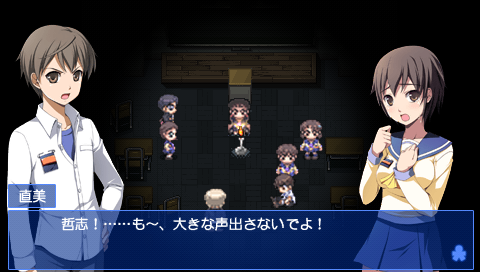 A group of nine perform a chant inside their classroom on a dark and stormy night and end up in an abandoned elementary school forged of misery and agony. From there, the game tackles extremely heavy themes that, to the casual observer, would be deceptive to its cartoonish style. Even the most versed in anime gore-fests and Japanese horror may find themselves on edge. Dealing with themes of incest, child murder, suicide, starvation, cannibalism and insanity. The game uses a relatively slow opening to improve its over-all horror. Needless to say, those with weak stomachs need not apply.
While its format may put it through the ringer a bit, the game can often shed moments of absolute brilliance, often in the form of diaries or chase sequences such as the Victim's Memoirs, which take a "King In Yellow" read-to-go-insane approach or a chase sequence with a delusional man in search of his little sister. Those with short attention spans may never make it to these sequences, but those with an appreciation for slow, caustic, deeply personal horror will find an experience that far surpasses the limits of its visuals and stiff controls.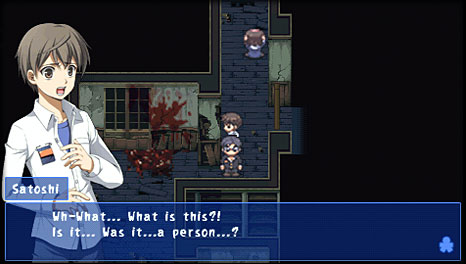 Believable Characters
With an awkward beginning, people may begin to wonder how they'll be able to keep track of this many different Japanese school girls without depending solely on their breast size. However, in more than aesthetics (which prove to eventually be enough to distinguish certain characters), every character has flaws, fears, struggles, fears, weak points, fears and fears. Not a single person proves themselves to be perfect or too good for the scenario or horror around them and every single character fights a losing battle against insanity.
The well-rounded feel of every character only enhances the horror to become something you would truly care about losing. Every moment you hear a spurt, stab, crunch or scream, you worry about who in your party may have finally kicked the bucket. The rule "Anyone Can Die" applies here in full force and it reaches inside of the player and force them to worry about who or what may be crawling around the corner.
Strong Audio Design
Where visual gaffs and an outdated look may be forgiven by the fact that it was created on RPG Maker software, the audio design shines through and sounds great. Where some tunes may grate on your ears, things feel intense when the music decides to switch or, even worse, stop completely. If the visuals don't draw you in and immerse you completely, which is likely, the audio design will.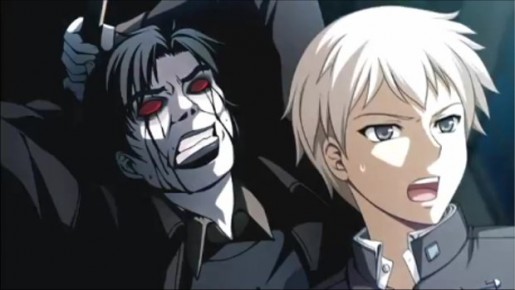 While western audiences may not be particularly thrilled to enjoy the all-star cast of Japanese anime voice actors and may be even more disappointed at the lack of an english dub, the voices still do add to the overall experience, resulting in some of the most truly horrified screams in video game history.
Long
This is a game that could easily last you 15 to 20 hours on your first playthrough. The game is split into five chapters, which in turn gets progressively longer. Where the first chapter may last you an hour or two as will the second, provided you don't get monumentally stuck anywhere, chapter three could last you up to three hours. Appropriately, chapters four and five may as well be their own game. You will be getting your moneys worth on this game, at least in value… which brings us to…
NOT
Steep Price Tag
This game is 20 dollars, American. While this may not seem like much in a market where many had to pay 60 dollars for Duke Nukem Forever and come out with nothing but a frowny face and a short campaign, this may still turn many gamers off who wouldn't be ready to shell out twenty big ones for a game that looks like it could have been developed on the Super Nintendo at first glance.
Unforgiving To A Fault
Where games like Demon's Souls and even the ancient Castlevania games used brutal difficulty to create specific game feel and use it to serve the immersion and sell the game's world, Corpse Party is that special kind of difficult where you are forced to wander the same halls over and over again to find out how to advance the story. The game will not be helping you either, no sir, where a hint system isn't exactly necessary, and some may like their adventure games to not give them any helping hands along the way, the game often doesn't have the decency to let you know exactly what you're looking for.
This may have been forgiven in a more immersive game, but it's such a glaring fault due to its structure. This is not a game that should be played in one playthrough, but because of the absolute lack of any context after the first hearing of any hint, you will often be left wandering the abandoned school halls wondering what it is, exactly, that your character wants or is trying to accomplish. Coming back after a break doesn't help either.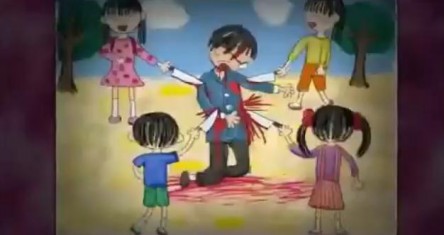 Due to the fact that the game will sometimes force you to solve metagame puzzles such as word jumbles scribbles on the halls or floor searching puzzles with cryptic hints, it would be best to take down notes if you're planning on leaving your game for any amount of time. The frustration only increases when death is a possibility. Often you will be forced to solve a puzzle while a certain character seeks to murder you. Where in some cases, the actual intensity may increase, there are a few specific puzzles that will force you back to your save points after lengthy, unskippable death sequences which in turn, gives way to another one of the games fatal flaws…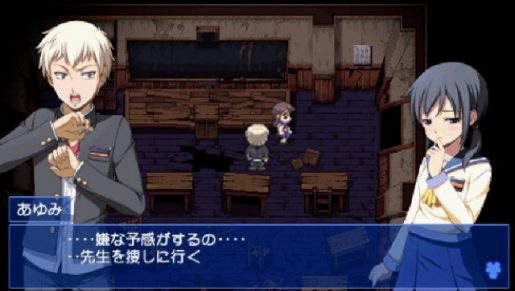 Save Points
Save points aren't a bad thing, not a good thing, but not exactly a fault. The implementation of the save system, however, was one that desperately needed to be reworked. While many regular visual novel gamers may be familiar with the old rule of "Multiple Save Files", many aren't, and to further the confusion, multiple save files aren't necessary until the final chapter of the game where false moves can send you into a bad ending and the entire chapter needs to be restarted. This is further hindered by the arduous process of saving and its length.
VERDICT
Corpse Party, along with the entire genre of horror visual novels, is certainly not for everyone. It's a game with so much confidence in its almost peerless horror storytelling that it may have forgotten to iron out a few of its extremely evident flaws. Not every gamer may be able to forgive these flaws, especially without a walkthrough (which is rare for an obscure game such as this), but those interested will find a complex and well told story that's deeply involving in between the sandwich boards of frustration. For any and all interested, check your sanity at the door.
[Editor's Note: Corpse Party was reviewed on the PSP. The game was provided to us by the publisher for review purposes.]
Corpse Party Review

,