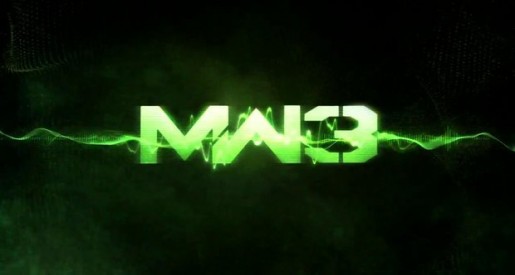 Modern Warfare 3 is the latest title from the massive Call of Duty franchise, developed by Infinity Ward (the studio that brought us Modern Warfare and Modern Warfare 2) and Sledgehammer Games.  Modern Warfare 3 starts from where the storyline finished in Modern Warfare 2, the game follows multiple characters as they encounter fire fights around the world which has been plunged into World War 3. Will Modern Warfare 3 be another hit title or will the series finally start to show signs of becoming old?
Let's find out and kick-off its HOTs and NOTs
HOTS
Presentation
Modern Warfare 3 is a visually pleasing game. By no means are the graphics going to take the best graphics crown this year, but they still deliver a high-quality visual experience. The graphics have been slightly upgraded from Black Ops and Modern Warfare 2 although this isn't where the main improvements have come from.
Infinity Ward has however made a massive improvement when it comes to the in game sounds. Gun shots sound heavy and more realistic than ever before. Gun shots echo throughout corridors, teammates shout out across fire fights and not to mention the games explosions; all the sounds work well together to produce an engrossing atmosphere that intensifies even the smallest of shootouts
Another area of improvement in this year's instalment is the animation. The best example of this is when changing between weapons, the on screen character doesn't just suddenly pull up the second gun, instead the character either unfolds the stock or checks the gun slightly before the player is able to use it. This means that changing weapons does take slightly longer than in previous games but it makes the game look and feel more realistic.
Spec Ops Mode
Often known as the third mode of a Call of Duty title, the co-op section is once again full of entertaining over the top scenarios for gamers to tackle either by themselves, with a friend or a random player from somewhere around the world. The majority of the missions won't take players too long to complete but they are all enjoyable enough to warrant replaying the levels, especially with friends.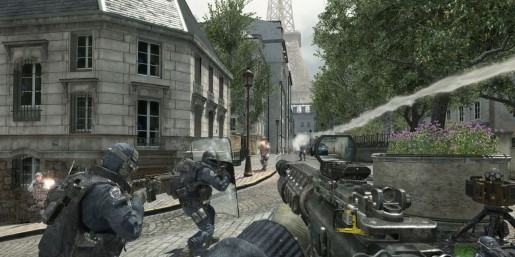 Spec Ops doesn't just offer missions this time around, there is also Survival mode for gamers to sink hours into. With even a short game of Survival mode lasting around half an hour gamers will find they will spend plenty of hours defeating wave upon wave of increasingly harder AI. While it does sound similar to the Call of Duty: Black Ops Zombie mode in fact there is a surprising amount that is different. Weapons, explosives, perks and even killstreaks can be brought in between rounds and this variation means the gameplay is wildly altered. In addition compared to Zombies there is more variation in the waves; some are just standard ground troops, other includes dogs, juggernaut and a few consist of attack helicopters.
Hollywood Blockbuster Storyline
It's what Call of Duty fans have come to love and believe me when I say that Infinity Ward has gone all out for Modern Warfare 3. They have created another immensely gripping and action packed storyline: from start to finish players won't be able to put the controller down as there is always something happening or about to occur. The gameplay is nicely broken up between events with different paces; this means the gameplay never feels like a constant endless flow which would eventually become tedious.
Two Players? No Problem
The best feature that has been taken from Call of Duty: Black Ops has to be the split-screen multiplayer feature. No longer will you be forced to pass the controller after a couple of deaths between players. As it was copied from Black Ops and other games before that it's not a brand new revolutionary attribute but it is one that provides a lot more fun to a couple of players on the same console.
Listened To the Community
For Modern Warfare 3, Infinity Ward has really listened to what the gaming community had to say about both Black Ops and Modern Warfare 2. Targeting all the major complaints about the two games they have removed the most complained about perks, Commando and the One Man Army, and also brought back sniping to a reasonable level.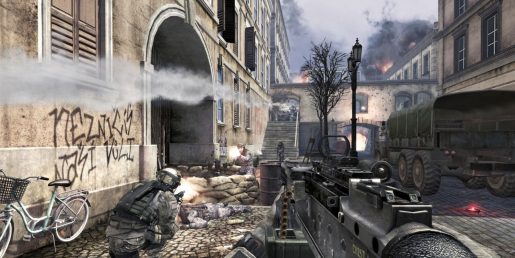 Explosives are another area which players often used to say were too overpowered but this issue is no longer. Now they have to explode in the right area to kill someone, in turn this means there is a lot less cross map 'noobtubing' and random frag grenades flying around the multiplayer maps.
Some people may complain that sniping has been brought back but with the game being faster paced it is a lot harder for snipers to quickscope opponents one v one. Also with the fact sniper rifles didn't shot straight constantly in Black Ops no-one can truly complain about them being 'fixed'.
New Additions in the Multiplayer Mode
The Call of Duty franchise has become known most for its addictive online multiplayer component but what has Sledgehammer games and Infinity Ward brought in this time to keep the game form being just a re-skin of a previous game? The biggest change overall has to be that previously named killstreaks are now point streaks.
While players can still gain rewards from kills they are also encouraged by this change to go for objectives too, as they will obtain points towards rewards from doing an objective. The point streaks come in three categories; Assault, Support and Specialist. Assault and Support both offer some new point streaks but otherwise split the old killstreaks into two groups for different types of players. Specialist however doesn't give players point streaks but new perks after getting kills, upgrading the player rather than given them air support. The change sounds small but now every player can customise their multiplayer experience that bit more.
There are also new modes for players to experience. Kill confirmed takes the standard Team Death Match and mixes it up by adding players' dog tags. The dog tags are then used to confirm or deny kills, which is how points are earned for teams. Another new mode is Team Defender where as a team players must try to control the flag while mounting up kills. It is like the classic king of the hill type gameplay merged with the Call of Duty game mode capture the flag. Both add new unique experiences and adds to the variation on offer in the multiplayer portion of the title.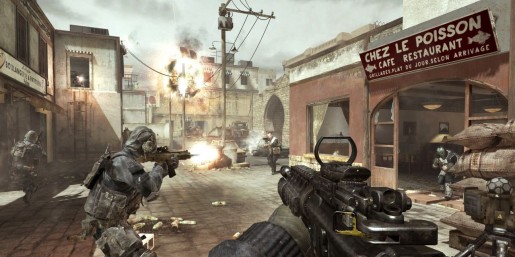 NOTS
Short Campaign
Like previous Modern Warfare titles don't go into Modern Warfare 3 expecting a lengthy campaign. Despite the fact that the storyline is thoroughly entertaining and providing a lot of replay value it is on the short side. Average players will be able to complete the game in 5-8 hours; so for some that's one sitting.  It is not a long campaign but fortunately it seems Infinity Ward has focused more on making it a very intense game and making it action packed enough for it to be replayable.
Online Issues
There have always been problems with the Call of Duty multiplayer and it seems MW3 hasn't gone far to solve this. The majority of the issues can be fixed via patches and to Infinity Wards credit some party connection issues have already been addressed. Unfortunately there are still issues with spawning on MW3. Spawning has been a known issue for a long time but it seems Infinity Ward and Sledgehammer games haven't been able to solve it. Another slightly more irritating problem is that numerous players have had their ranks put down randomly. Whilst it isn't the worst thing ever after spending the time to rank up to unlock that next gun only to find the game has deranked you can be frustrating.
Verdict
Modern Warfare 3 takes what fans loved from previous games and has built upon that solid base. It offers a fast paced, fun, and addictive multiplayer, a great cooperative section and an action packed, intense storyline that means I can see myself playing Modern Warfare 3 for months to come. While the graphics haven't been improved much from Black Ops the game still looks impressive and other improvements have been made throughout the game. If you're looking for an extremely fast paced action packed first person shooter look no further!
[Editor's Note: Call of Duty: Modern Warfare 3 was reviewed on the PlayStation 3. The game was provided to us by the publisher for review purposes.]
Call of Duty: Modern Warfare 3 Review

,