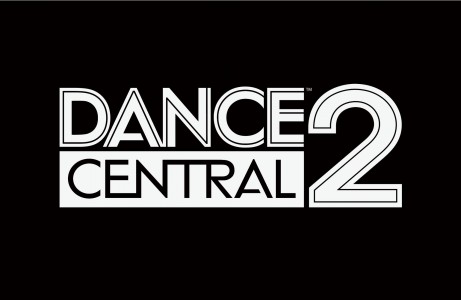 Special thanks to my children Latarah, Kiaera, Marcus, and Van for without their help, I would not have been able to review this game as extensively as I have (had no idea I was this out of shape).
Last holiday season, both Sony and Microsoft decided that they wanted a piece of Nintendo's pie by jumping on the motion controller bandwagon. While Sony designed what seemed like an imitation of Nintento's Wiimote, Microsoft decided to design a controller that allowed us to play games where "you are the controller" by using their Kinect motion sensor. While Microsoft didn't hit the sales goals they were targeting, the Kinect was still a commercial success largely due to the success of one specific launch title: Dance Central.
If you own a Kinect and you don't own the original Dance Central, then you have missed out on one of the greatest games of the entire Kinect library. I am pleased to say that Harmonix has done it again with a follow up to the smash hit; Dance Central 2 does exactly what the first Dance Central did, only better and we intend to tell you why as we go over what's HOT and what's NOT in Dance Central 2.
HOT
Co-Op Mode
One of the biggest down sides in the first Dance Central, was that if you wanted to play with another person, you would have to take turns alternating between who is dancing. Harmonix has rectified this by adding a co-op feature where two people can dance at the same time on the same screen. Players can also choose different difficulty levels causing their dance routines to vary. The one thing that I found was amazing was that throughout the dances, no matter what difficulty the songs were on, at specific moments in the song both dancers' moves would sync up very smoothly thus keeping not only the players entertained but also anyone else that would be watching them dance.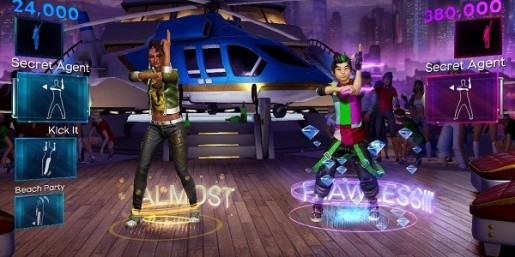 Extensive Song List
Not counting future DLC song packs that we all know will be on the way, Dance Central 2 comes jam packed with well over forty songs featuring artists like Lady Gaga, Mary J. Blige, Darude, Kurtis Blow, Willow Smith, Daft Punk, and many more. For those of you who did have Dance Central and downloaded any additional song packs, Dance Central 2 is also compatible with those songs as well, so you can count those toward the list too. There are just so many songs in this game, it will keep you dancing for months to come.
Difficulty Level
While I am listing the difficulty level in Dance Central 2 as a positive point, others (such as my wife) would argue that this point is actually a weakness. This game is much more forgiving regarding the way you are scored compared to its predecessor; at times you will see red outlining your dancer but will still get scored for a flawless. Now this does not mean that it is easier to score five gold stars in songs but it is easier to get five regular stars. It seems that Harmonix concentrated more on the actual scoring rather than making it difficult to get higher star ratings thus putting a greater emphasis on learning the actual dance routine versus the individual steps.
Voice Commands
Dance Central 2 has also taken greater advantage of the voice command system featured within the kinect. You can now use voice commands to "Slow Down" while practicing steps, "Skip" whole songs in the new playlist feature (where you can create your own playlist to dance through), or "Previous" which allows you to go back to the last step you were practicing or the last song in your list. There are many different voice commands that change slightly depending on the mode that you are currently in and they all respond very well.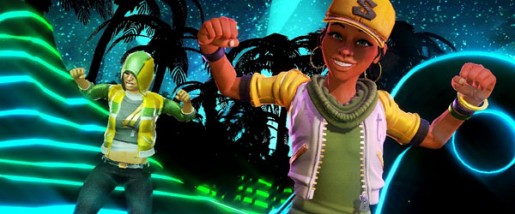 NOT
Slow Down
One of the very few problems that I experienced with Dance Central 2, was that during the "break it down" portion of the game where you learn the dance steps, when you "slow it down" to learn the moves it slows it down entirely too much making it difficult to actually learn the step. Don't get me wrong it does allow you to see the step better, but as far as actually performing it, slowing it down doesn't help you get the rhythm right. I was hoping to see different speed settings in the "slow it down" option this year, but perhaps next year.
VERDICT
If you own a Kinect for your Xbox 360, you must own this game. If you don't own a kinect for your 360, go out and buy one just so you can own this game. If you don't own an Xbox 360, go scrounge up $200 and buy the 4GB Xbox 360 with the Kinect so you can buy this game. Yeah, it's that good. Even if you don't like to dance, take my advice: buy this game, because girls DO like to dance. Dance Central 2 is a blast to have around for when friends come over, parties, or even just to tone down that gut you have with the fitness feature included in the game.
[Editor's Note: Dance Central 2 was reviewed on the Xbox 360. The game was provided to us by the publisher for review purposes.]
Dance Central 2 Review

,