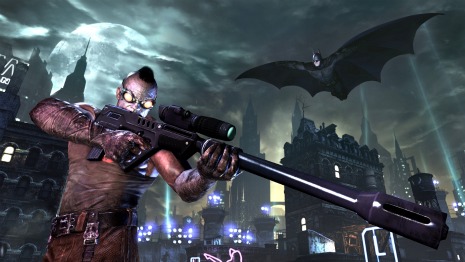 Rocksteady has unveiled the minimum and recommended system requirements you need to run Batman: Arkham City on your computer.
Nvidia posted a video a couple days ago what the game should look like if you're running it on a decent computer. Looking at the video, it appears as if it might be worth getting some upgrades for your computer as it looks stunning.
Check out the video below:
The PC version of Batman: Arkham City is released November 15th in North America and November 18th in Europe.
Minimum System Requirements:
Operating System: Microsoft Windows XP, Vista or 7
CPU: Dual-Core CPU 2.4 Ghz
RAM: 2GB
Graphics Card: NVIDIA 8800 or ATI 3800 with 512MB of VRAM
Sound: Microsoft Windows XP/Vista or 7 compatible sound card (100% DirectX 9.0c-compatible)
DVD-ROM: Quad-speed (4x) DVD-ROM drive
Hard Drive: 17.5GB free disk space
Input Devices: 100% Windows XP/Vista or 7 compatible mouse and keyboard
Recommended System Requirements:
Operating System: Microsoft Windows 7
CPU: Dual-Core CPU 2.5 GHz
RAM: 4GB
Graphics Card: NVIDIA GeForce GTX 460 or ATI Radeon HD 6850 with 768MB+ of VRAM (DirectX 11 compatible)
Sound: Microsoft Windows XP/Vista or 7 compatible sound card (100% DirectX 9.0c-compatible)
DVD-ROM: Quad-speed (4x) DVD-ROM drive
Hard Drive: 17.5 GB free disk space
Input Devices: 100% Windows XP/Vista or 7 compatible mouse and keyboard or Xbox 360 Controller for Windows
Batman: Arkham City PC System Requirements Revealed

,