Tabletop players and RTS fans are no stranger to the Warhammer 40k universe. While the franchise has made its way into the expansive media that is video games, we have really only seen the action from a top-down view (let's forget all about Warhammer 40,000: Fire Warrior). Finally, those who enjoy the up close and personal feeling brought on by third-person action games and Warhammer 40,000 can have both with Relic's latest entry titled Warhammer 40,000: Space Marine.
HOT
Gameplay
You are a Space Marine of the Ultramarines chapter. As a space marine, Captain Titus to be exact, you are a gargantuan walking tank that's expertise lies in various forms of combat and warfare in general. Relic definitely found the perfect formula for their combat system to reflect the power of the Space Marines, allowing players to switch between ranged and melee attacks on the fly. The system is simple but very effective. If enemies are at a distance, your standard shoulder buttons will fire weapons and zoom in/fine aim. Firearms are abundant and range from the sizzling Plasma Pistol to the sniper-esque Stalker Pattern Bolter to the mighty Lascanon. Once that distance closes however, pressing the corresponding face button will quickly execute a powerful melee attack with whatever devastating piece of equipment you have at your disposal. At first, you'll start out with the basic combat knife, but you'll quickly be introduced to the iconic Chainsword. Further on down the road, Titus will enjoy some hands-on time with the Thunder Hammer.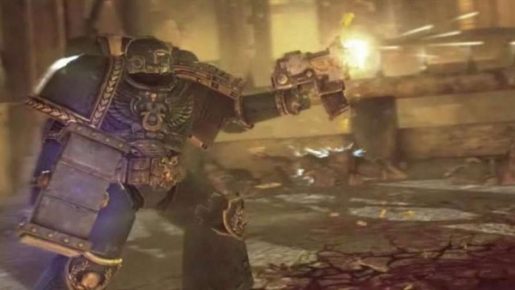 Although filling Orks full of Heavy Bolter ammunition is a satisfying act, melee certainly has its advantages. For one, combos can be strung together combining lethal blows and stunning hits together for the best (and most enjoyable) results. Successfully stunning an enemy leaves them open for a context-sensitive execution, which always ends with gory bits and red mist. Aside from being extremely entertaining, they reward Captain Titus with health. This design choice perfectly compliments the mentality behind a Space Marine. As an unstoppable force of death and devastation, Space Marines never shy away from battle (probably one of the reasons a cover system is nowhere to be found) and, instead, charge straight into battle in the name of the Emperor! By awarding health for executions, this helps players adopt the proper tactics and mentality to fully immerse themselves into the hulking body of a Space Marine.
Atmosphere
Anyone familiar with the lore surrounding Warhammer 40k knows that the universe is filled to the brim with wonderfully-crafted locales and grim battlefields. Space Marine is sure to live up to its predecessors in this regard as it displays a beautiful and war-ridden Forge World overrun by the Greenskins (and later on Chaos Space Marines). The world itself can be breathtaking at times and the level of detail is commendable. Even watching the crackle of power surge through the Power Axe and light up a portion Captain Titus' armor enriches the experience. It brings the tabletop vision to life in new ways that Dawn of War's standard RTS view can't achieve.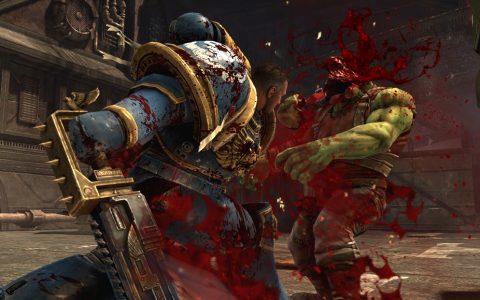 Story
Warhammer 40,000: Space Marine's story may not be an award-winner, but it still manages to include great characters (not to mention each character's voice acting), a compelling story, and excellent pacing. Captain Titus' and his battle-brothers arrive on the Forge World to protect the Titans from the Ork invasion. Not too long into the fray, Inquisitor Drogan contacts Titus and crew via Servo-skull asking for assistance in protecting and obtaining a very important power source. Without giving away too much, Captain Titus finds himself face-to-face with Chaos Space Marines in addition to the ever-present hordes of Orks. It is an epic tale teaming with action and exciting set-pieces from start to finish.
Multiplayer
Unless they follow in the footsteps of Battlefield or Call of Duty, most competitive online modes usually aren't received so well it seems nowadays. Don't you worry because Space Marine has found a way to define itself and stand out amongst the rest. Players get to play as either a Space Marine or a Chaos Space Marine. From here, they may choose one of three classes (arranged by "Space Marine/Chaos Space Marine"): Assault/Raptor, Tactical/Chaos, and Devestator/Havoc. The Assault/Raptor has access to the Jump Pack and my rocket into the air to bring death from above or simply gain the higher ground. The Tactical/Chaos class comes off as the "balanced" class, being given access to the most equipment. Devestators/Havocs are the heavy class and are seen wielding the more massive weaponry such as the Heavy Bolter or Plasma Cannon. Each class can be upgraded to further their role during each battle.
For example, the Assault class can upgrade their Jump Pack so that upon take-off nearby enemies are damaged, whereas those choosing Tactical will have the chance to upgrade to Kraken rounds thus improving their overall weapon damage. The maps accommodate all of this fact-paced action quite well with the only noticeable issue being the obvious advantages the Assault class has over the other two classes. However, tight groups and well-coordinated teamwork usually overcomes this current imbalance. Adding more depth in multiplayer, Space Marines and Chaos Space Marines alike can be customized by choosing a chapter as well as changing individual pieces of armor (ex: helmets). This allows players to craft their ideal warrior before heading into battle making the experience more personal and rewarding.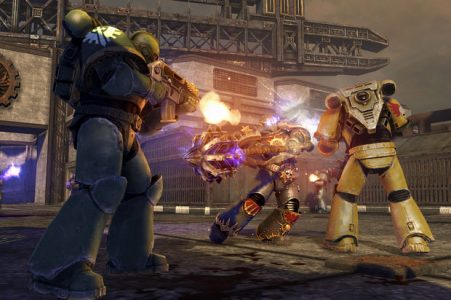 NOT
Repetitive
Space Marine can frequently wander into the hack 'n slash genre and it could very well almost be played in its entirety as such a game due to its mechanics. The repetitive feeling may set in with some players (varying with their different levels of enjoyment and tolerance) by the time they reach the halfway point in the campaign. It is during that period that the player has been introduced to nearly all the weaponry, upgrades, and several executions thus leaving the remaining time with the game as a rehash of previous encounters for the most part. With that being said, those heavily invested in the Warhammer 40k universe before entering this game might find this issue trivial. The same cannot be said with confidence regarding those just looking for a new third-person shooter to occupy their time.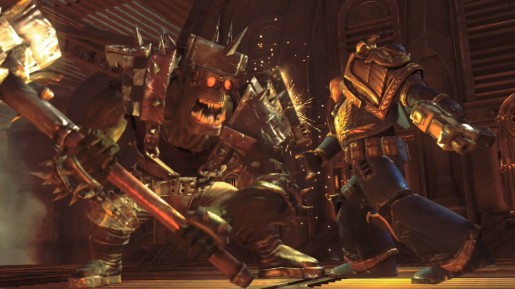 Verdict
Warhammer 40,000: Space Marine is a solid third person shooter/action title with well-developed roots within its respective universe. The solid gameplay is only further supported by an intelligent control layout that can satisfy both varieties of combat. The story and atmosphere also follow suit through their attention to detail and compelling nature. Just as good as the single player, multiplayer is sure to pull gamers away from their online competitive "comfort zone." The only real issue arises as the game stops throwing new stuff your way and the repetitive feeling of grinding through certain sections settles in. Overall, this is another Warhammer 40k video game experience you shouldn't miss out on, especially if you've ever wanted to witness the insurmountable odds a Space Marine can take on successfully.
[Editor's Note: Warhammer 40,000: Space Marine was reviewed on the PlayStation 3 platform. The game was provided to us by the publisher for review purposes.]
Warhammer 40,000: Space Marine Review

,