Zipper Interactive and SCEA revealed today the Full Deployment Edition of SOCOM 4 that is scheduled for release April 19th in North America.
The SOCOM 4: U.S Navy SEALs Full Deployment Edition will get everyone prepared for the upcoming war against the terrorists. If you don't have a PlayStation Move and looking to get one due to SOCOM 4, the Full Deployment Edition will be your best bet. The bundle will include the following at the price of $149.99
– SOCOM 4: U.S. Navy SEALs video game on Blu-ray disc
– PlayStation Move Motion Controller
– PlayStation Move Navigation Controller
– PlayStation Move sharp shooter
– PlayStation Eye Camera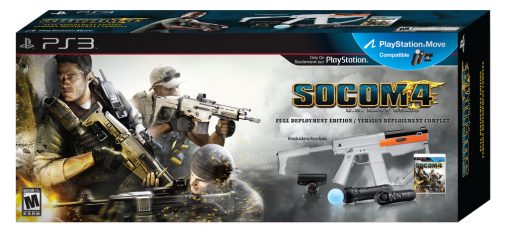 When bought separately, the contents of the Full Deployment Edition are valued at nearly $220, making its $149.99 tag a savings of more than 30%!