Renegade Ops is an old-school vehicular shooting game that sees you and up to three other team-mates wreck havoc against the evil forces of a terrorist by the name of Inferno. Don't expect Renegade Ops to introduce any new revolutionary gameplay elements as this game is all about guns and explosions.
Is Renegade Ops a game I can play with friends? Is this game very difficult? Find out as we take a look at the HOTs and NOTs of Renegade Ops.
HOT
Graphics
The graphics in Renegade Ops are very impressive. Most of the levels take place in sunny jungle-like environments and the way the sun reflects on top of the running water is a sight you should all see. You will also be driving on dirt roads and see the dirt being thrown up behind you as you drive. Not to mention all of the levels are very large in scope. Although there are waypoints for you to follow, the levels are't linear and you can drive around exploring the large areas if you like.
The other spectacular thing about the visuals in Renegade Ops are the Hollywood-style explosions. Every vehicle that you destroy will explode in a fiery mess. Although this is highly unrealistic to occur in real-life it makes for a very fun and loud gaming experience. Whether they be enemy vehicles of surrounding buildings, everything apart from trees can be destroyed.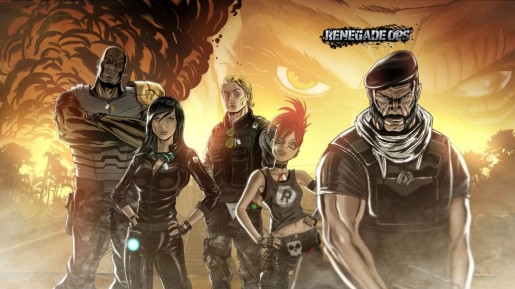 4-Player Co-op
One of the best things about Renegade Ops is the fact you can play the game with up to three other friends. Not only is this feature available to play online but offline too. It doesn't even matter if players choose the same character from the four to choose from. If players wish to be the same bald person with the huge truck, then they can.
Playing with friends is also a lot more fun than playing solo. There are several enemy vehicles that will surround you and shoot at you that will become very annoying when playing alone. At least while playing with friends, you can even the odds somewhat and make the game a lot less frustrating to play. Although the game it still a blast to play by yourself, the co-op mode just makes things that much better.
Cutscenes And Story
The cutscenes in Renegade Ops is also something that is to be admired. If you've played MotorStorm: Apocalypse you will have already seen the comic-book style cutscenes that is here in Rengade Ops. Even the story is a lot more engaging than most other games of the same genre. Usually old-school shooters like this usually have simplistic storylines but there are twists and turns to be expected in Renegade Ops.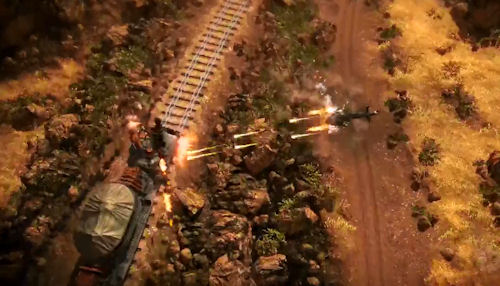 Charismatic Characters
Although the characters you play don't even talk, the person who is your boss (named Bryant) in the game is very passionate about saving the world. Once the main villain (named Inferno) unveils his plan to destroy every main city in the world, Bryant is the only one willing to do something about it. The other politicians were too scared to do nothing and thought they could "talk" sense into Inferno. Bryant reminded me a lot of Captain Price in the Modern Warfare games due to his appearance too.
Even Inferno makes for a very worthy villain. He has the cliche evil laughs and has a lot of henchmen at hand to do his dirty work. It's even funny when you confront him during boss-fights and he shouts that he will never die.
Splitscreen Camera
When it comes to the splitscreen camera, it's changes depending on what setting you chose to do. When players are next to one another, you can view the fullscreen. If players drift apart (which will happen), the camera changes to the splitscreen format. I liked the way it changes as in some old-school games, the camera stayed constant and you had to wait for the other player to "catch up" in order to progress…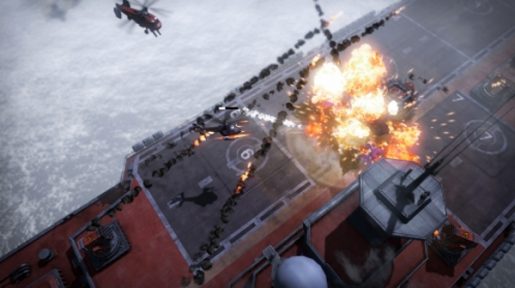 NOT
No Multiplayer VS Modes
For a game that's all about vehicular combat and destruction, it's disappointing to see that Renegade Ops doesn't feature a multiplayer vs. mode. There's only the co-op mode to play in which is basically just playing through the same 9 missions that is featured in the game's main campaign mode. It would have been cool if the game included some Twisted Metal-style deathmatches for players to participate in outside of the campaign.
Repetitive
Although the game can be fun for a short while, shooting aimlessly at multiple enemies can get repetitive after a while. Most of the missions require you to drive to a location and just shoot and explode at anything that moves. Each mission feels the same only set in a different location. There is one part of a level where you can use an Apache helicopter, but most of the time you are in your jeeps/trucks driving around and shooting everywhere.
Short Game
Renegade Ops is far from a very long game. There are only nine missions in all and they can be finished in around 20 minutes or less each. As aforementioned, the game offers no other game modes for you play in. Once you've finished all nine levels, there's not really much incentive to go back and play them again. Unless of course you want to obtain all the achievements/trophies and get a higher score than before.
Verdict
Renegade Ops is a fun old-school shooting game that will keep players engaged until the very end. The game is very easy to get into and is not too difficult to play thanks to the co-op modes. Not only this but the graphics are very impressive. Despite the lack of re-playability and other game modes, Renegade Ops still manages to be a fun and explosive experience.
[Editor's Note: Renegade Ops was reviewed on the PlayStation 3 hardware. The game was provided to us by the publisher for review purposes.]