With the latest update for the PlayStation 3, as well as an update recently for Call of Duty: Black Ops, has come a wave of banned PlayStation 3s and PSN accounts. While many will be cheering at the news that hackers will be less likely to be cheating them or even demoting them, one problem has become apparent rather quickly. What if they ban the wrong person?
By heading over to the official Black Ops forums, you will see plenty of threads about being banned and questions on how or when they will be unbanned. While a most do admit to cheating it seems not only are some denying hacking but some didn't even own the console to do it.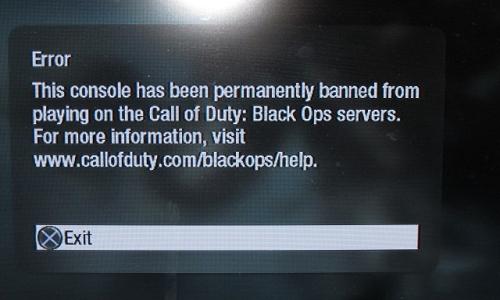 One member of the website seems to of been banned although not previously playing Black Ops or even owning a PS3. IssY_I posted in one thread "When i want to play black ops it says my console is banned permanently???i have payed 150$ for the Ps3 (i bought it yesterday (used) and just came home with a new copy of b-ops! but why is my system banned?"
If this problem becomes more wide spread, with banned consoles populating the used PS3 market, will the sales dry up? Or will this be an unfortunate one off? Either way lets hope at least for IssY_I's sake they find a solution.
Black Ops Bans May Affect Second Hand Console Sales

,