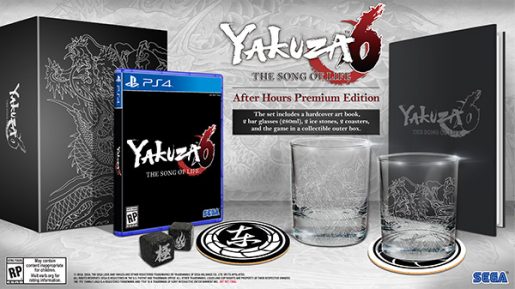 Sega has now officially announced the release date for Yakuza 6 for the North American and European territories. It will be out early next year.
The full English name of the game is Yakuza 6: The Song of Life and it will be out in North America and Europe on March 20, 2018. It has both a physical and digital release on the PS4.
If you pre-order early, you will receive a launch edition "Hardcover Art Book Package". Also available to buy is the "After Hours Premium Edition" for $89.99. The content is posted below.
Hardcover Art Book – The intense human drama and magnetic world of Yakuza 6 will be on display in this stunning art book. We'll have more details on what will fill the pages at a later date.
2 Bar Glasses (280ml) – Designed with Kiryu's ferocious dragon tattoo, these bar glasses are the perfect receptacles for your beverage of choice.
2 Ice Stones – Cool down your drinks with a pair of heat action branded ice stones! One features the flame heat action icon, while the other has the Japanese "kiwami" heat action icon. Chilling has never been so… extreme.
2 Coasters – A true yakuza knows how to relax with class, so coasters are a must have when lounging after hours. Protect table surfaces with style by placing your glasses on top of official Tojo Clan branded coasters. Plus, you won't need to play the "is this my drink?" game because of their inverted colors!
An Outer Box – All of these essential tools will be housed within a collectible outer box.