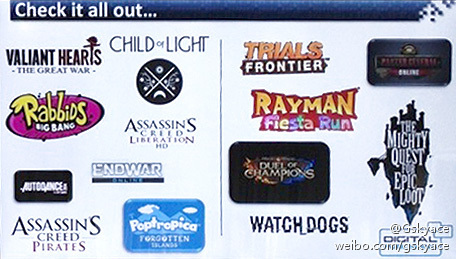 This of course is only a rumor at this time, but would be big news for fans of the Assassin's Creed series, especially those that do not own a Playstation Vita. According to a supposed promotional page with upcoming games for Ubisoft, there is a logo for Assassin's Creed: Liberation HD, which was originally released on the Vita last fall. It it assumed that this would be a release as a digital download for the Xbox 360, Playstation 3, and PC. Not just that, but there are also other titles which have yet to be announced at this time.
The leaked image is originally from a Chinese forum, but was discovered by a poster on the gaming messageboard NeoGAF. The image includes some known games, such as Watch Dogs, but besides Assassin's Creed: Liberation HD, also includes: Assassin's Creed: Pirates, Rabbids: Big Bang, and Rayman: Fiesta Run. There is no indication what Assassin's Creed: Pirates could be if real. Rabbids: Big Bang would be assumed to be the next Raving Rabbids game while Rayman: Fiesta Run would seemingly be a followup to last year's Rayman: Jungle Run for mobile devices.
What gives this rumor a little more credence is the fact that an Xbox Live Marketplace watchdog on Twitter known as lifelower, says that a console version of Assassin's Creed Liberation was submitted for review to get a Brazilian classification rating in July. Ubisoft has declined to comment at this time, but if this is true, expect to hear news soon with the upcoming Ubisoft Digital Day event.