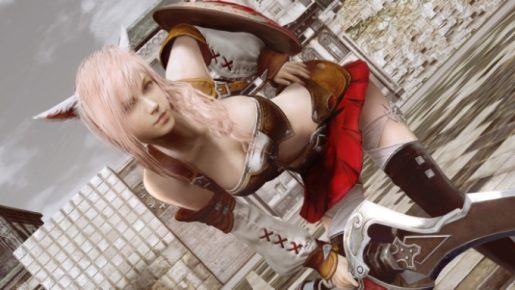 Square Enix has revealed more information about Lightning Returns: Final Fantasy XIII at Comic-Con.
First up, Lightning will be receiving another costume that you can use in the game. The costume is from the Miqo'te character in Final Fantasy XIV: A Realm Reborn. Using this costume, you'll be able to equip the Lominsan Cutlass and Escutcheon that will allow Lightning to attack enemies with ease.
Square Enix also talked more about the game's battle system. In Lightning Returns: Final Fantasy XIII, you can weaken monsters by targeting a weak spot. Not only can you disable it from attacking, but you'll also receive certain rewards when doing so. You can also use a new counter attack move. You'll have to time it properly and it's only effective during physical attacks.
Check out the rest of the screenshots and a new trailer from Lightning Returns: Final Fantasy XIII below: