PSA: Medal of Honor Warfighter highly recommends to install HD Texture pack first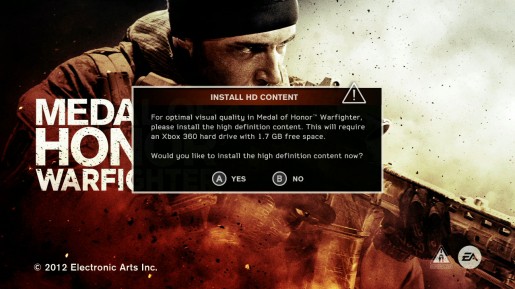 Gamers who picked up Medal of Honor: Warfighter today on the Xbox 360 is highly advised to install the HD Texture pack to make the visuals within the game look crisp and clear.
Similar to the offering that Battlefield 3 had, gamers who wishes to make the game look better when playing should install the HD Texture pack – though you must have at least 1.5GB free space available. With the limitation of the DVD having not enough space to put everything in one disc, those who picks up the game on the Xbox 360 will have to do this. If you don't care about visuals, then you're free to ignore the prompt at the beginning.
Check back with us tomorrow for both our video and written review of Medal of Honor: Warfighter.