Rurik: Dawn of Kiev is a brand new euro style strategy board game from publisher PieceKeeper Games. Crowd funded on Kickstarter in 2018, the game is now stores – officially releasing today (November 5th). Designed by Stan Kordonskiy, Rurik sees 1 – 4 players take up the roles of different leaders in their attempt to control Kiev and the surrounding areas. Lasting around an hour and a half, troops will be deployed, actions bidded on and a winner crowned. However, is there a bid for enjoyment? Let's find out!

At the start of the game, after setting up the resources, passing out player boards and picking leaders, it is time for the initial deployment. Starting with the player who knows the most about Eastern European history, each player deploys 3 troops, in turn and one at a time. As is a common theme in Rurik, your troops can be in the same area as troops of another player and the uncontrolled rebel troops. Once everyone has placed their 3 starting troops they must place their leader into one area which has at least one of their troops.

Played across four rounds each starts with the action bidding phase. At all times all players have the same amount of numbered meeples. The numbers (1 – 5) not only represent the value of the meeple but also the order they will be activated. Note, later on players unlock a second 2 valued meeple, and they can then choose which 2 to activate first. All meeples are placed before actions are performed, similar to programming the next phase.

On a turn, players place a meeple onto one of the 6 tracks. From left to right, the first action is Muster. This allows players to place as many troops as symbols onto areas they have troops in. Move allows the player to move a single unit across as many areas as they have boot symbols, multiple units 1 area or a mixture. Movement is not restricted in any way other than adjacency. Like the initial troop placement, it matters not if an opponent controls a region or if there is a rebel present.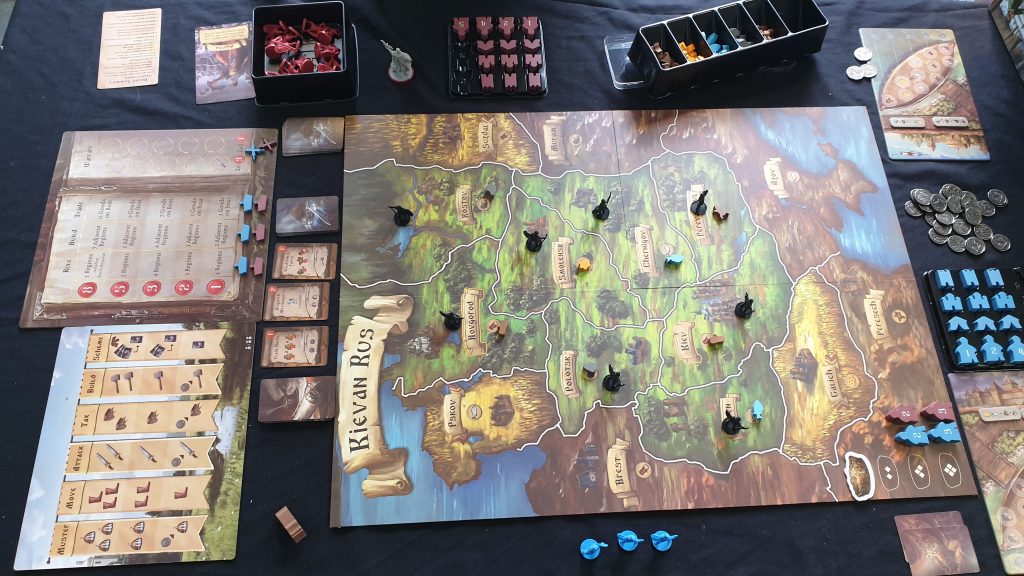 After gaining and moving troops it may be time to attack. This action gives the player a choice. For each sword symbol they can attack either a rebel troop or another player in an area they have a troop in. Rebels are simply defeated and offer a random bonus – either coins or a resource. When attacking an opponent casualties may occur – though an opponent's troops is always removed. Turning over a minimum of 1 scheme card, with additional cards drawn for enemy castles and area dominance, the attacker checks the cards for casualty symbols. Per casualty symbol one troop is removed – so it is more than possible to lose nothing. For attacking an opponent, not a rebel, the player also moves up one step on the warfare claim tracker.

Tax is the next option, with each region giving access to one of the resource types. For areas you control it only costs 1 tax symbol to gain the token. It is possible to tax any region you occupy but do not control by spending two tax symbols. The number of goods received per taxing is one by standard, though this can be doubled if you have built a market in the area. To build players merely need build symbols, working akin to tax. Players can build where they control for 1 build symbol, with 2 symbols needed to build in a region they don't control but have a troop in. Strongholds can cause more enemy casualties and markets double tax income. The third building type, a church, can effectively convert an opponent's troop – seeing one troop discarded and replaced by a troop of your own from the area.

The final action is scheme. With two scheme piles to pick from the players draw the number of cards indicated by their action spot. This only gives choice though, with one card earnt regardless. The rest are returned to the top of the pile they were drawn from. In addition whomever is at the top of the scheme action bidding claims the first player marker for the next round.

In Rurik coins can be used to increase the value of meeples, otherwise the meeple is placed in value order on the track. For example, if a player were to play their 5 value meeple onto a track with a 3 value meeple it would nudge it down the track. It is not possible to place a meeple on a full track, with the ability getting worse the further down the tracker the meeple is. As a general rule, the top will feature multiple symbols of the track type, while the lowest will see 1 symbol costing you a coin. Note, when resolving it is possible to skip an action to receive a coin, though this isn't ideal to do.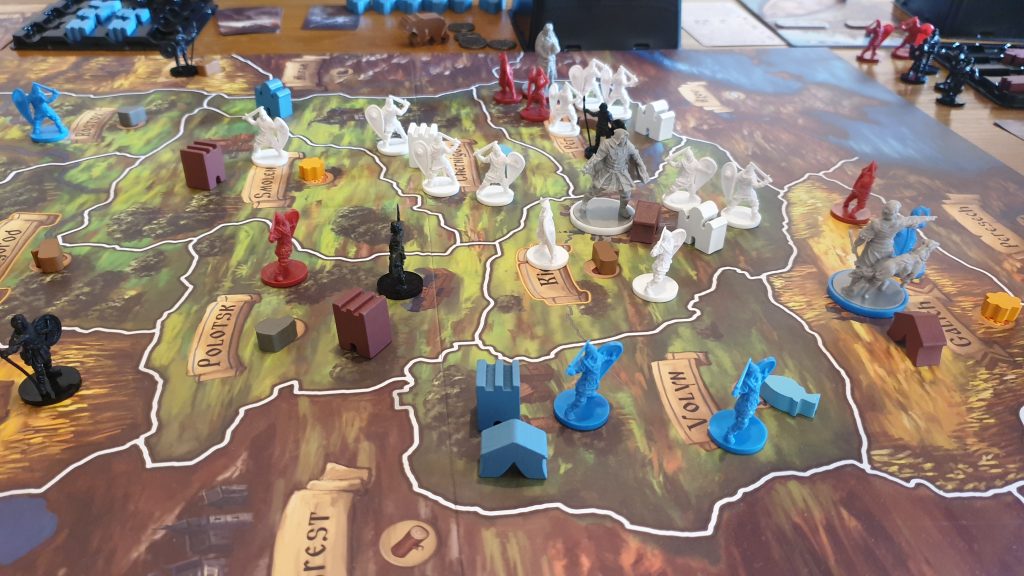 The aim in Rurik Dawn of Kiev is to advance as high up on the end game score trackers and score deed cards. Every turn players have the ability to score a single deed card, ranging from spending resources to removing troops from the board. None of these score as high as the trackers though.

There are four trackers based on warfare, controlling territory, adjacent regions built in and goods taxed. The trick of the latter three trackers is once gained points cannot be lost. Therefore if a player manages to control 5 regions (scoring 5 points at the end of the game) at the end of a round they move to the 5 on the track. If in a future round they lose control they do not fall down the tracker.

The warfare tracker is a little different, being determined during play. Whomever is first on this trackers gains 3 points, with 2nd place gaining 1 point – only at the end of the game. Once a round is over and the trackers have been adjusted the action board is cleared and a new round begins. This continues the cycle of bidding then performing actions until the end of the fourth round, where points are calculated and the winner crowned.

In Rurik each character has a unique player power, from being able to muster troops into an adjacent area from the leader to flipping one less scheme card upon attacking opponents. Some of these, such as Boris' one less scheme card, seem a little more balanced with a greater player count. Still, what has occurred if a power is perceived slightly better is that player ends up with a target on their back – somewhat self balancing. The powers rarely change the game but give everyone a unique thing that they can do, so each game there is a different potential plan for players to watch out for.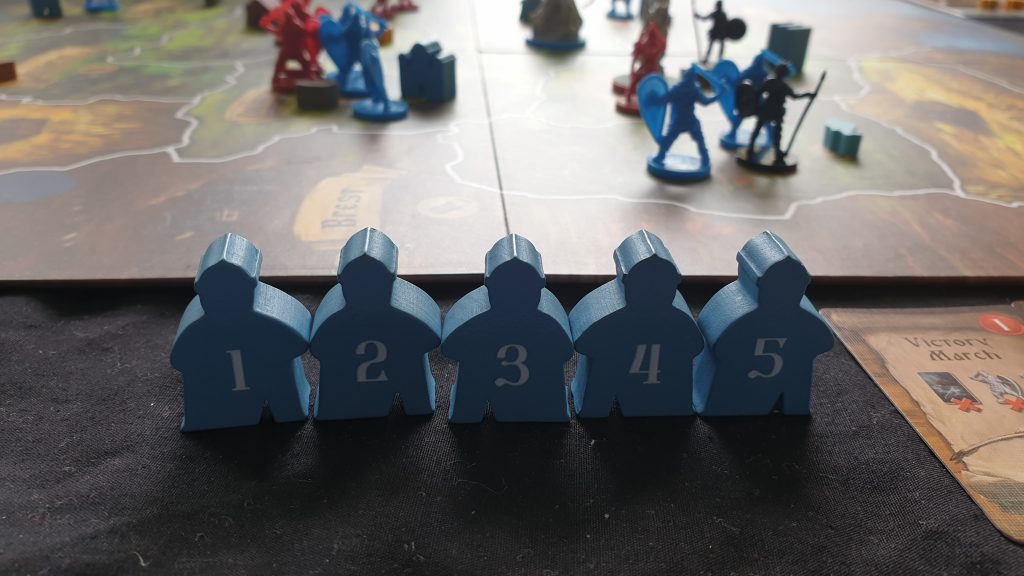 Rurik Dawn of Kiev is a worker placement and action bidding game hidden behind the visuals of a dudes on a map, area control, title. Where players build, what they rule and what goods they acquire from tax are what scores points. However, the game is driven not by dice driven combat or even playing cards. Things just happen as a result of what plan players can craft on the action board.

There is a lot of tactics that go into the action board, more so than strategy. It is possible to go into a game with a strategy and somewhat pull it off. If you want to score for buildings in adjacent regions you can force that to occur, spending your high value meeples on the move and build actions – perhaps topping them up with bribes. Yet, there is often more to be gained from spotting what noone is going for and getting the top action for a low value. Being able to react to what opponents chose is also key, as they might otherwise interrupt a master plan.

There are a lot of action combos players can pull off. One way this occurs is from putting valued meeples in the right order, so one turn a player can move before later attacking. However, the instant gains from scheme cards, conversions or completing deeds all give an opportunity to trigger a bigger more. These big moves can vastly throw others off their game and feel more impressive as a cascade of events sees something swing in your favour.

The start of a two player game misses the additional interactions on the strategy (action bid) board of additional players. Ebbing away in later rounds, the additional 2 and 3 valued workers vastly improve the experience. There is more chances to disrupt the plans of your opponent or simply get something from a track. Everything, not just the strategy board bidding, feels more cutthroat and back and forth at 2 players. It works but doesn't quite capture the excitement of games with even one additional player.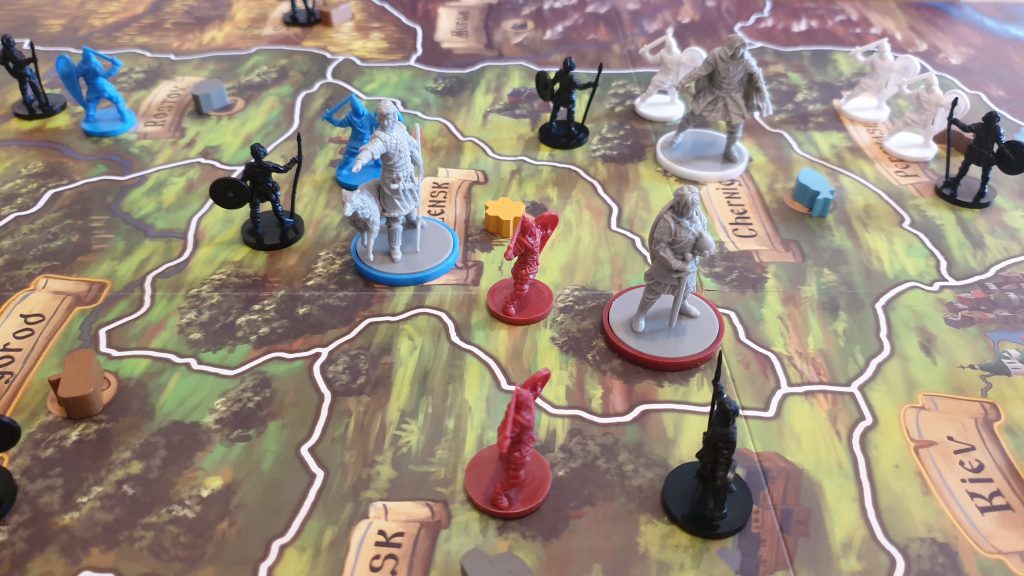 The components are strong, with shaped wooden tokens for the 5 different resource types, claim tokens, wooden meeples and buildings for the 4 players. The cardboard coins are decent, being fairly standard for coins – though there is an extra nicety using the Kickstarter metal coins. Each player has 12 small plastic troops of their chosen colour. These could have been a little higher quality, but are ideal for their role. The only notable issue with them being one needed the feet glueing back to the base – hardly a large problem. The plastic leader miniatures seem almost over the top, though their quality does help them stand out on the game board. This is similar to the leader minis in Scythe, where they are also top quality sculpts when it's not truly necessary.

Rurik Dawn of Kiev is as much interesting as it is exciting. Due to the way the actions play out there is a programming angle where you know what may happen before it does. Still, you never quite know where troops will be moved to or where will be attacked. This makes the performing actions feel more predetermined than explosively exciting. The game truly revolves around the strategy board, and the action bidding mechanics. This is where the game is won and lost, with bidding perfectly seeing plans flourish, though there is plenty of room for disruption. Not everyone will like the way things are planned and played out, though Rurik Dawn of Kiev is a unique experience for others to love.

[Editor's Note: Rurik Dawn of Kiev (Kickstarter Edition) was provided to us for the review by PieceKeeper Games.]