Hot off the printing press is Scythe's Modular Board expansion from designer Jamey Stegmaier, featuring the amazing alternative history artwork from Jakub Rozalski. Published by Stonemaier Games, this expansion works with all previous Scythe expansion – though it is recommended not to be used during the Rise of Fenris campaign. The factory is still at the centre of the board but the lands of Eastern Europa around it change from one game to the next. However, is all this change necessary? Let's find out!

The amount of combinations that the new content creates is immense. Starting with the board it is double sided. On both sides there are four places for the four tiles – which are also double sided. While the tiles must be placed upright this still creates vastly difference maps. While the centre of the board is still the factory and the outer edges is where factions start there is another change there too. Rather than having printed on starting locations for the factions, home base tiles are provided to randomise this. Note, this does mean it is still more than possible to have all players squeezed around one end of the board.

The gameplay isn't fundamentally altered but this can see types of resources grouped up across the board, with villages adjacent to each other. During setup, as per the expansion rules, after receiving a random player mat the player with the highest numbered mat picks a faction mat. This distribution of resources can sway a decision of whom to play – based on where the faction starting location is. One thing to watch out for is that mines aren't constantly around the factory – so some will have easier routes out of their starting area.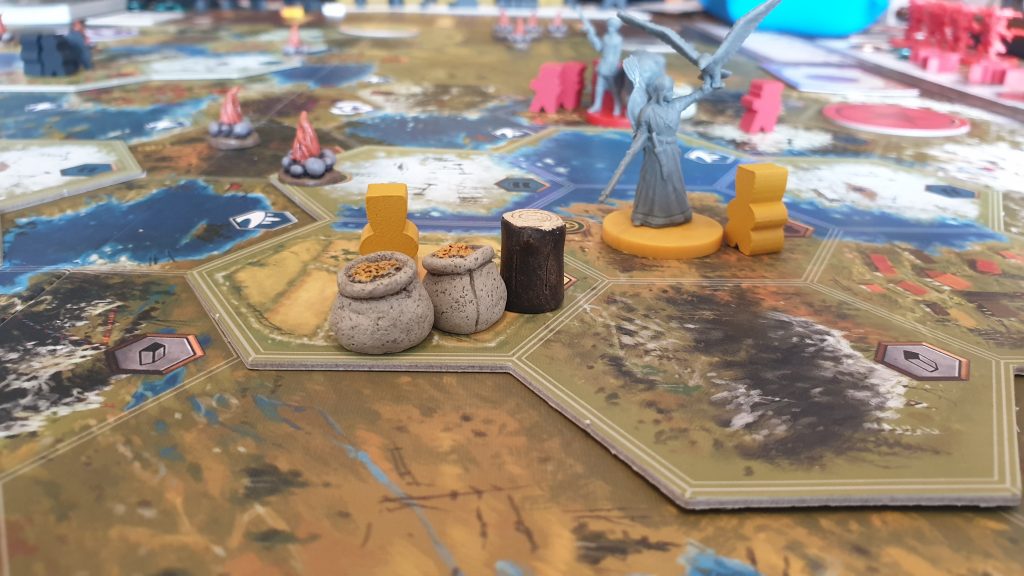 Abilities that allow movement on and off of lakes seem stronger though they were never completely inspiring in the base game. This is perhaps in a similar vein to the mines, as they are in different locations each time it is something else an opponent may not have planned for. Interestingly, riverwalk abilities go one way or the other – you may never need it or the board configuration can make it or a mine a must for everyone.

Now and again there are Easter Eggs on cards, references made, but perhaps not as many or as obviously out of place as those seen on the Scythe modular board. From Gandalf, through past a large Pac-Man field, under Super Mario and arriving at C3PO and R2-D2. This sounds a lot but there are still more and they aren't exactly subtle. Some have found this momentarily distracting but for the most part they have been very much enjoyed – especially when a combat broke out over control of the Pac-Man field. They do minutely detract from the overall aesthetic but most appreciate the injection of some fun into the board.

Knocking the tiles can be somewhat of a problem, though they spin more than shift – so just need to be rotated back. Considering the indented boards and the generally high production quality Scythe reaches it is more of a surprise this was overlooked. An indented game board would surely have cost a lot to produce. Still, a board with sections popped out to place the tiles into would have worked just as well. It is hardly a game breaking problem and a thin elastic band underneath to add friction solves the problem. (Not included in this expansion but the biggest problem is from the realistic resource oil barrels which roll at the best of times of their own free will.)


The eight new structure bonus tiles shuffle into the base selection so well you could easily convince a new player they are base game content. Adding new structure based scoring for the end of the game, players could now get coins for building adjacent to a single lake, in a diamond shape or even not adjacent to any other building. The latter did see players briefly spreading out a bit more than usual, yet none seem drastically different. This is certainly the part of the expansion that could be used with new or seasoned Scythe players alike. It is somewhat of a shame that many will miss out on this little extra as it is only available as part of the expansion.

Jamey Stegmeier has been upfront with fans/customers to say that while the original board was designed to limit factions from specific things it is not possible with this modular board. Almost like with the secondary encounter deck – which we described as "a way of hyper spicing things up" – some things seem more powerful than on the original board. However, flip one of the map tiles over and this combo may not be present. Each setup seems to add a new angle and element of discovery that players need to find to exploit for victory.

This is an expansion made for full on Scythe fans, who see the game hitting the table time and time again. This isn't something to introduce to occasional players, let alone new players, as the variety isn't needed. On top of this, the drafting for setup will go over the heads of some, potentially resulting in an unbalanced game. The structure bonus tiles feel like one of those promotional packs gamers would instantly pick up if they are a Scythe fan and provide a nice difference no matter if it is on the original or new board. The board itself, even for someone reaching double figures of Scythe games played, is fun but doesn't seem needed.

[Editor's Note: The Scythe Modular Board was provided to us by Asmodee for review purposes. The expansion is now available from local board game stores, find your local store here]