No, it's not 2007 but Call of Duty Modern Warfare has just been released by Infinity Ward. After 12 years Activision decided to revisit the game they recently remastered, with what is not a re-envisioning but a new take on Modern Warfare. Available on PlayStation 4, Xbox One and Windows PC (via Battle.Net), this is the first-person shooter that has everyone talking. However, is it for the wrong reasons, such as leaving Zombies mode out of the game or is it as much as a hit as the original? Here's our Call of Duty: Modern Warfare review.
The Call of Duty series has recently strayed firmly into Hollywood. While Call of Duty Modern Warfare still has a flair to it there is a provocative realism to it. Across the short campaign, players will visit a number of locations, featuring many of the modern FPS tropes such as a Middle East warzone. Player's will also find themselves in one of Hollywood's favorite cities to blow up, London. It might be due to it being "down the road" but seeing a shot up London double-decker bus does carry some weight. More so than being buried in building rubble, somewhere with no personal attachment.

The campaign is certainly not going to entertain you for days on end like the multiplayer. The whole story takes roughly 5-6 hours, which is typical for a Call of Duty title. On top of this, a few of the key moments lose their impact on the second playthrough, mostly as it is the unknown that adds the tension. Nevertheless, it is well worth playing being one of the better narratives to grace a Call of Duty title in a long time.

The controversy isn't exactly something the Call of Duty franchise hasn't seen before. With Modern Warfare 2 there was the rather infamous "No Russian" level where players could gun down civilians. There isn't a moment that goes quite that far, though throughout Russia is again not painted in a good light. Activision has made some logical decisions though. Spoilers aside, during one mission it is possible to shoot an innocent mother and child. Rather than before when the level continued, in Modern Warfare this is enough to lose you the mission. For a game series that gets a portion of the blame for being a violent video game, this is a welcome touch.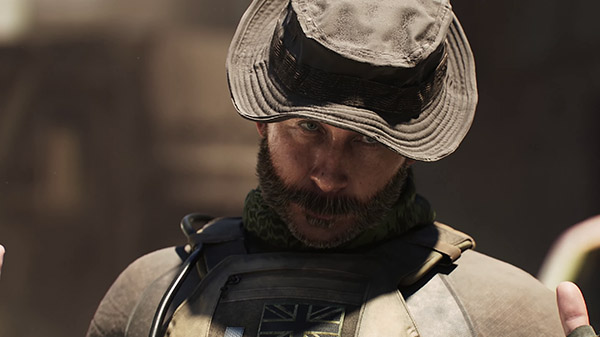 Most will, as usual, skip the single-player mode and head straight for multiplayer. The core of the game and gunplay haven't had an overhaul similar to the tone of the storyline. It feels comfortable to return to, though there are some tweaks. Movement is fast-paced still, though the wall running or dolphin diving seen in previous iterations haven't returned. Sliding and climbing are the extents of the free-running options. A lot of standard covers and short walls are climbable though allowing for decent, but realistic, map traversal.

A lot of little aspects build together to make the experience more realistic. Players can choose to snap to cover, using the mount feature, peering around or over barricades to devastate foes. Doors can be opened and closed, plus they make enough noise that nearby enemies can hear them. When attempting to stealth behind an enemy vantage point when any sound can ramp up your heartbeat, even these little noises can make the tension skyrocket. They might be small touches but they build up together to make the locations much more believable.

Inevitably there will be patches that go into game balance, though there isn't one stand out weapon. For example, the likes of the HDR sniper rifle packs both some high damage and a strong amount of recoil to handle. The arsenal range is there, so there are weapons for any playstyle. You can choose to sprint around with a P90, go for the long-range option of a Dragunov, or the solid and stable M4A1. None seem out of place, with no ray gun in sight. Each has a huge range of unlockable attachments and camo options, right down to the optics reticle. These are slowly unlocked via using the weapon and add to the feel of progression alongside the normal leveling system.

Two new modes fit at each end of the multiplayer spectrum. The new 2v2 game mode, Gunfight, is a very welcome addition – coming with small custom maps of its own. This mode feels more tactical as if the two players fail to work together they will be easily defeated. Moving around the levels, covering each other, is something that doesn't happen too much in any of the other game modes – so it can require a slightly different playstyle. Players also have the same loadout, so the outcome is left completely up to skill.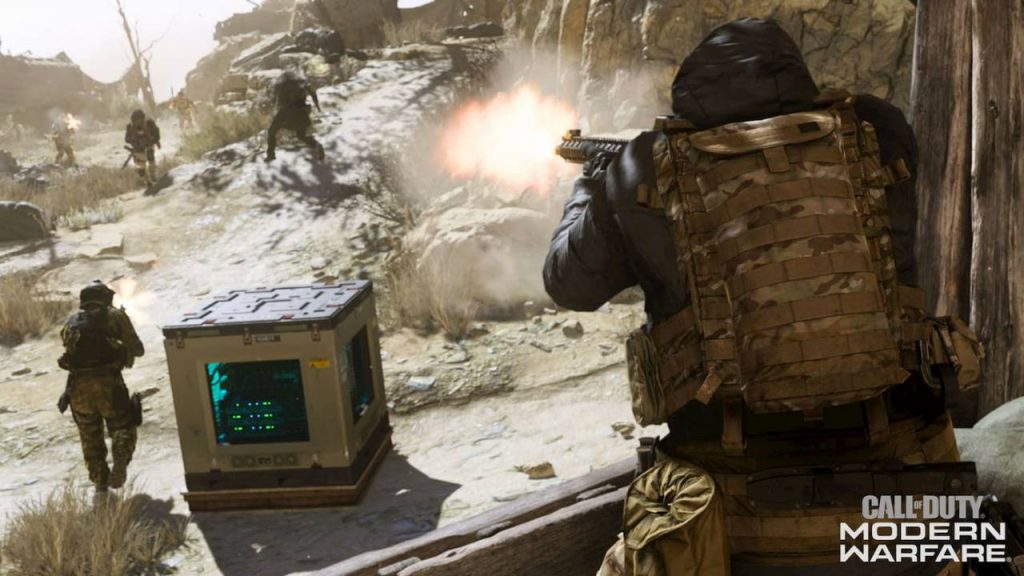 At the other end is Ground War, for up to 100 players – seemingly taking what Activision learned from Blackout and taking on Battlefield's grandeur. The same fast pace Call of Duty style gameplay this there to create an intense game mode, full of killstreaks, firefights across the map and a range of vehicles. Some of the small detail and visual quality is lost on large scale maps. However, Ground War allows Modern Warfare to flourish when you have limited time for some short, fast rounds of action or have time to commit to a grand battle. No space seems entirely safe, no vehicle is too hard to take out and none of the buildings are short of breach opportunities.

One feature that is working so well it is effectively unnoticed is cross platform play. Aside from an option to enable cross-platform in the settings, the only reminder that you are playing with gamers on other platforms is small control scheme icons. For the most part, it is completely unnoticeable and something that every game should attempt to offer. There have been a few issues getting mics to work cross-platform, even within a party, so hopefully, this is something Activision can look to improve.

Not everything in Call of Duty Modern Warfare is perfect. There have been some odd bugs including loadout issues and lighting. At one point in the rather brutal co-op mode, my LMG was suddenly swapped for a sniper rifle. It is the only occurrence but was still a noteworthy bug. A few lighting issues have also occurred. These are mostly specific light sources being on/off depending on your positioning – leading to it looking like a room is going from light to dark in the distance. It somewhat breaks the immersion of the game world that is otherwise a strength of the game.

Call of duty Modern Warfare Review – Verdict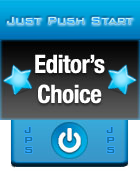 Infinity Ward has done well to shift the tone, to make the experience harder hitting than Hollywood, though many will say it doesn't go far enough to show the horror that war is. The game as a whole hasn't been overhauled; the same fast gunplay is there, though improvements have been made. After playing Ground War it is almost hard to go back to the normal 6v6 TDM, being a little underwhelming in comparison. Nevertheless, Gunfight is sure to get a lot of play, especially when players are waiting for the rest of their clan to come online. For all the strengths of the story, multiplayer is where new and veteran players will sink hours and hours into. For both sets of players, Modern Warfare offers new content and hours of entertainment.
[Editor's Note: Call of Duty Modern Warfare was provided to us by Activision for the review. The game was reviewed on the PC platform, via Battle.Net.]