Plants vs. Zombies: Garden Warfare was honestly one of the biggest surprises of 2014. What started as a needless spin-off that was spoofing on Call of Duty's Modern Warfare series of games, quickly became a fascinating shooting in its own right. With unique characters, tons of costumes, unlockable content and more, it quickly became a fun game to play with friends. Now with the third entry, Plants vs. Zombies: Battle for Neighborville, will the series be able to capture the same charm or is it another needless sequel? Here's our Plants vs. Zombies: Battle for Neighborville Review.
Similar to previous entries, there is no story to Plants vs. Zombies: Battle for Neighborville besides a vague narrative. Plants still fight for the amusingly named Crazy Dave, against the zombie forces lead by aptly named Dr. Zomboss. Both act as more figureheads for their respective side and double as announcers when key things happen. Those who want to get some more insight into the levels and things going on can explore Mount Steep, an optional PVE area with quests and secrets to uncover.
This mode is the perfect way to get a feel for the game or simply unwind. Given the enemies are dumb, but not that dumb, they make for the perfect target practice, with the world itself giving you an idea of how some of the maps look. Plus, it's an extremely rewarding mode that just wants to give players a bit of everything. Once you finish this or feel confident in your abilities, you're ready to play the main part, PVP.
Where Plants vs. Zombies: Battle for Neighborville stands out is the ability to make every character and class feel unique. With each plant and zombie having a couple of attacks, the main weapon and an ideal way to play, there is a lot to see and learn, even if it seems rather simple. This can actually be best seen with the, at the time of writing, Ranged Renegades event.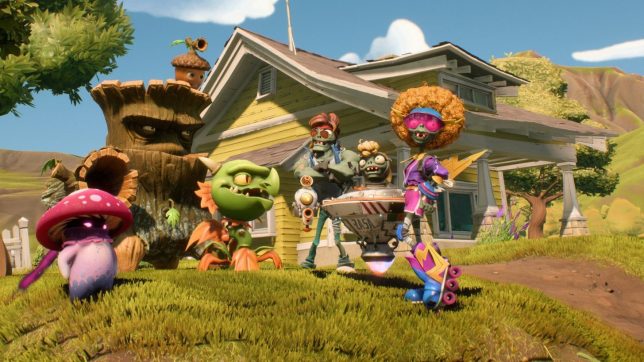 For this event, players are limited to the prickly Cactus plant and Captain Deadbead zombie. These two characters run opposite one another and have similar abilities, but not to the point where either of a reskins of the other. While both characters rely heavily on drone attacks and get increased damage from zoomed attacks, they have different advantages and disadvantages. Prickly Cactus utilizes a machine gun of sorts and relies on mines for quick kills or easy damage. Captain Deadbead counters this by being able to turn into a walking bomb and his normal attack is a shotgun. 
Out of the two, I'd say prickly Cactus is more forgiving, though Captain Deadbead offers a bit more in high-level play. Though, neither character makes the other useless, just different takes on the same core concept. This holds true for the remaining nine characters, each designed to fill specific roles.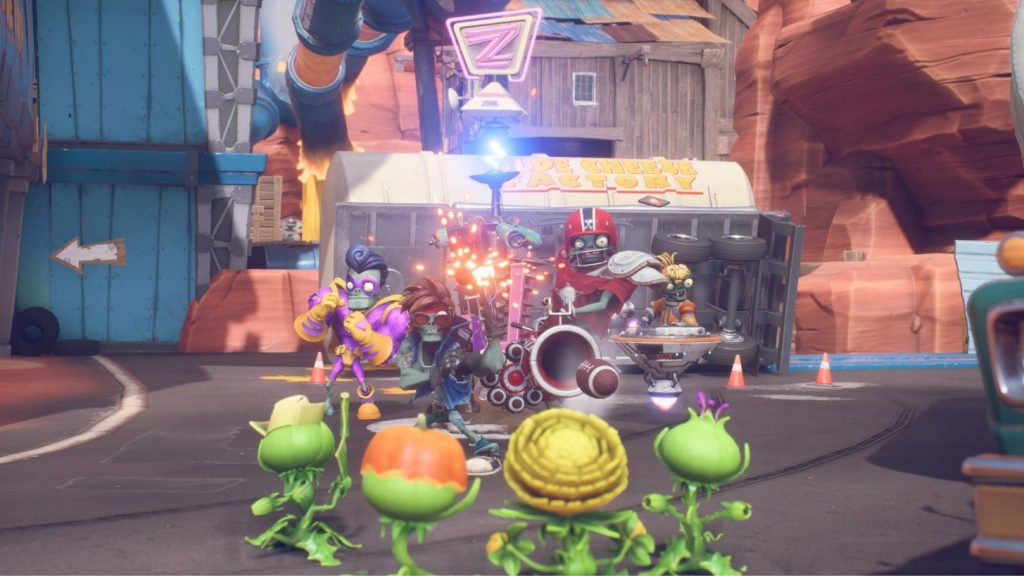 The aforementioned characters are equivalent to snipers, but there are also healers, tanks, rushers, machine gunners, rifleman and more. What stands out is, like all "hero" games, there are ways to counter practically everything and certain characters will have a distinct advantage or disadvantage in a number of situations.
What makes a good player great is the same thing as things like Overwatch. Regardless of how good of a shot you are, the biggest limiter will be how you use each character's special attack. When used correctly, drones, bombs, mines, and even evasive moves can feel so powerful they're cheap. Naturally, attempting the same feat yourself is nowhere near as easy, at least not the first time, giving players an opportunity to learn. Matches also generally favor more balanced teams, as two good players working together can stop four or so characters that are just looking to shoot things.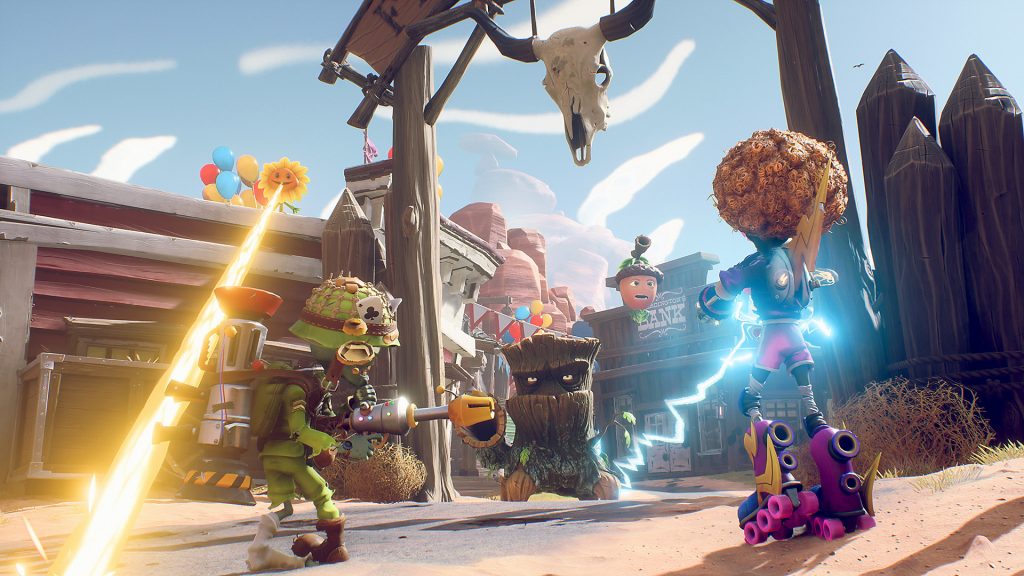 Often times the best way to overcome this is to master each character and think long term. It isn't unusual for a team to vanquish match to be decided by a player reviving the second the option becomes available. Sure, it's more fun, but your death shows allies where potential enemies are and revives decrease the hostile team's score. With enough skill and teamwork, it's entirely possible to beat a team 50 to 0 by just reviving. 
Outside of matches, there is a surprisingly well-done costume system. Just looking at some of the designs, there is a surprisingly high amount of detail and effort that went into them. Be it the Peashooter turning into a knight or the '80s Action Hero getting decked out in gold and slick sunglasses, these are prizes worth chasing after and are a delight to see, even if you're not lucky enough to unlock them. And, monthly prizes and events make it a blast to return and try to unlock everything out there.
Plants vs. Zombies: Battle for Neighborville Review – Verdict
It's almost impossible to hate Plants vs. Zombies: Battle for Neighborville. From the goofy way characters move to the delightfully random attacks, it's sure to put a smile on your face. Story mode makes it easier for newcomers to get used to combat or give kids a way to have mindless fun. Costumes and other rewards add a fair amount of replay value, especially if you want to stand out.  So, if you're looking for a nice change of pace, consider giving it a try and see if you can resist the charm.
[Editor's Note: Plants vs. Zombies: Battle for Neighborville was reviewed on PS4 platform. The game was provided to us by the publisher for review purposes.]