Now more than ever we're seeing Japanese games ported to the west. Part of this is thanks to increased demand, with the other part being the lack of voice overs and other costly elements. Due to this, players can finally experience the DATE A LIVE, a rather unusual visual novel series that is surprisingly popular in Japan. With DATE A LIVE: Rio Reincarnation containing the first three adventures, with the next one releasing soon in Japan, is it a series players need to experience or was it better left in Japan?
The adventure begins with Rinne Utopia, where players take control of Shido Itsuka, a high school with the unique ability to seal the powers of a spirit in his body through a kiss. This story is told largely in two parts. There is the courting and dating elements, leading to an ever growing harem of quirky ladies, and mysterious changes to the world around you. This adventure is a bit of a slow burn, with it taking well over an hour for things to start to expand but makes for a fascinating ride.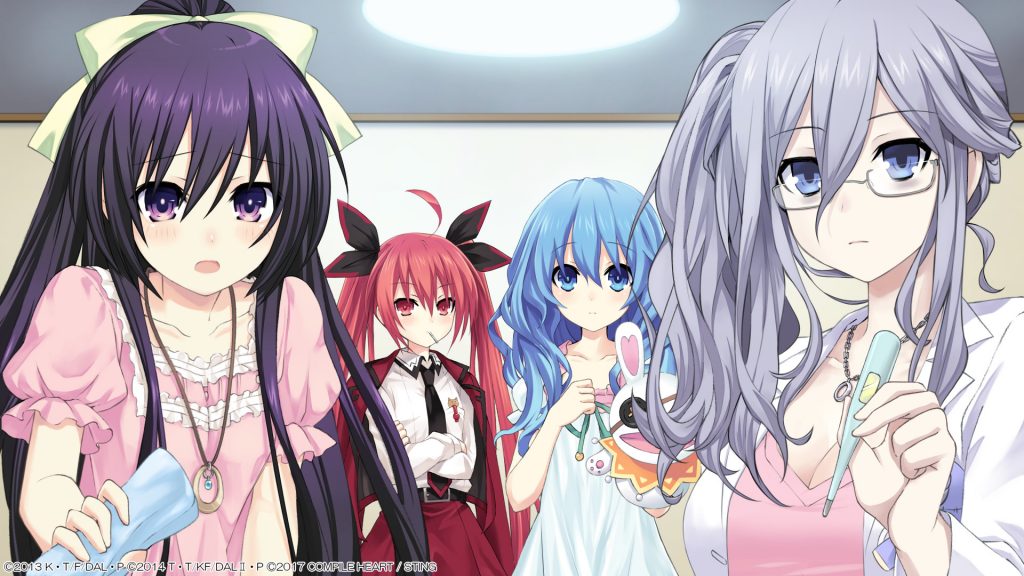 A lot of this is thanks to the quirky girls, several of whom step a bit outside of the standard tropes you find in these games. That isn't to say they don't follow the usual archetypes, as much as they try to do a bit more the characters.
Following the events of Rinne Utopia, there is Arusu Install. Here Shido ends up in a virtual reality and ultimately needs to teach Arusu about love through dating girls. Much like the first adventure, there is a lot more going on behind the scenes, such as the two different Arusu and builds to a rather interesting climax.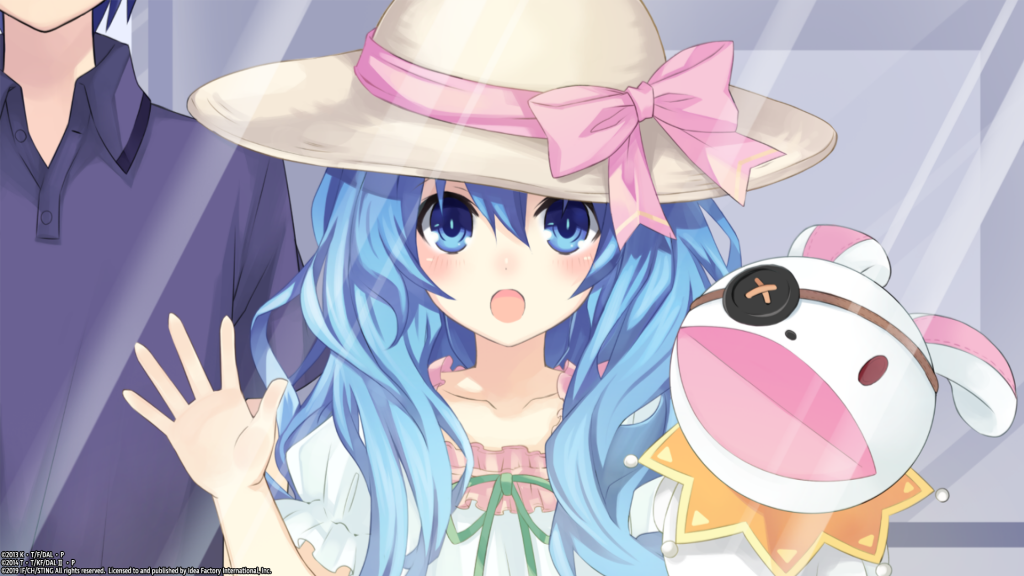 All these events eventually lead to Rio Reincarnation. In this adventure Shido realizes something is missing and some familiar faces from the past return. As you progress, the mystery of these characters, the world around you and more will be revealed, resulting in players needing to figure out why Shido has these memories, learn more about the oddly familiar Rio and more though, you guessed it, dating.
Unfortunately, since these are fairly long novels, each with multiple paths, options, choices and more, it's hard to explain what makes each fascinating without revealing too much. Not so much Rinne Utopia but given the following titles build off of that initial story, there are a lot of spoilers. That said, those uninterested in playing though the two initial adventures or just want to see where the story is going, can check out the digest option under Rio Reincarnation. This is a roughly 15 to 20 minute overview of everything the first two games cover. I strongly suggest avoiding that but these are adventures worth giving some time to experience.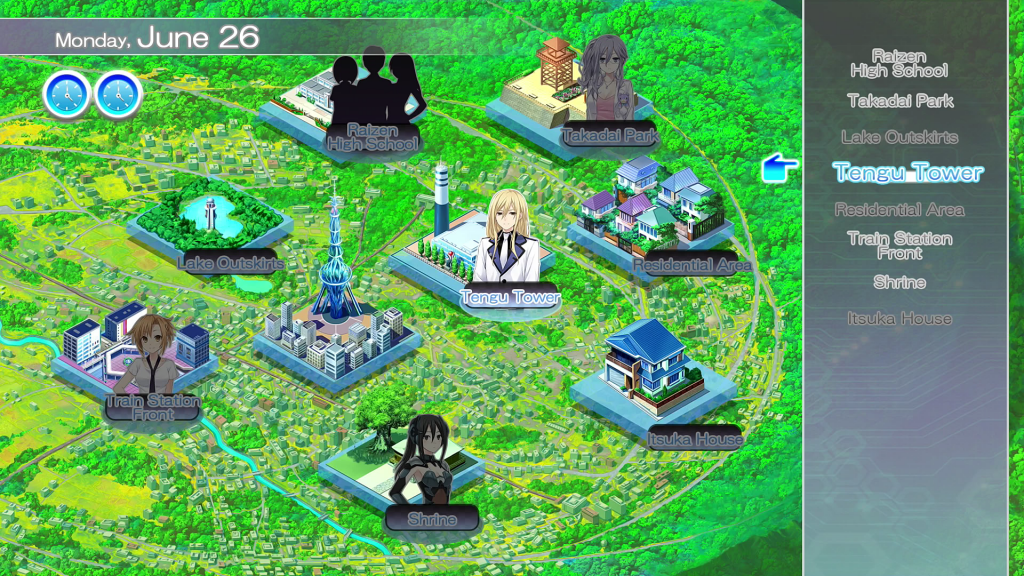 As for gameplay, DATE A LIVE: Rio Reincarnation tells the story through choices and events. Some of these are run of the mill options, meaning a character will say something and you can react one way or another, with the rest coming down to picking events and girls based off a grid. Basically, you can see the world around you, there are various people, places and things you can interact with and these will determine what you do. Picking certain options will result in other options appearing or disappearing, ultimately determining which path you take. The nice thing is, you might not be able to do things out of order but you have enough control to choose what interests you. In my case, I found Yoshino adorable and choose to go after her before bothering with Tohka. This takes some getting used to but once you get the mechanics, you can charm each girl and see where each road leads.
Since these games are HD ports, there is an odd balance of dated designs with modern looks. This isn't a criticism, as much as, the iconography is something you'd expect from a game that released when these initially released, with the graphics looking quite nice. Sadly, it isn't the most animated game, however there are plenty of CGs, motion, various models and more. Anyone worried about DATE A LIVE: Rio Reincarnation being too dated will be delighted to hear that is not the case.
Verdict
DATE A LIVE: Rio Reincarnation is a rather interesting experience. Initially it feels like a poor man's Fate/Stay Night and eventually goes in a fascinating direction. This means you need to get past the slow start and invest in the characters, though it will pay off in the end. You're also getting three games for the price of one, plus plenty of extras, making it a fantastic value. So, if you're a fan of visual novels or just want something to do over the slow months, it's easy to see the value of DATE A LIVE: Rio Reincarnation.
[Editor's Note: DATE A LIVE: Rio Reincarnation was reviewed on PS4 platform. The game was provided to us by the publisher for review purposes.]