Updates have always made the most sense for anime/manga games. Instead of redoing the same stories we know and love, it simply adds on to the current experience. This is the thought behind Attack on Titan 2: Final Battle. With new characters, twists and events from the latest season, does it add enough to be worth it or would a remake lead to a better gameplay experience?
Whether you beat the story or just want to jump right in, character episode mode starts with a brief overview of the key events that came before. It's a nice overview, one that doesn't focus on too many details, as much as the big picture. Less how they came together and more a reminder of a couple major plot points, such as the identity of the colossal titan. Following that, players jump to the introduction of my favorite character, Kenny Ackerman.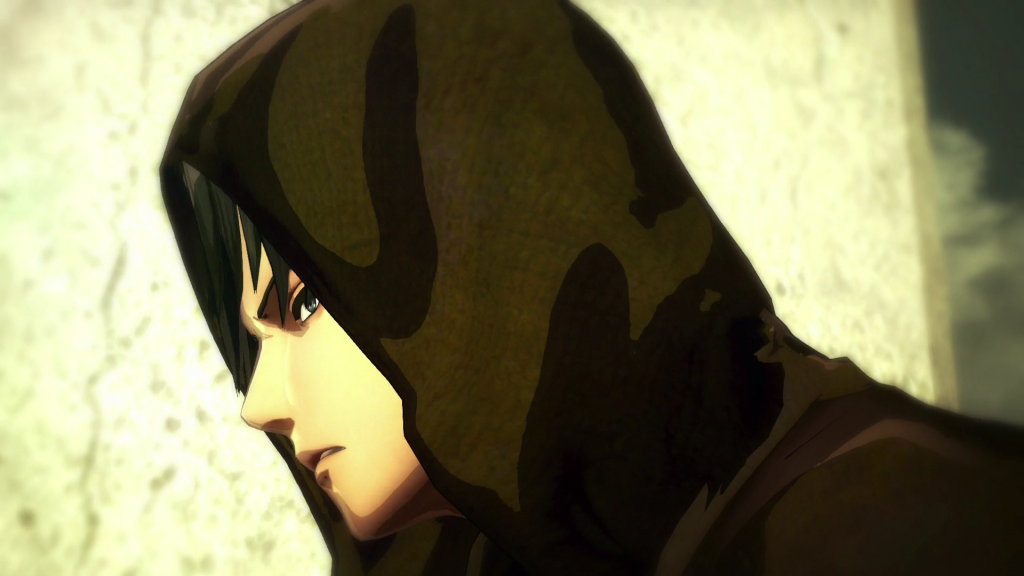 For better or worse, the story itself is told in rather broad strokes. Considering there is plenty to tell, such as introducing Zeke and everything that comes with it. Despite undercutting some of the best moments in the series, Attack on Titan 2: Final Battle makes the most of what it's given. It won't make up for skipping the anime or manga, though you can get a sense of what these characters were trying to achieve and everything that comes along with that.
If you're unfamiliar with Attack on Titan 2 or the previous game, it takes a rather simplistic approach to the core concepts of the series. With the omni-directional mobility gear, players can zip around both the world, other humans or the ever fearsome titans. This makes things rather fast, with the idea being less control and more getting players that sense they're utilizing this crazy contraption.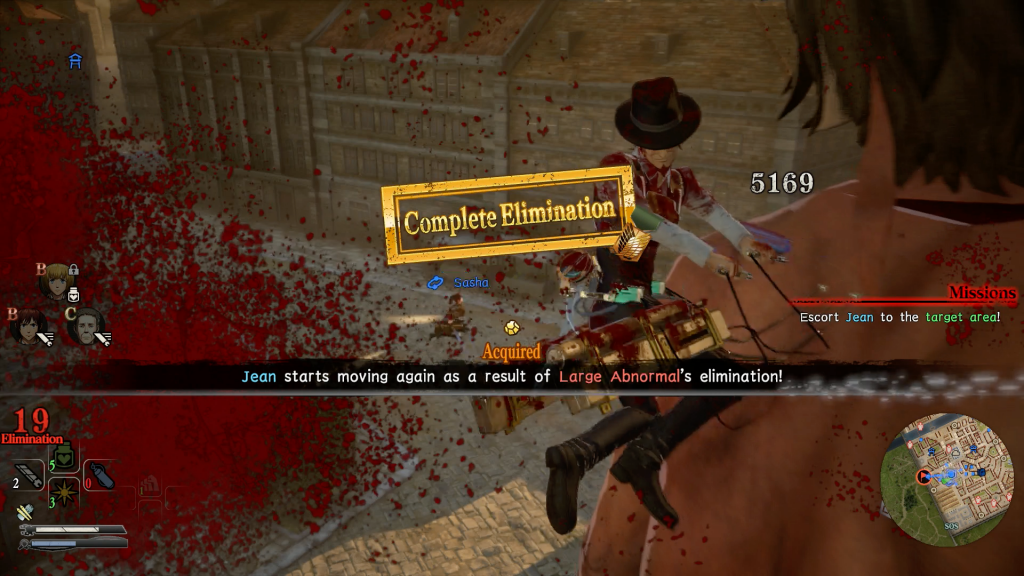 Combat comes down to attacking specific points. If you're having trouble or want materials, players can focus on limbs or simply go for the kill. This can be done by waiting until a precise time to attack or turn on auto and simply target what you want to accomplish. It makes for a fun experience, just not as polished as, say, Marvel's Spider-Man.
To prevent things from being too mundane, there is a crafting system that uses collected resources, either from killing titans or finishing tasks, to make better gear, along with consumables. Blades will dull with use, just like certain moves consumes gas, both of which will need to be swapped out routinely. Capturing strategic points will give supplies, with optional missions offering players a variety of benefits.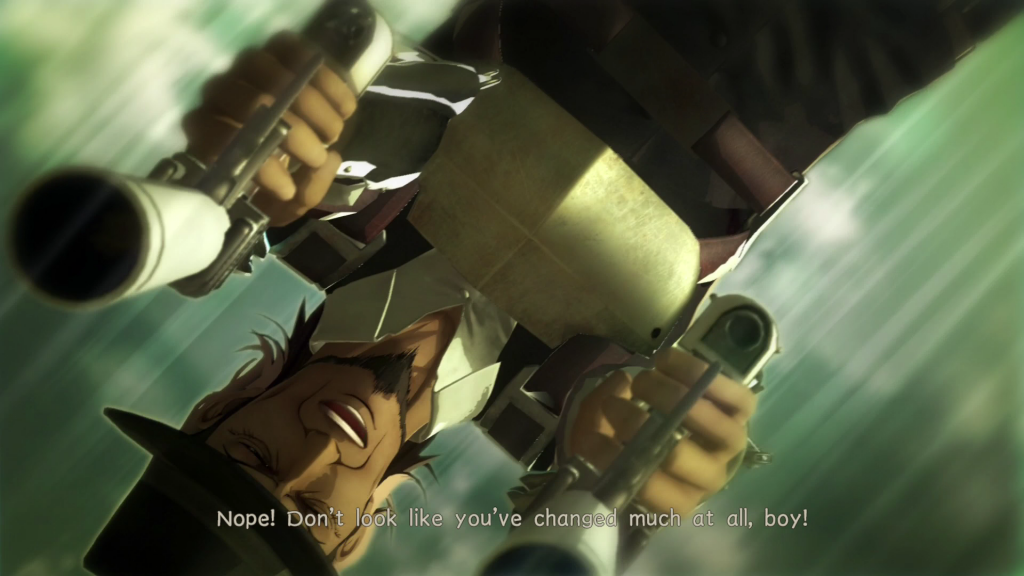 These things are enough to make the experience fun and engaging, at least to the point where it isn't quite find a titan, lock on, jet over and then slice. To aid in this, another mode is essentially free play and territory recovery mode gives purpose to rehashed missions. Instead of progressing in the main story, you can venture out into the wild and attack the titan threat directly. It makes sense and allows players to live out their fantasies.
With over 40 playable characters, along with a player created one, players have the opportunity to make most noteworthy characters shine. Whether it's Erwin or Armin, these modes give players the chance to utilize their distinct advantages and disadvantages to overcome the challenges that plague their world.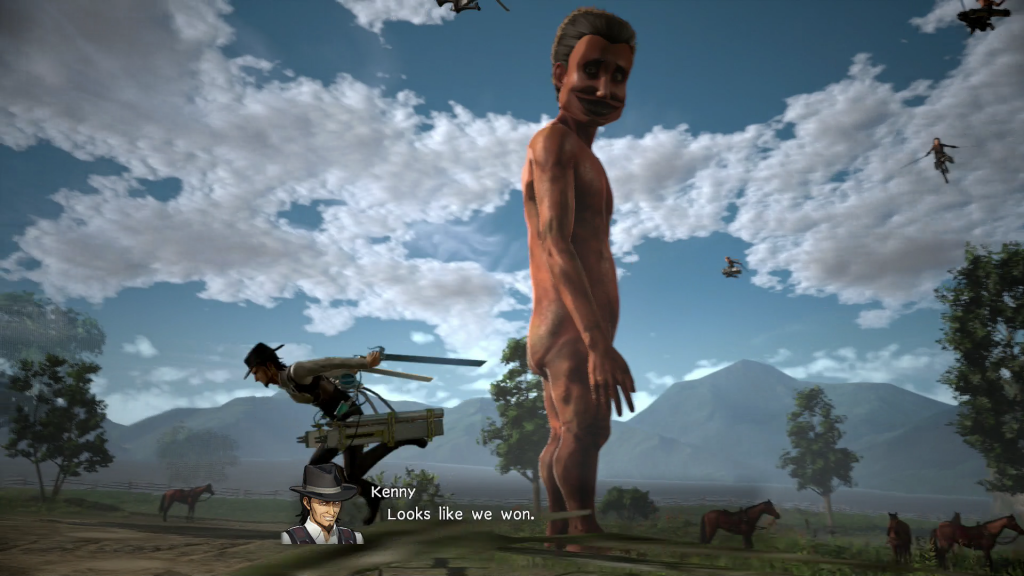 While Attack on Titan 2: Final Battle does a good job adding to the story and certainly covers the ever important wish fulfillment aspect of these games, it's still far from perfect. As mentioned above, the controls aren't the best. I'm willing to overlook it, given it offers a sense of realism, though others might not be as forgiving. Depending on how levels progress, there can be some performance issues. Titans destroying a building during your attack will often result in a massive drop of frames and isn't the prettiest thing to look at. Cutscenes are also rather simple, most being a simple picture with dialogue or a talking head or three, something that takes away from the ever dynamic nature of the series.
Verdict
For the most part, Attack on Titan 2: Final Battle is the best you could hope for in an expansion. Those interested have instant access to the new content, with newcomers or just diehard fans having the option to revisit previous events, assuming you haven't already played Attack on Titan 2. These new characters increase the number of playable characters, along with further flesh out the existing and new modes. And, even if the idea of reclaiming the world isn't the most interesting, it makes sense given the series and that makes it fun in its own way. So, if you want to see where the adventure leads, this is a solid expansion that has a fair amount to do. However, if you don't want to check out the new season or fight a bunch of mindless titans, you might be better off waiting for the next chapter.
[Editor's Note: Attack on Titan 2: Final Battle was reviewed on PS4 platform. The game was provided to us by the publisher for review purposes.]