Over the years Attack on Titan has grown immensely more popular. What was originally a dark series that some people had heard from quickly became one of the most notable series out there. With this popularity come things like an anime and even games. While a lot of this is expected of a popular series, Dynasty Warriors is not a series I would associate with Attack on Titan. Nonetheless, Attack on Titan is a Dynasty Warriors like game using the world of Attack on Titan. With large enemies to kill, people to save, places to discover and much more, is Attack on Titan worth your time or is it a shameless cash grab?
Attack on Titan starts by making the arguably wise choice to forego most of the training arc. You're given a brief introduction to the mechanics and see some of the more notable characters in action, but it all quickly leads to the Battle of Trost arc. This will make it hard for newcomers to get into the series, though the story is quite deliberate in what it does.
Throughout the first couple of missions you'll quickly learn about character relationships and have an understanding of why things are the way they're. The story also highlights characters that were less notable in the source material, that play a larger role in things to come. The story itself also has plenty of cutscenes, shifts perspectives when needed and basically attempts to do the series justice, which it largely accomplishes.
The real downside to Attack on Titan is the actual nature of the series in relation to what a game can portray. Combat boils down to a single attack and using various tools to set up your attacks. Like other Dynasty Warriors games, Attack on Titan attempts to offer depth with grenades, the ability to slice off limbs, controlling A.I. and so forth, but I found plenty of success ignoring that in favor or slicing the nape of a titans neck.
Once you understand how to do that effectively you'll make quick work of your foes. None of the titans are particularly smart and most of the time you can clearly telegraph your movements and come out successful. The combat is also straightforward enough to be little more than try until it works, with greater rewards offered to those who make fewer mistakes.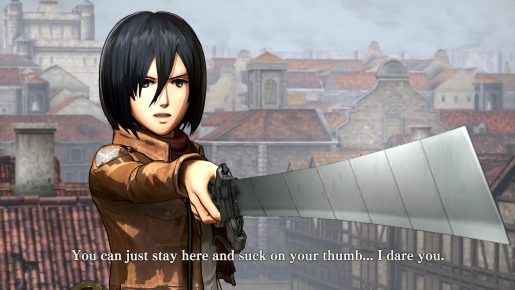 The side missions are also your standard Dynasty Warriors fare. Someone is in trouble, you go to help them, typically this results in having to kill some enemies and then you get a reward for helping them. Plenty of these will appear throughout a mission, which might be tedious, but feels true to the series. Calling in for help and then have several of your comrades attempting to rescue you. The same is true for the usable system due to it promoting conservation and risk. There are ways around it and you'll often have plenty of resources, but it's a nice addition regardless of the details.
In addition to fighting enemies by slicing their neck, you'll occasionally get to play as a titan and enjoy your standard Dynasty Warriors experience. By this I mean you can pretty much eliminate any and all threats using a couple of attacks, which is fun, but also gets old fast.
Besides story there is an exploration mode that uses the same mechanics in a different setting. This mode can be played online and lets you select from the small but diverse cast. Sure it isn't the most complex mode, but it makes sense in terms of the series and adds something to do once you've seen all that the story has to offer.
Verdict
Attack on Titan might not be the best or most complex game, but it is faithful to the source material. Most of the fights are doing the same thing once or twice, which can get boring, but is still expected from the series. Combine this with plenty of cutscenes, the intriguing story and some fun mechanics and you have a game that is good for fans and newcomers alike.
[Editor's Note: Attack on Titan was reviewed on PS4 platform. The game was provided to us by the publisher for review purposes.]
Attack on Titan Review

,