Ticket to Ride London is the brand new addition to the Ticket to Ride franchise, bringing double decker buses to the set collection, route building board game. Designed by Alan R. Moon, and published by Days of Wonder, this is a small version of the standard game – which plays in around 15 minutes with 2 – 4 players. However, are the double decker buses a good reflection on the city of London or should players hail a black cab instead? Let's find out!

To set the game up each player takes 17 double decker buses of their chosen colour, two transportation cards and two destination tickets. Players only need to keep one of the destination tickets, which are effectively objective cards – though both can be kept. These show two locations within London that need to be linked by the player. The rest of the cards are placed in piles next to the board and the top five transportation cards are flipped to form a market of cards. Finally, after putting scoring tokens on the zero space of the tracker the game is ready to be played.

On a turn a player can perform one action from a choice of three. The first and most common action is to draw transportation tickets. Transportation cards are what players will be collecting sets of. Cards can be taken from the face up market or the top of the deck. Normally you will get to take two cards though if you choose to pick up a face up wild card (which can be used as any colour) from the market it is all you can take that turn.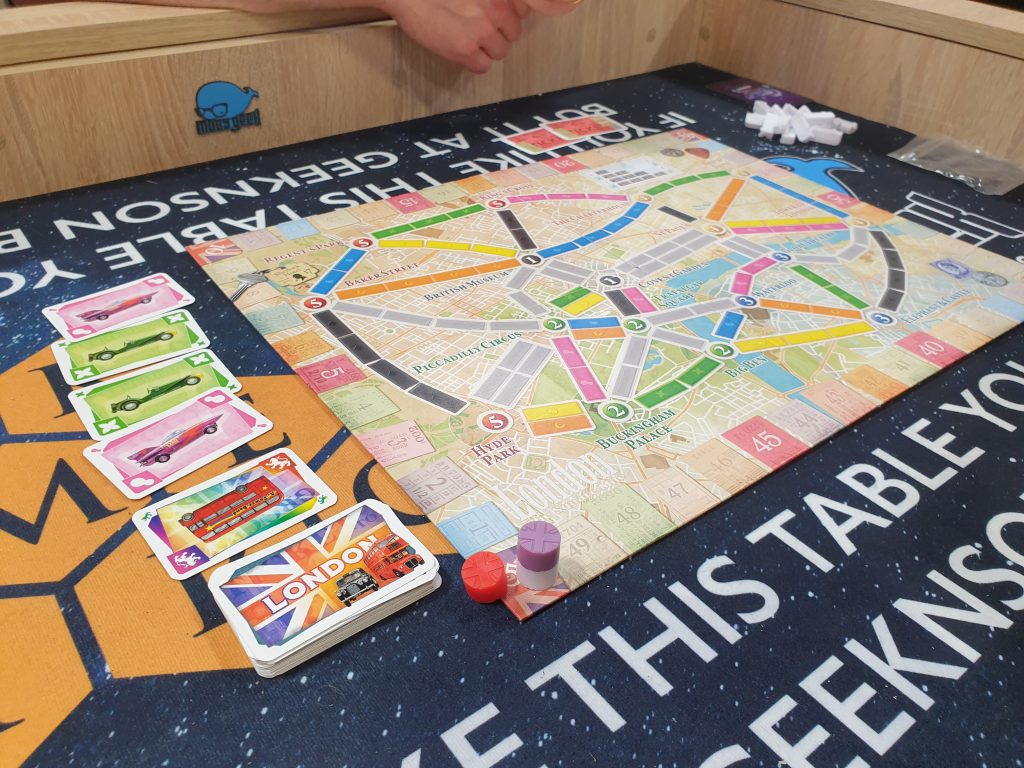 A different action is to claim a route, by spending a set of cards. For example, for a three long blue route between two locations on the board three blue cards (or a combination of blue and wild cards) must be discarded. At this point the player will add their double decker buses onto the route on the board, scoring for placed pieces accordingly. Note, it is not possible to pick up cards and claim a route on a turn – this would have to be done over two separate turns. The final action is to draw more destination cards – taking two and having to keep at least one.

Play continues clockwise around the table until one player has two or fewer double decker buses. This triggers a final round, with everyone getting a single final turn. Only at this point, the end of the game, do players reveal their destination cards – to show if they have completed them by linking the indicated locations. If they have managed to the player gains the points depicted on the card, if not that is the amount of points lost. A final bonus twist is included in London. Each location is part of a numbered set and if a player has connected each location in a set bonus points are scored. At the end of this the player with the most points wins!

It might sound like the tiniest of changes but unlike the New York title a score tracker has been included. With ticket stubs around the edge of the board to move along, not only does it feel more like a Ticket to Ride game with it included it is also helpful to use. Most of the scoring can be done during the game, with only objective and bonus scoring to do before the winner is crowned at the end. It might only be a minute shorter but for a game of only 10 – 15 minutes the ratio of time for scoring seems more appropriate.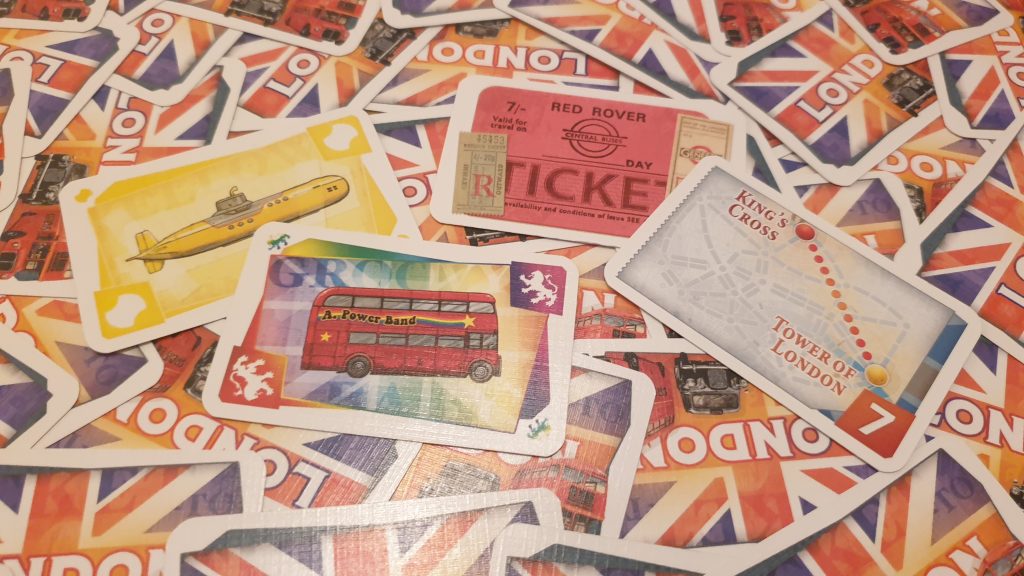 I'll admit I was sceptical of the choice to go for buses over the London underground – it seemed perfect for Ticket to Ride's trains. One advantage is it does allow for famous locations such as Big Ben (despite being the bell not the tower) to feature on the board – something not possible if going by underground tube stops. For those still not convinced when playing it is easily forgettable if you don't pay attention – with a number of players referring to them as trains not buses.

When it comes to the components they are almost brilliant, and fit comfortably back into the smaller box without an abundance of room for air. The small plastic double decker buses are a great touch but you do need to look close at the board to notice they aren't the normal trains. The transportation cards (usually train cards) aren't full sized so can be tricky to shuffle, the only negative. However, they don't just featuring the iconic double decker buses – going above that to include the further iconic yellow submarine, black taxi and more.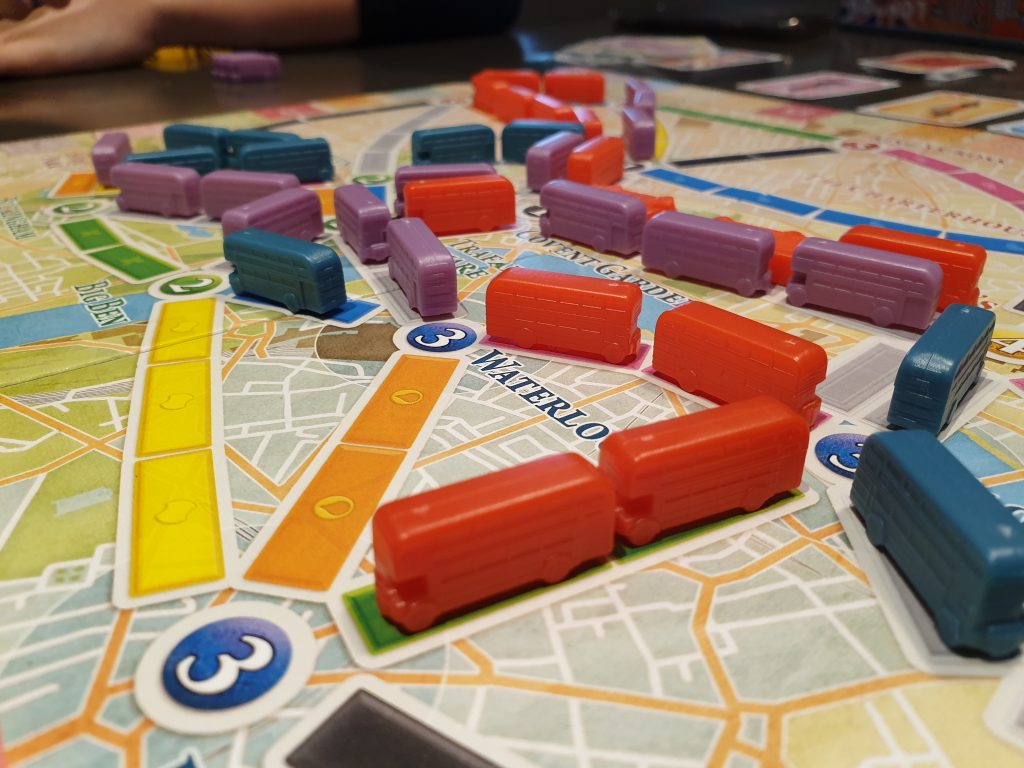 Geography comes somewhat into play for the enjoyment of the game, much like with standard Ticket to Ride titles. While New York was fun to play there is something easier about playing on a board where you know, at least approximately, where everything should be located. Perhaps this is why the majority of players have found it easier to simply get playing. Though from playing at the UKGE it wasn't just those from the UK that mentioned preferring London to New York.

Aside from feeling more like a Ticket to Ride title with the scoring element, it is the additional way to score points that gives London the edge. It is a small extra thing to think about and offers side objectives. The components are solid and generally create a very British feel to Ticket to Ride. For a short period of time Ticket to Ride London is a solid game to teach to new gamers and get down off the shelf!

[Editor's note: Ticket to Ride London was provided to us by Days of Wonder at UKGE 2019 for the review.]