Contrary to my previous posts about disliking all-in-one solutions, there are certain products that simply make sense as part of another. One of those was giving smart phones camera, as they might not compare to an actual camera, they'll do the job for most situations, with the other being digital music players. Back when I got my original Zune and people were paying for iPods, it was a product that did just that, played music. So, when I got my Sony NW-A45 Walkman, I questioned the products actual value.
Surprisingly, the Walkman sounded significantly better than it did on any of my previous phones and became one of my go to external devices to test headphones. However, no matter how good the Walkman is, it suffers from one of Sony's biggest problems, misunderstanding the larger market. Given most people stream these days, it seems odd they would release a device without that functionality, which is where the FiiO M9 comes into play. With the ability to play music directly from the device or stream it from a variety of services, it seems like a fantastic choice for people looking for a better digital music experience. Given the nature of streaming and simpler devices out there, is it worth investing in the M9 or is it a nice idea that doesn't work?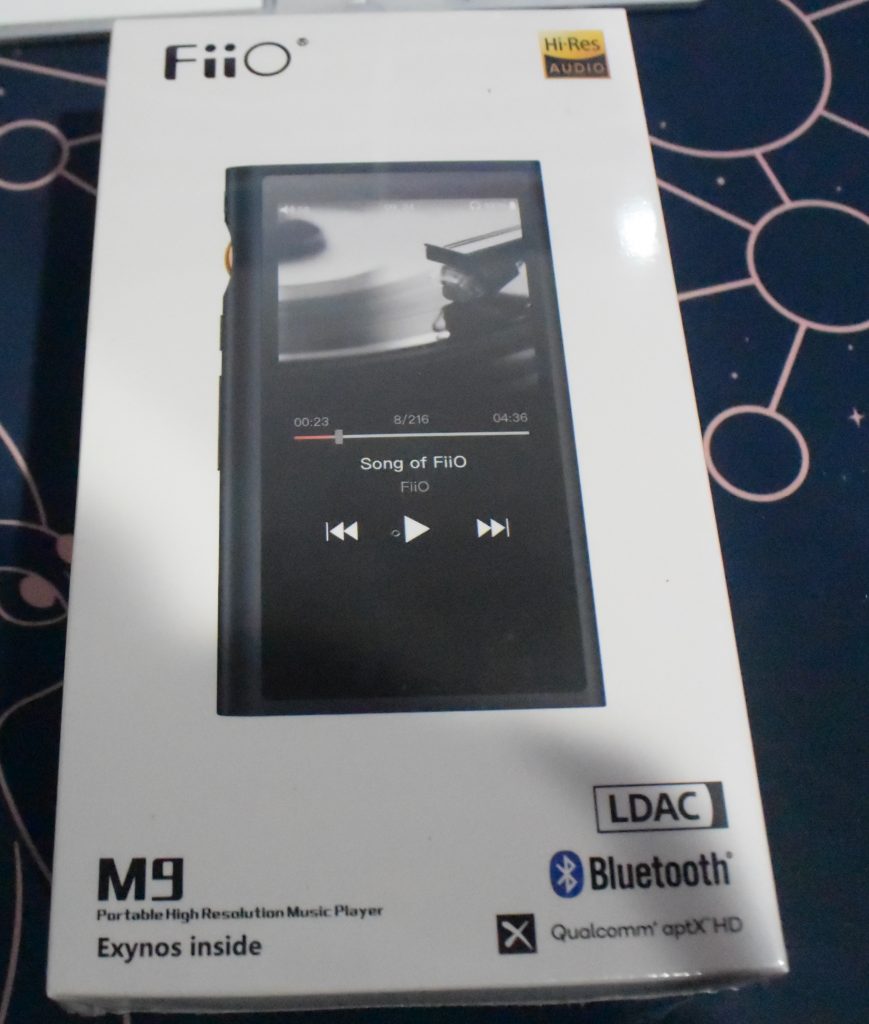 While the M9 has similarly modest packaging as the NW-A45, a lot of thought went into what is included. Where the Walkman was simply the device and some paperwork, FiiO thought to include a case and preinstalled screen protector. Considering the M9 has nowhere near the popularity as, say, the iPhone, this solves two comn problems and allows owners to instantly enjoy the device. And, if you don't like the clear plastic case included with the device, FiiO offers a couple options on their official website.
After removing it from the box, the first thing that came in mind is how large the device actually is. Not only is the M9 significantly larger than my Walkman, it's also thicker than my iPhone 6S. This makes it a little more bulky for travel, especially since there isn't an included lanyard hole like the Walkman has.
That aside, the M9 feels solid and seems well constructed. After taking it out of the case, as it arrived somewhat dirty, it had a nice cool feel. Something I prefer much more than the plasticky feel of the included case, but not enough to risk damaging it. Each of the buttons are also arranged in a way that makes sense, though it feels more geared towards left handed people. I can click most of the buttons with my middle finger, it's just the volume control that is hard. Since it's a roller, over a standard button, I can only move it a couple notches before having to restart, where as I have a lot more control with my other hand. This is a stark contrast to the Walkman, which has the buttons on the other side and uses a volume button.
In terms of actual use, FiiO did a fantastic job. The included music app offers a wide variety of ways to access, control and understand your music. With basic categories like artist, album and folder, to most played or recently added, it's easy to find whatever you want. It does support custom playlists and the ability to favorite, so you can easily find whatever you want, without having to edit files or remember to do it on a later date.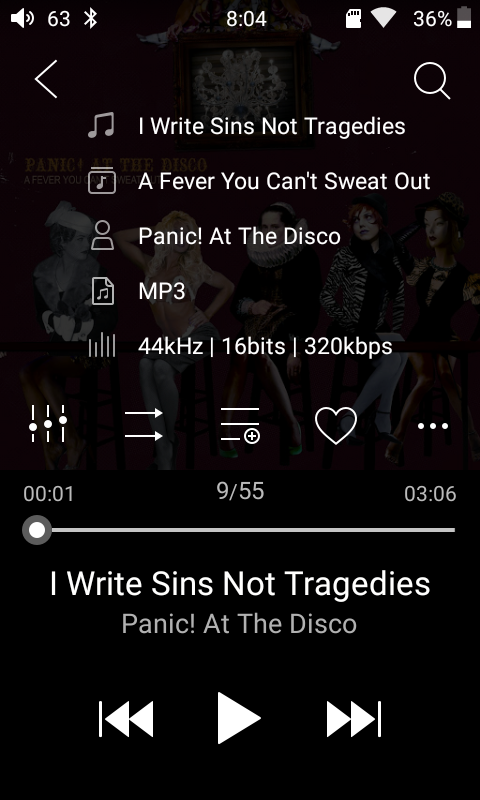 When playing a song, clicking the album art will list the songs name, which album it appears on, the singer, type of file and how it was coded. There are also easy options to add it to your favorites or a playlist, making it easy to set up your music. One of the most interesting options is the equalizer.
Out of the box it has a total of eight different equalizations. These basically account for common genres like pop, vocals or metal, with users having the ability to make their own settings. It gives a fair amount of control, though less experienced users will likely not notice much difference or gain much from it.
As mentioned above, what makes the M9 different from the Walkman is the ability to stream music. It comes with KKBox, Tidal, Moov and NetEase Music installed. An extremely small number of additional applications can be installed, which does include Spotify, but it lacks the ability to use YouTube or Amazon. This might potentially limit the appeal for some, though through extensive testing, even streaming apps sound better on M9.
Not only was it a fair amount clearer, I was able to get better separation and bass from M9. Even when connecting the same pair of headphones to the device itself and using the BTR3 connected to my iPhone, the iPhone fell behind. However, when compared to the Sony Walkman, there was not as much of a difference. For the most part, the two devices offered about the same level of quality, with a couple songs here and there sounding a little better on FiiO's M9.
In addition to better a better sound, I love how easy it is to navigate through M9. Sony designed the Walkman to essentially play music and/or radio, which it does a good job of, it just doesn't have the same ease of use found on FiiO's version of Android.
When music is playing, the lock screen shows the song and gives the ability to skip, go back, play/pause and favorite. During navigation you can summon the same menu by pulling the notifications down or by simply opening the application. This worked for every application I tried, as did the physical buttons, making it very easy to control what was going on. Another extremely useful feature is the glowing FiiO logo on the front.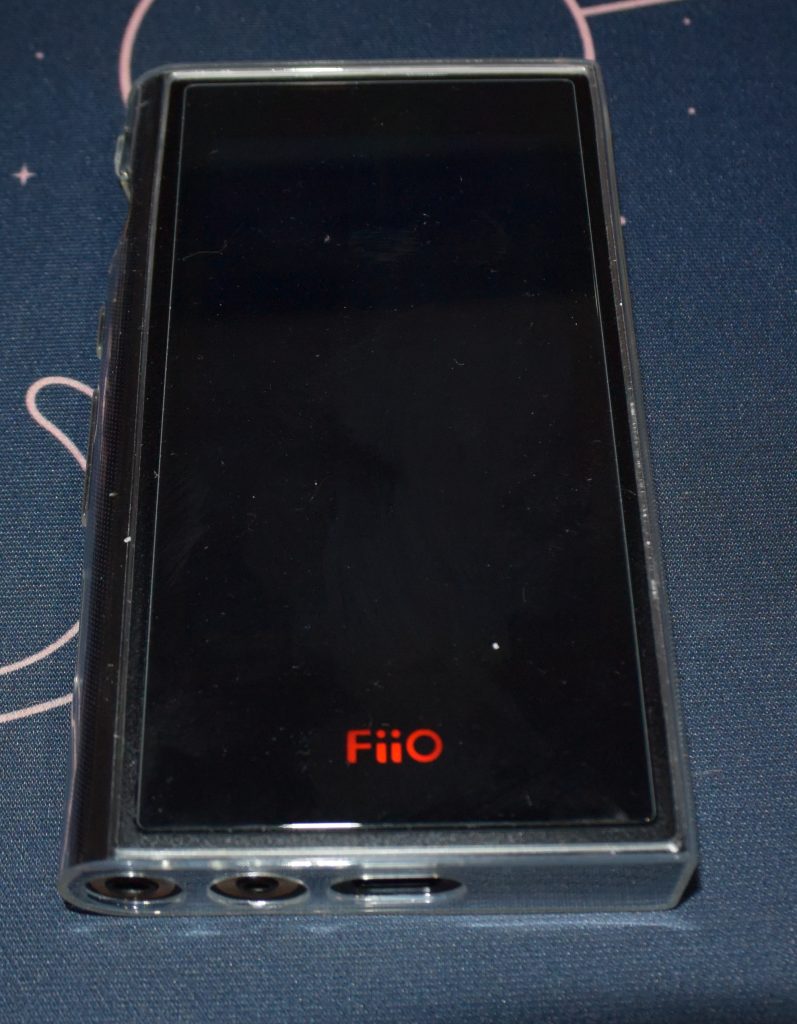 It will only glow when M9 wants you to know something is going on. Playing music will be a solid blue, skipping a song makes it blink and low battery is an ominous red. I found this much better to manage the devices battery life, either by limiting use or knowing when to charge it, leading to a better overall experience.
Verdict
FiiO's M9 is essentially everything I wanted my Sony Walkman to be. Not only does it give users access to select streaming applications, it also includes a case, screen protector and uses a non-proprietary charger. Sure, the range of applications could be better and for the price, they could've included more than 2 GB of storage, but these can be solved by external means. Connecting your phone or Bluetooth enabled device to the M9 enables DAC mode and will work with apps like YouTube; where as a simple microSD card can give you as much as 2 TB of storage.
The only real problems that can't be solved are button placement and size, though most of these are minor issues. The main buttons work fine with a finger, with the size still being more than portable. So, if you're looking for a better sound experience or want something to use around the house besides your phone, I'd strongly suggest the M9. The few shortcomings are nothing next to the overall quality of this device.
[Editor's Note: FiiO M9 was provided to us for review purposes.]