Sci-fi is largely built on technology getting out of hand and leading to some kind of undesirable future. One such thought are simulations getting out of hand, to the point where some have questioned whether this world is one or not, and being stuck in another world. Death end re;Quest takes this idea, tosses in the ever so common dying there will kill you here, and tries to make the error into something so much more. With a chilling atmosphere, a world falling apart and terror at every turn, is Death end re;Quest a chilling delight or another game that tries to build something off a gimmick?
Death end re;Quest starts by fleshing out the two worlds. After losing a battle to some terrifying force at the beginning, Shina awakes in a mysterious location with little to no memory of her past. She eventually figures out she is an adventurer and is trying to travel to the infamous city in the sky. Shortly after she is directed to offer her services to a nearby king, things seem amiss. Guards are not to be found, she finds the paintings to be oddly familiar and other unsettling things happen.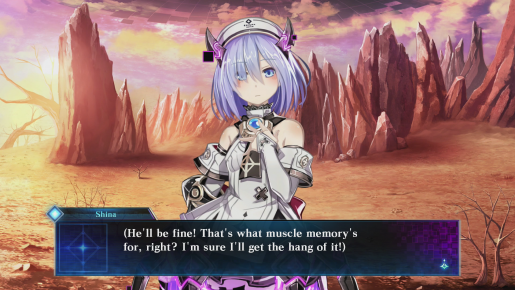 Before the worst possibly outcome occurs, she is guided to safety from a mysterious voice. The voice reveals that Shina was working on a VRMMO, one that she is currently stuck in, and is delighted to finally find her. The voice is a co-worker that thought her disappearance was out of place and there was something amiss about the whole situation. After determining something is wrong, they decide to 'beat' the VRMMO in hopes of saving Shina, a task that quickly becomes far more difficult than they could've expected.
While the set up for the adventure is fine, it takes a rather long time for the pieces to fall into place. When you're not facing some kind of danger or following the typical RPG recruit, grow close and overcome arc, Death end re;Quest wants players to care about a mystery takes entirely too long to unfold. Why care about mysterious items appearing in the game or possible dangers to those helping Shina when it takes 20+ hours to explain why you should care about these things to begin with? It isn't just that the story sticks to the mystery entirely too long, often going for shock or exciting visuals over real story advancement, the main concept is way too much of a gimmick.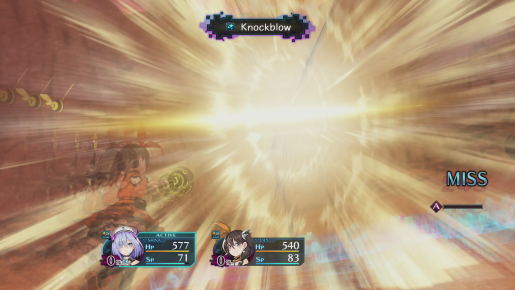 Shortly into the game you're given your first of many 'choices.' It's important to understand you don't really have a choice as much as, a right or wrong option(s). Most times they'll both seem appropriate, like one notable one was choosing to run or fight, with fight being the correct choice. If you choose to run, your whole party is killed. From there, the dead ends aren't even that satisfying.
One of the first screens you lay eyes on is a disclaimer that this title has graphic depictions of violence and grotesque scenes, yet most of them just dialogue. Sure, adding choices where the outcome is your party watching someone get sliced in half certainly falls under that, it just doesn't have the same weight or experience as getting a CGI scene, something that certain paths do offer, or watching it happen. At most it just gives you motivation to select incorrectly and move on.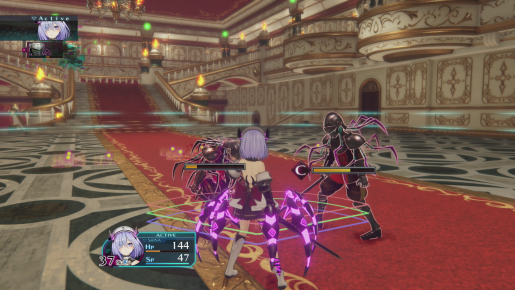 Since wrong choices also count as a game over, players are allowed to reload their save and take the experience and cash they earned and apply it to that run. It doesn't penalize you for picking wrong, though it can send you back pretty far depending on what you do. One of the worst choices made me refight a boss, as the choice appears immediately after the boss is vanquished. Despite this rather annoying mechanic, it can also typically be ignored by simply saving during the cutscene, picking all the choices and then progressing. Sometimes, such as the aforementioned boss choice, you can't save but usually you can turning it into a rather bland mechanic.
As for gameplay, the experience is not unlike Mugen Souls or Neptunia. Players can run around a field, use basic attacks, skills or items up to three times a turn and repeat until you either win or lose. If it sounds bland, it's because it generally is, with the only exciting part being corruption and pool based mechanics.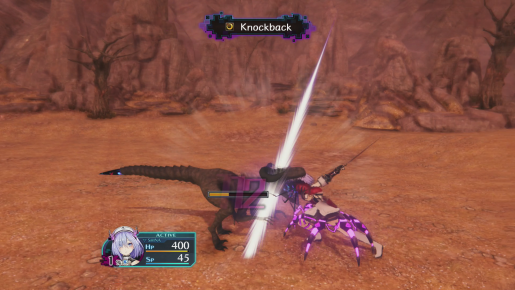 As you take damage or step on 'bugs' on the field, your corruption level increases. Getting above 80 percent will make you transform, though hitting 100 percent is instant death. It's a good way to make easy fights hard and give players a high risk/reward system to play off of. The other thing is where and how you attack enemies. You see, certain attacks add a knockback, which is an additional attack at the end of a combo. Doing this will, well, knock an enemy back destroying bugs so you can modify the fight (summon defeated bosses, change the gameplay mechanics, buff/debuff the field, etc) or push enemies in a certain location. If they collide with another enemy or the bounds, they take damage and if they get close enough to an ally, they do another attack launching them in another direction and do more damage to them. It makes fights fun for a bit, before just being another thing to deal with.
Outside of combat, players run around a rather linear world collecting random items and constantly moving forward. Most items are random things use for quest, gear and what have you, making progress feel rather routine. In fact, it's just like Neptunia's fight, kill, buy better gear and find stuff that might be better system. It isn't that this style is bad, as much as it just isn't exciting.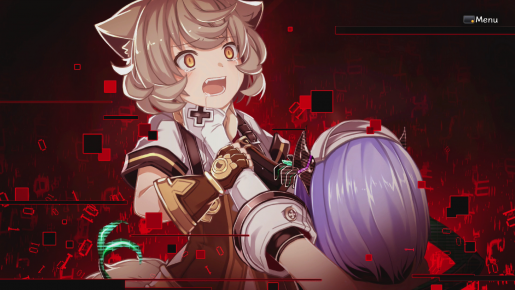 When progression, up to and including fights, ultimately follow a routine, the experience becomes repetitive. It eventually hits a point where I don't even need to change my thought process, just input the same tactic, watch scenes, save before choices, make them and progress.
Verdict
Death end re;Quest tries to be more than the sum of its parts, yet fails to achieve it. The story could've been interesting with less mystery or at least thrilling if it had a large enough budget to give some of the dead ends/deaths animations/scenes. Sure, several people probably don't want to see a cut girl sliced in half or killed a number of ways but anything is better than just explaining how they die a multitude of times. Combine this with an extremely linear world and relatively bland combat and you have something that just doesn't stand out in any way.
[Editor's Note: Death end re;Quest was reviewed on PS4 platform. The game was provided to us by the publisher for review purposes.]