Onimusha was a popular game series from Capcom back in the PS2 and Xbox era, but the series has since been forgotten once the newer generation consoles came out. Capcom instead focused on other game franchises such as Resident Evil, Street Fighter, Monster Hunter and more. Well now it's 2019 and Capcom has decided to look back at Onimusha again by re-releasing Onimusha: Warlords for PC, PS4, Xbox One and Nintendo Switch.
Usually when it comes to re-released video games, they sometimes come in a bundle featuring more than one game in the series. For example, Capcom re-released Devil May Cry several years ago and people were able to play the first three excellent games in the series in HD for the very first time. Well Capcom has left things unfinished with Onimusha since Onimusha: Warlords is the only game that has got the HD treatment thus far.
It's a little disappointing that Onimusha: Warlords is the only game in the series to get a remaster, but maybe Capcom will re-release the other games in the series if this version sells a lot of copies. The only plus side to only releasing one game is that you can get it for cheap as this game only costs you $19.99 to play in North America.
It goes without saying that this HD version of Onimusha: Warlords is a remaster and isn't a remake. This means the game has not been built from the ground up featuring revamped visuals and better controls. No, this re-release of Onimusha: Warlords features a similar control scheme to the original game with the graphics that still use the PS2 character models.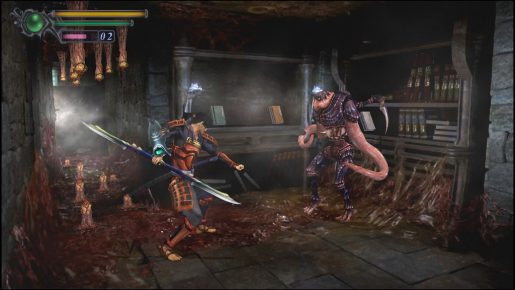 The last remaster I played from Capcom was the Devil May Cry trilogy and those games looked horribly outdated. The "remaster" did not really do much to the visuals as the game still looked pretty old and dingy. Thankfully, Onimusha: Warlords looks slightly better as the graphics have been upgraded to 1080p resolution on consoles and 1440p on PC. You can play in 16:9 widescreen, or even take things old school playing in the original 4:3 setup. I chose to play in 16:9 as it looks better on my 4K TV.
Don't expect to huge differences in the graphics because Onimusha: Warlords still looks like an original PS2 most of the time. The only visuals that still look pretty decent in this game are the full motion video cutscenes. They don't appear in the game too often, but they're nice to look at once you get to view some of them during your playthrough.
Sadly, a better resolution cannot fully fix the game's old looking visuals. The character models still look pretty horrible by today's standards and the characters don't even open their mouths properly when they're busy talking. That being said, the pre-rendered backgrounds look a little bit more decent than most of the human characters.
While the graphics have not been updated much, the controls feel better than the original game. In the original game, you had old school tank controls which was featured in the older Resident Evil games. If you're old enough to play games with tank controls, you'll know how cumbersome it can be. Thankfully, this re-release allows you to control the characters using the left analog stick so it feels more like a modern 3D video game.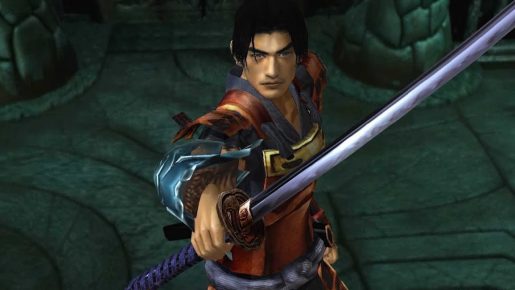 With that being said, the rest of the game still feels outdated by today's standards. The hack and slash mechanics still feel awkward and stiff, plus there's no locking on feature to target specific enemies. Mainly you just swipe in the air and hope for the best.
The biggest issue I had with the game though is the fixed camera. I know the original Resident Evil games played like this, but the camera was the biggest pain to get through while playing Onimusha: Warlords. There were too many times I couldn't even see where my character was attacking because they would appear offscreen!
Things get even worse when you are facing a boss because the camera would change often depending on where you're placing your feet. The fixed camera is an annoyance and I feel new school gamers may struggle to play this game since fixed cameras is a thing of the past!
Another thing I did not like about the game is the horrible English voice actors. Many of the voice actors don't even sound like they're Japanese so it's a bit jarring to watch through the in-game cutscenes sometimes. You cannot skip in-game cutscenes either so you have to suffer through them no matter what you do.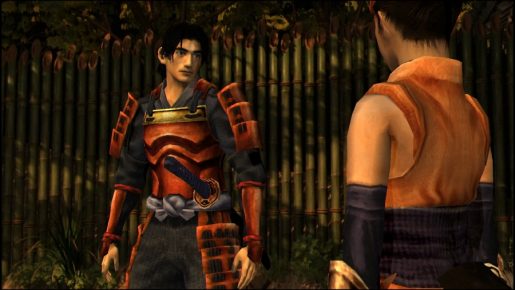 While Onimusha: Warlords is a hack and slash game at heart, the gameplay is surprisingly diverse and enjoyable. Aside from killing lots of demons and monsters, there's a lot of puzzles for you to solve. Usually you may need to explore an area more than once to find a key to a locked door or something like that. I liked the puzzle solving elements since it made the less repetitive to play.
The only annoying thing about the puzzles though is that this game features a lot of backtracking. You usually have to visit an area or two more than once to unlock a door to a new area or something like that. Backtracking can get boring sometimes, but it gives you can opportunity to kill more enemies to steal their souls.
Stealing souls becomes important because it will give you more opportunities to upgrade Samanosuke Akechi's weapons and skills while he's trying to save Princess Yuki from demons and bad guys. Samanosuke Akechi has access to four different weapons throughout the game that has special elemental powers. The more souls you collect, the more powerful your attacks will become.
Verdict
As a whole, the remaster of Onimusha: Warlords is a mixed bag for me. The graphics still look pretty outdated and the fixed camera is a huge annoyance. That being said, it's nice to revisit old games like this because developers don't really make games like this nowadays. It's worth playing since it only costs $19.99, although some people may find the game to be short as most player will complete it in around 4 hours…
[Editor's Note: Onimusha: Warlords was reviewed on the PS4 platform. The game was provided to us by the publisher for review purposes.]