Outlandish concepts can lead to some of the best games. Whether it's microwaves that allow people to send messages through time or a frighten child fighting manifestations of their feelings and insecurity, that can lead to a satisfying experience. Arguably the best example of this is Katamari Damacy. The idea of the series is to collect random junk on Earth and use that to create stars, because, why not. The initial title lead to a number of sequels, with the series eventually disappearing. Now that we're seeing a bunch of titles come back, Katamari Damacy Reroll hopes to bring the series back. With a familiar experience on new platforms and improved mechanics, is it a must or is it better left forgotten?
There really isn't much to Katamari Damacy Reroll's story. Outside of showing humans reacting to the things going on in a usual way, it's little more than the King telling you, the prince, to create stars and other things on whims. Typically, this is done through humorous remarks or silly reasoning, making the story part of the insanity, instead of justification for the concept and the series is the better for it.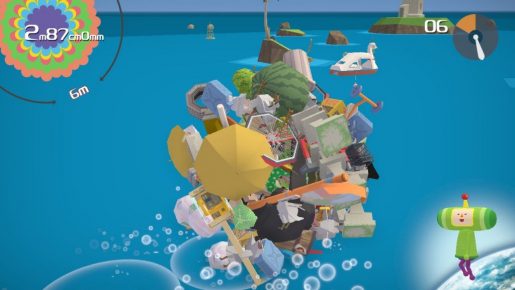 For those who've never played Katamari Damacy in the past, it's a surprisingly simple game. Players move a sticky ball over random objects to increase the ball's mass. As the size increases, larger objects can be collected and added to the overall size. Part of the fun is figuring out the best way to collect items and seeing what kind of crazy things you can collect.
Every stage starts with a specific starting size, with a time limit and a minimum size required to appease the king. Usually this is hard enough to warrant some kind of strategy, with it never being hard enough to require near perfection. That being said, Katamari Damacy Reroll keeps track of how large you made your ball and allows players to constantly improve until they hit the max possible size.
Often times the trick is less luck or even skill and simply knowing the best route. Once you know going to one place over another will result in larger gains, it increases your max potential size. This gives players plenty to work towards, if only for the fact it's less stressful and more relaxing.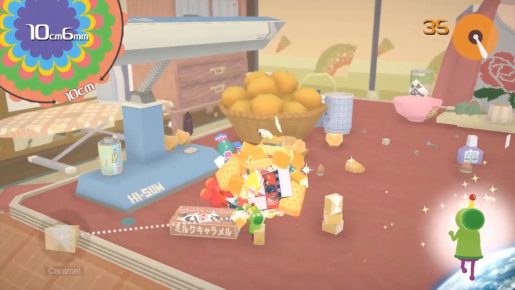 Unless you go for the absolute maximum, the sense of running around, trying different directions and hoping for the best can be a thrill. Especially since there are hidden items, elements and unique items to find. All of this can give players a lot to work towards, without ever really worrying about stressing the small stuff.
The downside to Katamari Damacy Reroll are the controls. It remains relatively stiff and not the easiest to move the camera or move out of a bad spot. Sometimes it also requires moving in an unusual direction, like due to the position I was in I had to move back on my thumbstick to move to the right, making it less intuitive. None of this is enough to ruin the experience, just make it hard to get into and can ruin a good run.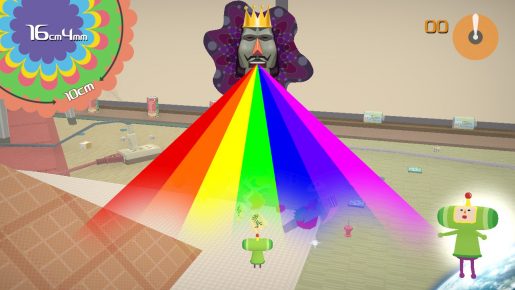 In addition to that, since Katamari Damacy Reroll is a remake, it suffers from some slight performance issues and graphics being less than pleasing. Certain levels freeze for a second or two before loading, though I didn't encounter any issues during normal play. As for graphics, the cosmic background looked extremely low resolution and out of place in a world of higher resolution characters. The things you actually collect look better, though they retain their low budget look, which depending on how you feel about the series, may or may not give it charm.
Verdict
In the end, Katamari Damacy Reroll isn't perfect, nor was the original, but it is certainly fun. Not only is it simple fun, with relatively endless stress-free replayability, it makes for a fantastic portable game. With levels lasting anywhere from a couple of minutes to roughly 10, it makes for a good pick up and play game. When you consider the series charm and simple elements, it's honestly hard to say no at this price.
[Editor's Note: Katamari Damacy Reroll was reviewed on the Nintendo Switch platform. The game was provided to us by the publisher for review purposes.]