Games are made for a number of reasons, with Battle Princess Madelyn being fairly unique. Since the creative director's daughter, Madelyn, wanted to be in Ghouls 'n Ghosts, he created an experience where that could largely be true. It's a cute story that makes the journey a little more personal, even if it doesn't necessarily transfer to the player. With this in mind, a variety of bosses, different modes and challenging bosses, is Battle Princess Madelyn the next big thing or is it a decent game with a cute story?
There isn't much to Battle Princess Madelyn's story. A demon attacks, a number of people are killed, including her dog Fritzy, prompting a quest to exact revenge on the creature. Shortly after Fritzy returns as a ghost, along with people needing help, giving players a variety of things to do besides simply defeat bosses and progress.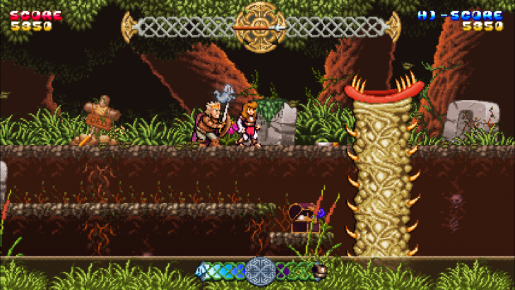 Where things start to fall flat is the lack of forethought put into things. For instance, arcade mode is listed before story, though story starts with a bunch of tutorials and explanations. In fact, I finished arcade mode without even understanding a good number of the mechanics. These ranged from what exactly causes a game over, to the fact Fritzy can apparently attack.
Even if you don't need to understand the mechanics to beat Battle Princess Madelyn, it's an experience built around failure. The hardest part of any stage is simply figuring out what you need to do. Sometimes this is locating a bosses' weak point, where as others it's outright mechanics. None of them are particularly difficult, if anything they're surprisingly simple.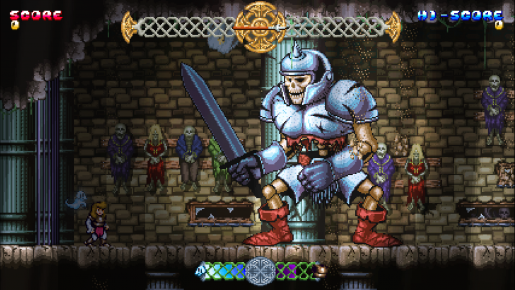 Once you understand what you need to do, boss battles are nothing more than memorization. Worse yet, some of them are a joke if you have an understanding of how you're suppose to do them. The best example of this is the rabbit robot boss. He throws exploding carrots and does an annoying clap attack but the carrots will never hit you if you stand still, with the best way to avoid the hands is to simply jump up. So, realistically, if you can time the clap correctly, you can defeat him without taking a single step.
Every main boss has the same basic issue. After learning the trick, they're a slave to their routines. It reduces every fight to a battle of endurance. Either you can follow the pattern long enough to win or you get sloppy and lose. However, with enough patience and adequate skill, every boss besides the aforementioned demon, can be defeated without taking damage with relative ease.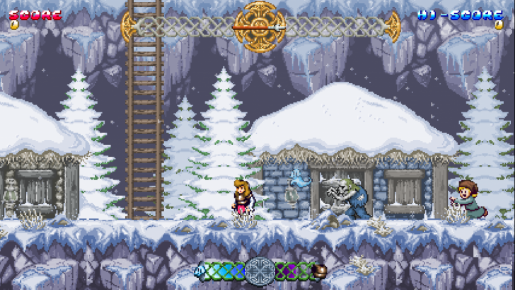 What makes the demon an exception is the same thing that makes the main experience so annoying, enemies spawning in annoying locations. Every level has set locations where enemies can spawn from, typically going from the background to the foreground, resulting in a lot of cheap deaths. The last boss makes the battle less about following his mechanics and more about getting lucky on add placement.
Outside of annoying spawns and hollow gameplay, almost every level has something about it that is cheap. These range from smart enemy placement, anticipating what players will do or simple bad luck. Most of my failures came from an enemy in the right spot getting a lucky hit and then I either fell over the edge or got hit again later on. Many times I simply threw my hands up in frustration, learned their placement and then I either got hit due to bad luck, the situation making it almost impossible to avoid or making a choice that resulted in a different encounter.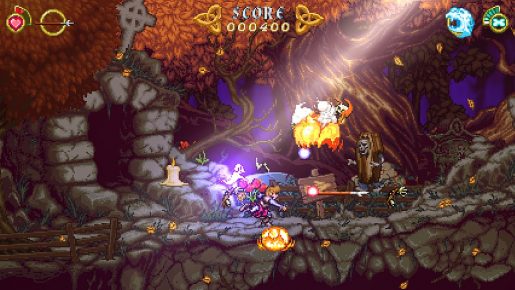 Even if I am rather hard on Battle Princess Madelyn, most of it stems from duality of it all. Levels will always seem harder than they actually are, with it becoming a joke with enough practice or realizing what you need to do. Especially when most weapons are lackluster, make things more difficult or simply offer the same basic experience. Whether you're throwing a knife, spear or whipping something from across the map, the core experience is about the same. Certain weapons, like the axe, make taller bosses easier, just like distance weapons beat close range, though it isn't deep enough to matter or be a factor in arcade.
Verdict
Battle Princess Madelyn might not be a bad game; it just isn't special. All the difficulty stems from tricks, meaning the difficulty no longer exists once a player realizes it's all smoke and mirrors. With enemies, bosses and stages lasting longer than they really need to, it's an experience that doesn't invoke a desire to replay. At most alternate paths and hidden story bosses might, though even that is limited. So, unless you really want to play something like Ghouls 'n Ghosts, Battle Princess Madelyn is simply too hollow to be fun.
[Editor's Note: Battle Princess Madelyn was reviewed on PS4 the platform. The game was provided to us by the publisher for review purposes.]